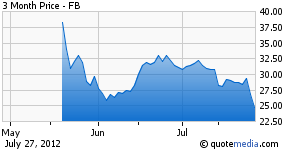 In what was one of the most highly-anticipated initial public offerings, Facebook (FB) sold shares at $38, in May. It quickly went down and became one of the most disappointing IPO's in the history of major stock offerings. The shares put in a new low after Facebook reported weak earnings. The company announced a loss of $157 million for the quarter due to accounting charges. Without those one-time charges, the adjusted profit was $295 million, or about 12 cents per share. While some investors might take the big drop in the share price as a buy signal, I think it's way too early for that. Here are some reasons why the worst might not be over for the stock:
1. The stock remains (even after a major drop) significantly overvalued when compared to other companies. Highly profitable, fast-growing companies with innovative management teams are trading for much lower PE multiples. Just look at Google (GOOG), which has a significantly longer track-record as a public company, growing revenues, a cash-rich balance sheet, and a price to earnings ratio of just about 13. Even after the post-earnings drop, Facebook still trades for about 45 times earnings.
2. The lock-up period could release many more shares onto the investing public, and if the shares are barely over $30 now with the current supply of stock, just imagine what another billion or more could do to the price. Insiders are typically restricted from selling their shares for at least 90 to 180 days after the IPO. According
to one article, Facebook could see about 28 million additional shares available for sale 90 days after the IPO, and around 1.7 billion shares within 180 days. Since the company went public in late May, those additional shares could be available for sale in late August, followed by even more shares around November (about 180 days after the IPO). Other recent tech IPO's like Zynga, Inc. (ZNGA) and Groupon (GRPN) dropped significantly after lockups expired for those companies.
3. Tax-loss season promises to be an active one for Facebook. Investors often sell underperforming stocks they have losses in during the 4th quarter, which is coming up next. By selling, investors can harvest tax losses for 2012, and this type of selling is usually peaking in late November to December, which is right around the same time that the 180 day lockup expires. The combination of tax-loss selling and additional shares being available for sale could be particularly tough on Facebook shareholders. Also, tax hikes for capital gains are planned for 2013, and this means Facebook employees and other insiders that have low-cost, pre-IPO shares could be motivated to sell shares before 2012 ends.
4. This company is almost untested as a public company and with shares still at very lofty valuations, another disappointing earnings report, weak growth or guidance, etc., could cause the stock to drop again. Both the price action and handling of the IPO, and disappointing earnings have been a disappointment for many investors and that trend could be poised to continue.
When looking at other formerly "hot" IPO's like Groupon and Zynga, those stocks had moments (after a big drop) where some investors bought in, thinking they were getting a bargain, but those stocks only went down further after the lock-ups and other concerns continued to pressure the shares. Some of these stocks are down nearly 70% off the IPO price, and if Facebook follows that trend, there is plenty of downside left, especially with the upcoming headwinds of tax-loss selling and lock-ups looming later this year.
Here are some key points for FB:
Current share price: $23.53
The 52 week range is $22.28 to $45
Earnings estimates for 2012: 51 cents per share
Earnings estimates for 2013: 65 cents per share
Annual dividend: none
Here are some key points for ZNGA:
Current share price: $3.12
The 52 week range is $2.97 to $15.91
Earnings estimates for 2012: 27 cents per share
Earnings estimates for 2013: 36 cents per share
Annual dividend: none
Here are some key points for GRPN:
Current share price: $7.05
The 52 week range is $6.50 to $31.14
Earnings estimates for 2012: 18 cents per share
Earnings estimates for 2013: 66 cents per share
Annual dividend: none
Disclosure: I have no positions in any stocks mentioned, and no plans to initiate any positions within the next 72 hours.
Disclaimer: Data is sourced from Yahoo Finance. No guarantees or representations are made. Hawkinvest is not a registered investment advisor and does not provide specific investment advice. The information is for informational purposes only. You should always consult a financial advisor.