On July 25, 2012 Western Digital Corp. (NYSE:WDC) announced its FY2012 results - and beat consensus estimates EPS of $2.44. In after hours trading on July 24 as well as today, the shares moved up slightly, so it seemed like a good time to take a look back at some of the Amvona analysis of the company.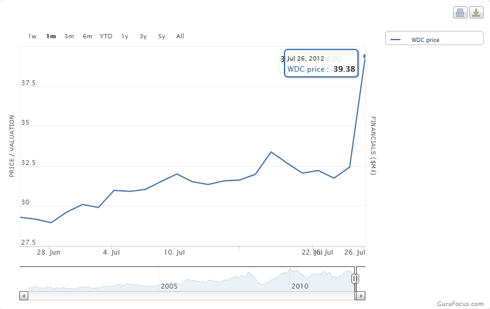 On December 2nd, 2011 the article "Hard Drives, Floods, Monasteries and Investment Returns" was published. At the time, a fair value to a prospective acquirer was estimated at about $67 per share. Today that figure likely still represent an accurate appraisal of the value as a whole to an acquirer, however for long term value investors operating on a Discounted Cash Value basis, the shares may be worth as much as ~$120 (assumptions: EPS=10, 10 yr. GR at 7 %, 10 yr. TG at 3%, DR = 12%, TB = $19.50).
The November article also included the following points on profitability:
"A business's profitability is determined by these three things:

1. It's return on assets

2. The cost of its liabilities

3. If and how it uses "leverage" - which is to say the degree to which its assets are funded by liabilities rather than equity

Since there will soon be only two major players in the storage business (STX and WDC), it is worth comparing the two on these three basic points. We do not want to go into all the details here because the information is readily available online for free, but suffice to say there really is no comparison.

...our $67 per share appraisal of the WDC's business on a day when shares were selling in the 25's had much less to do with Crystal balls than with deductive reasoning."
Under the "notes" section of the article, the following was scribbled out back on that day in November:
"Temporary boast to ok management team may only make them weaker in the long run (NASDAQ:STX)

The disaster is really not the death nail to WDC and the boost to STX that the market maybe perceiving."
On July 5, 2012, barely seven months after we wrote these words, STX released preliminary fiscal fourth qtr. 2012 financial results saying in part:
"…we did not meet our expected revenue and margin plan, said Steve Luczo, Seagate chairman and chief executive officer."
Seagate was downgraded by analysts at Robert W. Baird from an "outperform" rating to a "neutral" rating on Friday July 20, 2012.

On July 25, 2012, just 20 days later and just over seven months after the Amvona article was published, WDC had their management conference call to discuss Q4 2012 results with CEO John Coyne stating:
"…we achieved revenue growth of over 31% and more than doubled earnings."
And:
"…we believe that Western Digital can deliver non-GAAP earnings per share of $10 in fiscal '13."
And finally:
"We believe a strategy of delighting customers, focusing investments in faster growing market segments and driving strong execution in both internal operations and our supply chain will continue to deliver consistent and superior financial performance."
The recent comments by the two CEOs seem to indicate that the original reasoning in the December article was correct. Despite Seagate's huge advantage coming out of the Thai floods (none of its facilities was affected, unlike Western Digital), the advantage doesn't appear to have lasted even a year.
On November 15th Needham and Co. issued the following report:
"Needham & Company downgraded Western Digital Corp. from Buy to Hold.

Needham analyst says, "We are downgrading Western Digital based on concerns that either 1) the company is successful in acquiring Hitachi but is forced to pay higher interest rates, issue more stock, or otherwise make concessions that limit the benefits of the deal and that the combined company's balance sheet is severely impaired; or 2) that the deal does not go through (which seems increasingly likely) and that WD is forced to expend considerable cash to recover its manufacturing capabilities, weakening its balance sheet (when combined with the losses), and loses access to the enterprise market and Hitachi's advanced head technology."
Two days later, we were out buying shares of WDC for investors' accounts. Here are examples of the purchases made that the article referenced, along with performance data as of the writing of this article:
| | | | | | | | |
| --- | --- | --- | --- | --- | --- | --- | --- |
| Issue | Date | Price | Date | Value | Perf. | Mo. | Annualized |
| WDC | 11/16/11 | $25.65 | 7/26/12 | $40.88 | 59.4% | 8.32 | 85.7% |
| S & P 500 | 11/16/11 | 1243.6 | 7/26/12 | 1356.5 | 9.1% | 8.32 | 13.1% |
Wait! That was our price target...
On Friday March 23, 2012 Amvona published the follow up article entitled "Wait! That was our price target and other musings on Memory and storage" -- the article makes the following comments:
"If the analyst had studied WDC post flood, how is it possible that they arrived at the conclusion that the WDC would be forced to "expend considerable cash to recover it's manufacturing capabilities" as the amvona article mentions repeatedly, there is this thing called "insurance" which they may or may not have heard of, but the existence of which is plastered all over WDC's annual reports.

Even though the analysts were wrong, it appears market participants continue to eagerly await their proclamations - though they may constitute a complete reversal in opinion."
Consider the case of the Needham and Co. March 22 upgrade:
"Needham & Company upgraded Western Digital Corp. from Buy to Strong Buy with a price target of $66.00.

Analyst, Richard Kugele, said, "We believe that the acquisition of HGST by WD, despite regulatory hurdles worldwide, will prove to be a pivotal point in HDD history and drive record profitability for both WDC and STX. As we have also argued in our Seagate thesis, with no need to price aggressively to maintain market share, we expect the group to operate rationally and within profitability metrics consistent with WD historically. Given the significant upside we project in our model to our new $66 price target, we upgrade shares."

In this case, some 4+ months later they have said almost precisely the opposite of what was said back in November of 2011. About-face or not, the shares jumped almost 7% on the news."
The WDC Q4 2012 CC appears to confirm another part of the Amvona article namely:
"Despite returning to 100% capacity, ASP's will remain drastically elevated for remainder of 2012"
On the Q4 CC, CFO Wolfgang Nickl commented:
"The revenue for the June quarter was $4.8 billion. We shipped a total of 71 million hard drives into the market at an average selling price of $65. Both unit volume and average selling price exceeded the expectations that were implied in our guidance."
The Problem with "The Sidelines"
On Tuesday May 1, 2012 Amvona published the article "Silver Platters, Annie Oakley and "The Sidelines", which included commentary from Bank of America analyst Scott Craig and CitiGroup analyst Joe Yoo.
In light of the most recent WDC earnings, the following seems relevant (from the Amvona article):

"In the last 15 quarters, WD has beaten estimates and their own guidance 12 times, that's 80% of the time. On average those 12 QTR's beat analysts' estimates by about 32% (or roughly the same figure as the B of A original est. missed actual in FQ3). Also, if the analysts' comments are read carefully, they guided lower than B of A's estimates, which they have established in their own release as at least 38% inaccurate, yet they fail to point out that WDC's guidance still beats the second figure (the streets) of $2.30, by as much as .25 cents (or greater than 10%).

In this instance a beat of 32% (the historical avg. based on 12 QTR's) would mean Q4 earnings of $3.10 to $3.36 per share - this seems likely to happen next quarter (barring insurance payments being received)."
The Amvona NG estimate was .89 cents (36%) higher than consensus.
From the company's July 25 CC:
"On a non-GAAP basis, net income was $872 million or $3.35 per share."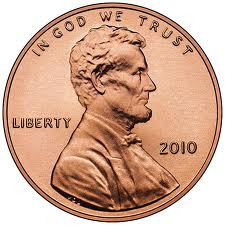 Unfortunately the Amvona EPS estimate, on the high end, overshot (by a penny), and to make matters worse, the Revenue estimate was off too... by 5 M (or about half of one percent) - from the article:
"Now the current market cap is based on the shares outstanding in the most recent financials, however, those are reported (as must be the case when companies issue or take back share during a quarter) as an "average" outstanding during the quarter. In this case the average figure is 241 M.

At that share count earnings of $2.45 per share in FQ4 would equate to ~$590M.

However, the actual shares outstanding at QTR end were not 241 M, but rather 269 M., meaning earnings would then be $659 M for the 4th fiscal QTR.

If the higher estimate (of an earnings beat) above is correct, than the number would be $877 M."
The article concluded with the following:
"Despite the 50% (post sell-off) earned for investors since last November, we were plowing unprecedented amounts of investor capital into the shares late in the day April 27th and early Monday morning..."
Here are examples of the purchases made that the article referenced along with performance data as of the writing of this article:
| | | | | | | | |
| --- | --- | --- | --- | --- | --- | --- | --- |
| Issue | Date | Price | Date | Value | Perf. | Mo. | Annualized |
| WDC | 4/30/12 | $38.28 | 7/26/12 | $40.88 | 6.8% | 2.86 | 28.5% |
| S & P 500 | 4/30/12 | 1403.58 | 7/26/12 | 1356.5 | -3.4% | 2.86 | -14.1% |
| | | | | | | | |
| WDC | 5/18/12 | $35.61 | 7/26/12 | $40.88 | 14.8% | 2.3 | 78.3% |
| S & P 500 | 5/18/12 | 1302.38 | 7/26/12 | 1356.5 | 4.2% | 2.3 | 22.0% |
Just in case...
Finally, because seven articles on the wisdom of buying WDC may not have been enough, on Monday June 11th, 2012 Amvona published the short 7,800 word manifesto entitled "On the value of Users, Hard Drives and Batteries" the article explores the idea of an investment in WDC as opposed to speculative bets such as Linkedin Corp. (NYSE:LNKD) and the newly public Facebook, Inc. (NASDAQ:FB) - 19 of the 7,800 words said simply:
"It would worth checking on the prices of these three concerns during Q2 earnings season (mid to late July)."
In retrospect, perhaps the article could have just been left at that, and the other 7,781 words omitted.
Either way, here is how the 3 issues performed in the roughly 2 + months since then:
| | | | | | | | |
| --- | --- | --- | --- | --- | --- | --- | --- |
| Issue | Date | Price | Date | Value | Perf. | Mo. | Annualized |
| FB | 5/18/12 | $40.27 | 7/26/12 | $27.13 | -32.6% | 2.3 | -172.6% |
| S & P 500 | 5/18/12 | 1306.46 | 7/26/12 | 1356.77 | 3.9% | 2.3 | 20.4% |
| | | | | | | | |
| LNKD | 5/18/12 | $ 101.69 | 7/26/12 | $98.64 | -3.0% | 2.3 | -15.9% |
| S & P 500 | 5/18/12 | 1306.46 | 7/26/12 | 1356.77 | 3.9% | 2.3 | 20.4% |
| | | | | | | | |
| WDC | 5/18/12 | $35.47 | 7/26/12 | $40.88 | 15.3% | 2.3 | 80.7% |
| S & P 500 | 5/18/12 | 1306.46 | 7/26/12 | 1356.77 | 3.9% | 2.3 | 20.4% |
*Update: FB dropped an additional ~18.5% AH on July 26th, 2012
This time proof of the value of WDC went into far greater detail from a balance sheet perspective. However, the estimates provided in the article for the share repo. were overly aggressive (the article estimated as many as 30 M shares could have been taken back in FQ4) -- as it turns out WDC only spent 604 M buying back 16.4 M shares - but there's a catch.
Here is what the company had to say in the recent CC on this point:
"During the June quarter… we used $604 million to repurchase 16.4 million shares."
The key point here is "during the June quarter...", but these comments were made 25 days after the June quarter. During two thirds of the "June QTR" the share price was relatively high. However, during the first 25 days of July the price was quite low, and since the share repo was admittedly "opportunistic" it seems hard to imagine the company wasn't "doubling down" on shares in July.
The following comment is also important:
"As announced in May, our Board approved an increase of $1.5 billion in our stock purchase authorization. As of the end of last quarter, $1.3 billion remained available for future purchases."
Meaning ~400 M of the 604M came from a previous share repo authorization - leaving 1.3B available for future purchases. Therefore the 230M share estimate mentioned in the article may not be too far off as of July 25 -- it's only 13.6 M shares less than the company reported at June 30, and since the price was freakishly low during most of July -- it seems reasonable that at least part of the 13.6 M delta could have been taken back after June 30 - this gives rise to the possibility that the EPS figure based on the shares outstanding on July 25 may have been higher than that reported on the June 30th financial statements.
The article continued with:
"On May 1, 2012 the article "Silver Platters, Annie Oakley and "The Sidelines" was published. The article pointed to what appeared to be a remarkable error in earnings estimates for WDC by Bank of America Analyst Scott Craig in his research report on April 27, 2012. Even more remarkable was a follow up comment made by Bank of America on May 22, 2012 - one day after WDC announced their 1.5 B repo. program - which makes yet another error when it overstates the size of the repo. by about 27%."
and
"WDC booked 680 M in net profits in Q3 w/ only 3.5 weeks of HGST revenue and profits included. What will the company's earnings be in FQ4 with 12 weeks of HGST earnings?

Barclay's boosted their target price on shares of Western Digital from $45.00 to $49.00 on April 30, 2012.

exactly 4 weeks later:

Barclay's downgraded Western Digital Corp. from Overweight to Equal weight and lowered the PT from $49 to $37 with Analyst, Ben A. Reitzes, saying in part:

"Downgrade to EW given several factors that could keep shares range-bound over the near term. This call is not really about the current quarter, but certain developments could impact guidance around September and December."
Here is an update from the Reuters July 26 article on the subject:
"Analysts raise Western Digital price targets on margin gains

(Reuters) - Western Digital Corp shares soared 18 percent in premarket trading on Thursday, after the hard-disk drive (HDD) maker handily beat analysts' estimates, underlining a faster-than-expected recovery from the Thailand floods that hit production last year.

Several analysts raised their price targets on the stock, lauding the hard-disk drive (HDD) maker's ability to maintain high gross margins even as production returns to normal levels.

Shortage of hard drives after flooding in Thailand led to a spike in prices last year. But even as production returns to normal levels, Western Digital and Seagate Technology Plc have maintained their price premiums.

"Guidance clearly signals that, with the recent consolidation of the industry, the company is focused on prioritizing pricing/margins at the expense of market share going forward, a departure from oversupply and irrational pricing that has plagued the industry in the past," Citi Research analyst Joe Yoo said.

Yoo upped his price target on the stock to $49 from $40.

Western Digital shares soared 18 percent in premarket trading, while those of Seagate were up 10 percent.

"Western Digital benefited from an improved product mix from its acquisition of Hitachi Global Storage Technologies, with significant upside vs. street estimates from its enterprise portfolio," Barclays analyst Ben Reitzes said.

Western Digital in 2011 unveiled a $4.3 billion deal to buy Hitachi Ltd's hard drive business.

Barclays raised its price target on the stock to $38 from $32. Three other brokerages also revised their price target."
The morning after the earnings release, there were no fewer than seven price-target hikes on the shares of WDC.
The article went on to report the following:
"The result is that Ben Reitzes appraisal of the company changed by nearly 3 B when he lowered his price target from $49 per share (slightly above tangible equity projections in one year) to $37 per share (in one year) or approximately 18% below the equity projection, or a P/B ratio in one year of just .82 (or 68% less premium than WDC just paid for the smaller HGST).

How can an opinion change so wildly in only 4 weeks? Do global economics really shift that quickly?"
Now some 60 days later, Mr. Reitzes has changed his appraisal of the company again, this time by a full $6 per share or $1.5B, in a span of only 90 days, the opinion of value for WDC from this one analyst (not that he is alone) spanned from $32 to $49 per share -- a range of 4.3 B or ~ 56% of the company's enterprise value as of July 24th, 2012 - a remarkable and colorful range.
As the article drew to a close the following was written:
"Doesn't this comment refer to "price" of the shares in future time, an event Mr. Reitzes has precisely zero chance of knowing with any degree of accuracy? Wouldn't it be wiser to speak of the "value" of the company in terms of what can be known in future time with some approximate accuracy? Besides how is the term "range-bound" useful, if he does not tell us what the "range" is? for example, if the range is $35 (est. FQ4 book value) - $80 (low FQ4 13 intrinsic value estimate) per share it seems reasonable (after checking to make sure your health insurance is active), that if you don't have the cash, you might take out loans with your friendly neighborhood Mafiosi in order to buy shares of WDC at a 10:1 leverage ratio. Just to be clear your broker provides the leverage, not the initial loan - We understand the participants in this instance could be easily confused."
No one after lighting a lamp covers it with a vessel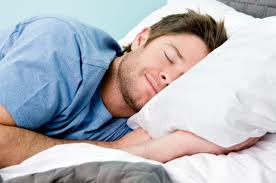 Of course we wouldn't miss any of the fun… so during the run up to the July 25 earnings announcement, we liquidated other positions (including Skechers (NYSE:SKX) conveniently sold at a ridiculously high return), brought in new investors, borrowed huge sums to lever up and continued to put basically unprecedented amounts of investor capital into a super concentrated position in WDC as indicated in the articles. Although our brokers complained loudly, and some might think there was sleepless nights -- in fact, not one iota of doubt existed.
As it's been said:
"No one after lighting a lamp covers it with a vessel, or puts it under a bed, but puts it on a stand, that those who enter may see the light. For nothing is hid that shall not be made manifest, nor anything secret that shall not be known and come to light."
Here are the purchases made that the article referenced, as well as others made after publication along with performance data as of the writing of this article:
| | | | | | | | |
| --- | --- | --- | --- | --- | --- | --- | --- |
| Issue | Date | Price | Date | Value | Perf. | Mo. | Annualized |
| WDC | 6/1/2012 | $30.33 | 7/26/2012 | $40.88 | 34.8% | 1.8 | 230.8% |
| S & P 500 | 6/1/2012 | 1278.32 | 7/26/2012 | 1356.5 | 6.1% | 1.8 | 40.6% |
| | | | | | | | |
| WDC | 6/13/2012 | $30.73 | 7/26/2012 | $40.88 | 33.0% | 1.4 | 280.4% |
| S & P 500 | 6/13/2012 | 1314.88 | 7/26/2012 | 1356.5 | 3.2% | 1.4 | 26.9% |
| | | | | | | | |
| WDC | 6/22/2012 | $29.54 | 7/26/2012 | $40.88 | 38.4% | 1.1 | 412.1% |
| S & P 500 | 6/22/2012 | 1335.02 | 7/26/2012 | 1356.5 | 1.6% | 1.1 | 17.3% |
Without the misunderstandings and (sometimes) miscalculations outlined above, as well as the commensurate time arbitrage opportunities they present, the whole operation Amvona is involved in might not be possible - that is to say the pursuit of at least "slightly better than average" returns for investors.
For example, the WDC investment idea, which started last November, has produced an average annualized return (so far) of ~171% for investors.
Disclosure: I have no positions in any stocks mentioned, and no plans to initiate any positions within the next 72 hours.