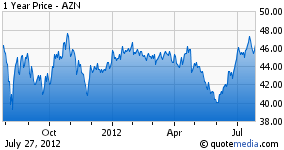 If investors wonder why I'm so hard on Big Pharma stocks like Lilly (LLY) and Bristol-Myers (BMY), I would offer up AstraZeneca (AZN) as an example. Due to a mix of poor planning and poor luck in the clinic, AstraZeneca is getting walloped by generic competition to key drugs. The company has most definitely opened up its wallet to restock its pipeline, but the cavalry isn't going to arrive for a while yet.
Q2 Was Going To Be Bad … And It Was Even Worse
I suppose that if you're going to miss analyst estimates for a quarter, it may as well be in a quarter where the numbers are going to look horrible anyway. With investors already braced for bad news, slightly worse news didn't seem to really bother anybody too much.
Revenue fell 21% as reported, with constant currency revenue erosion only slightly better at negative 18%, and missed estimates by about 3%. A huge percentage of that decline (a total top-line impact of -15%) was due to the impact of generic competition - of the 29% U.S. sales decline, 80% could be tied to generic competition for Seroquel, while half of the 20% decline in the EU was likewise due to generics.
You have to look hard to find a source of relative strength. Although Symbicort was down 1% as reported, it did rise 3% in constant currency, and Onglyza was up 72% (but only makes up 1% of sales).
Those revenue issues flowed through to disappointing earnings. Gross margin dropped almost three points, while "core EBIT" declined 32% and missed estimates by nearly 10%. The good news is that it wasn't an operational issue per se - R&D and SG&A spending was actually in-line - but rather just another byproduct of the severe mix shift prompted by generic competition.
Stuck By The Side Of The Road? Call AAA.
AstraZeneca hasn't been trying to slap a fresh coat of paint on everything and convince investors that all is well. Instead, the company has gotten very active in the M&A space … though it seems that the company hasn't managed to go past "A" in the phone book.
AstraZeneca paid $1.3 billion for Ardea, and Lesinurad (gout) should be on the market next year. While the company's deal with Amgen (AMGN) won't show benefits for a while as most of the drugs are in Phase I, there will be incremental data sooner on brodalumab.
Last and most recent, the company is expanding its partnership with Bristol-Myers and chipping in close to half of the $7 billion price tag to acquire Amylin Pharmaceuticals (AMLN) and its approved long-acting GLP-1 drug Bydureon. Although the European healthcare market is not very easy these days (with strong price pressure from national systems), AstraZeneca should be able to get Bydureon into the market relatively quickly. With strong support, I expect this to be a winner for AstraZeneca and a meaningful threat to Novo Nordisk (NVO).
A Lot More Info Coming Out Later This Year
We will all know a lot more about AstraZeneca's three to five-year outlook in the fourth quarter of this year. Not only will Phase III data come out for fostamatinib and Nektar's (NKTR) NKTR-118, but there will be Phase II data and go/no-go decisions on six different drugs, including compounds for COPD/asthma, sepsis, and cancer. Several of these drugs could have half-billion dollar potential if the data is good, while multiple clinical failures will most likely lead to an intense round of cost-cutting.
The Bottom Line
Although the impact of generic competition on AstraZeneca's financials is startling, a lot of this was already baked into the shares. What's more, the company has shown that it is willing to be aggressive in refilling its pipeline and boosting its near-term and intermediate-term revenue prospects.
The next five years are still likely to be rough in terms of reported revenue and earnings growth. That puts an even bigger premium on margin execution, Bydureon sales, and positive clinical data. Even on the basis of what I believe to be conservative assumptions (virtually no net compound free cash flow growth for the next decade), these shares seem undervalued by maybe as much as 30%. It will be tough for AstraZeneca to outperform - analysts and institutions shy away from no-growth stories - but there could be enough pessimism here that long-term value and dividend investors can find some reasonable risk-adjusted potential.
Disclosure: I am long AMLN.