Calumet Specialty Products Partners, L.P. (NASDAQ:CLMT) refines specialty hydrocarbon products. It has five sites throughout the U.S., and provides the base products for special lubricants, waxes, specialty asphaltic solvents and naphthenic specialty oils. Its products go into thousands of consumer products we use and buy everyday, from transmission oils to makeup creams.
Additionally, the company recently closed on the purchase of Royal Purple, Inc. which manufactures special synthetic oils and lubricants for cars, boats and snowmobiles. The specialty products business, which accounts for 50% of Calumet's sales, sets it apart from other refiners.
Calumet just increased its distribution from $0.56 per quarter to $0.59 per quarter. This represents a 5.4% increase over last quarter's distribution. Calumet has increased its distribution every quarter over the last five quarters. In August 2011, it was $0.495; $0.50 in November 2011; $0.53 in February 2012; $0.56 in May of 2012; and now it's $0.59. The growing valuation of the partnership is shown in the graph below.
(click images to enlarge)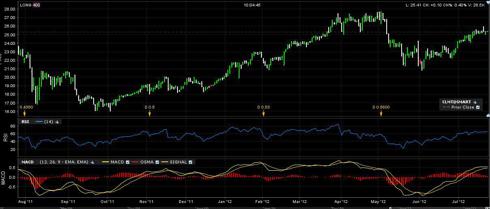 (Source: Interactive Brokers)
S&P reports that Calumet's fuel product sales volumes rose 148% year to year due to the acquisition of the Superior, Wisconsin refinery from Murphy Oil Corporation in September 2011. S&P predicts double digit increases in fuel product volumes in 2012 due to the increase in refining capacity. It forecasts specialty products sales increasing 13%-14% in 2012 based on improving demand and contributions from recent acquisitions.
S&P maintains that Calumet represents a high risk investment. It is a small refiner operating in a competitive industry with significant commodity and operational risk. The company attempts to alleviate this risk by hedging its fuel products and crude oil programs. The price and profit volatility of this refinery business can be seen in the charts below: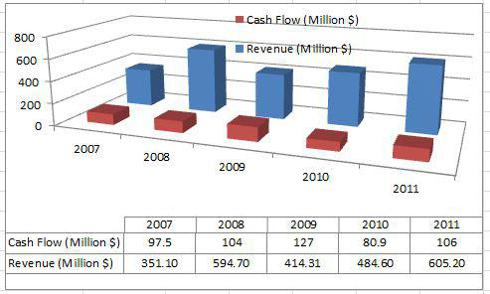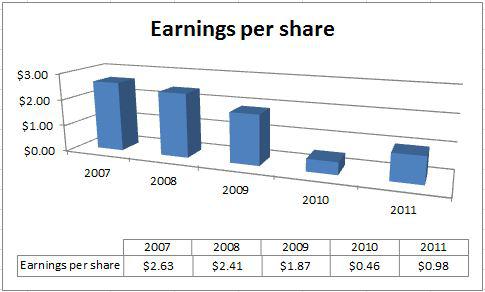 Calumet has recently beat estimates by $0.40, earning $0.97 for the first quarter of this year. Analysts are predicting $0.50 profit per quarter for the next 3 quarters. Earnings appear strong enough to sustain its dividend into the foreseeable future.
Long term debt is larger than stockholder equity by about $40 million dollars as of March 30, 2012. The purchase of Royal Purple was financed with an offering of common units at $149 million and notes of $275 million. This further increases debt to equity by another $125 million. It is likely the company will be offering new partnership units in the near future to reduce long term debt. This dilution could depress unit prices if and when it occurs, but should have little consequence for the dividend. Calumet is paying 7-10% interest on the notes, and interest payments would just revert to unit holders.
While institutions have been selling the units of the partnership, insiders have been buyers over the past six months. Insiders hold over 15 million units, which represent nearly 30% of the float. There has been a recent rise in the number of units that are short. There are a number of institutions and investors who are bearish on refiners, and I consider this the reason for the 2% short position.
Calumet has been buying refineries in a buyer's market. When other companies are selling, they are buying. If you, like me, think that we are going to need refined petroleum products into the foreseeable future, then this high dividend offering partnership looks like a good value. The growth of this company's sales volumes and dividend set this refiner apart from the crowd of possible investments. It offers a 8-9% dividend, along with a good possibility of capital gains. Take a look at Calumet to see if it can lubricate your returns.
Disclosure: I am long CLMT.