San Diego-based Lpath, Inc. (LPTN.OB) is the leader in the discovery and development of monoclonal antibodies targeted to bioactive lipids. Lpath derives its unique position from its proprietary ImmuneY2TM platform - a drug-discovery process that generates antibodies against bioactive lipids. Thanks to this proprietary technology, Lpath's pipeline has a wide range of potential novel antibody-based drugs that are involved in a variety diseases such as asthma, sepsis, inflammation, cancer, and more. The company boasts over 100 issued or pending patents in the U.S., with corresponding international applications, the majority of which were developed in-house using their proprietary technologies.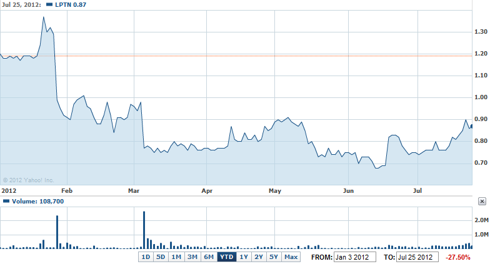 Wet AMD and Conventional Treatment Limitations
Lpath's product pipeline's lead monoclonal antibody product candidate is iSONEP, a drug being developed for the treatment of wet AMD (late-stage, age-related macular degeneration) - a progressive retinal disease wherein new blood vessels grow beneath the retina and leak blood and fluid. This leakage subsequently causes permanent damage to the retinal cells, creating blind spots in central vision.
Current methods of treatment consist of VEGF (vascular endothelial growth factor) inhibitors, photodynamic therapy, or photocoagulation therapy. While photodynamic and photocoagulation therapies are both valid treatment methods, they are less frequently used due to the useful drugs available and the higher level of risk inherent in laser treatments. Consequently, the majority of wet AMD treatments involve VEGF inhibitors - in layman's terms, inhibitors to the growth of new blood vessels. The current leading VEGF inhibitors are Lucentis, Avastin, and Macugen. Lucentis and Avastin both belong to the Swiss drug-maker, Roche Holding AG (OTCQX:RHHBY), while Macugen is a product of EyeTech Inc., which was acquired by Valeant Pharmaceuticals (VRX) in February of 2012. Eylea, a recent FDA approved product of Regeneron Pharmaceuticals (REGN), has provided similar results to Lucentis in the treatment of wet AMD.
However, none of the existing methods of treatment address the underlying lesion or resolve RPE (retinal pigment epithelium, or PED) detachment. This is where iSONEP proves itself unique.
iSONEP's Superior Performance
While Phase 1 testing is primarily concerned with dosage and safety, iSONEP generated some shocking data. After being exposed to a single dose of iSONEP, both patients with RPE detachment experienced near-complete to complete resolution of the condition.
Additionally, a single dose of iSONEP also caused a regression in CNV (choroidal neovascularization) - the underlying cause of wet AMD. Also of significance, seven out of nine patients, who proved unresponsive to conventional treatments, benefited from a decrease in retinal thickness when given iSONEP. As neither the reduction in lesions nor the resolution of RPE detachment has been previously attainable through the use of conventional VEGF inhibitors, these findings could place iSONEP in a monopoly position.
Wet AMD tends to occur in individuals 55 and older (with multiple environmental and genetic factors). An estimated 24 million Americans are currently afflicted with wet AMD according to the National Institutes of Health and the National Eye Institute. These numbers are expected to increase with the aging baby-boomer population.
Landmark Agreement with Pharmaceutical Giant
In December 2010, pharmaceutical giant Pfizer, Inc. (PFE) entered into an agreement with Lpath under which the smaller company was paid an upfront option payment of $14 million, with the potential for a total of $497.5 million in milestones if Pfizer decides to license rights to iSONEP, as well as being entitled to receive tiered double-digit royalties based on sales of iSONEP. Included in the agreement, Lpath has granted to Pfizer a time-limited right of first refusal for ASONEP, Lpath's product candidate that is being evaluated for the treatment of cancer (entering Phase 2 in 2012). Furthermore, Pfizer will share the cost of the "PEDigree" and "Nexus" clinical trials for iSONEP.
The fact that a pharmaceutical giant like Pfizer has made such a large commitment to an early-stage biotech speaks volumes in regards to their confidence and forecasted value in Lpath's ImmuneY2's capabilities.
Lpath's Extended Operations
As a younger company focused on drug discovery and development, Lpath has operated at a net loss since its inception. This is the case for many early-stage R&D companies. So, a major concern is: How much longer can Lpath stay in the game?
As of March 31st 2012, Pfizer has provided Lpath approximately $17.2 million, with an additional $2.8 million expected to be received in the second quarter of 2012. Given these major cash inflows (and NIH grants), Lpath's R&D activities are projected to have sufficient funds to operate through to the second quarter of 2014 - ample time for iSONEP's resumed clinical trials to reveal more to stakeholders.
This estimate not only includes the cost of iSONEP's clinical trials, but also the costs of manufacturing ASONEP's clinical material, initiating ASONEP's Phase 2a trials, and conducting cell-line development for Lpathomab.
Analysts' Forecasted Value
In September 2011, Morgan Joseph put an 18-month price target of $8.00 per share on Lpath as well as a "Buy" rating based on the market potential of the pipeline, the ImmuneY2 technology, and the partnership with Pfizer. Morgan Joseph notes that their calculation does not factor in the value of the Pfizer Agreement milestones or the potential for iSONEP™ to be marketed in areas outside the U.S. Equity researchers at Aegis commenced coverage on shares of Lpath in a report released on Monday July 16th 2012. The firm issued a "buy" rating and set a $6.00 price target on the stock.
Despite the substantial price increase forecasted by analysts, it is widely believed that Pfizer would attempt an outright purchase of Lpath prior to reaching these price-targets. An acquisition by Pfizer would depend on continued encouraging trial results, as that would indicate the ImmuneY2 technology's performance matches its claims. This would provide Pfizer with a much-needed source of patents to resist the detrimental effects of the "patent cliff."
ISONEP's Halted trials - Unlucky but Resilient
On January 26th 2012, Lpath announced the PEDigree and Nexus trials would be temporarily halted as their fill/finish contractor, Formatech, Inc., was found to not be in compliance with FDA's current Good Manufacturing Practice (cGMP) requirements during the August 2010 period that the iSONEP clinical vials were filled. At the time of halting, iSONEP was well tolerated by all patients in the Phase 1 trial and by all patients thus far in the PEDigree and Nexus trials. Though completely unrelated to the performance of iSONEP, this caused the share price to drop from $1.29 to the mid-$0.90s. (Based on the price range from late December to late January, it would seem safe to consider the pre-halt price approximately $1.22. Given price range from late January to late February, it would seem safe to consider the post-halt price approximately $0.95). Given the external nature of this price-drop, it can be considered a temporary dip until clinical trials resume.
March's Share Dilution
On Friday March 6th 2012, the share price took a further plunge as Lpath agreed to raise $9.3M through the sale of 12,392,667 shares of Class A common stock at $0.75 per share. This dilution resulted in the share price falling from $0.98 to high-$0.70s. (Based on the price range from early February to early March, it would seem safe to consider the pre-dilution price approximately $0.95. Given the price range from early March to early April, it would seem safe to consider the post-dilution price approximately $0.77). Unlike the temporary decrease brought on by the halted trials, this dilution represented a warranted price-drop.
Conclusions
Based on these major events, it would seem logical to conclude that upon trials resuming, the price of LPTN would be approximately equal to the price prior to trials halting (approximately $1.22/share) adjusted for dilution, which conservatively work out to be approximately $0.95 per share. The current price of $0.85 per share would suggest that LPTN is currently undervalued. However, this estimate assumes progress is at a standstill, which is a very conservative way of valuing Lpath ahead of key milestones.
The terms of Pfizer's agreement has ensured Lpath's operations continue until Q2 of 2014 - providing iSONEP with plenty of time to prove to investors just what it's made of. Further trial results, consistent with those we've already seen, would place iSONEP not merely in-line but ahead of all current market competition. In that not-so-unlikely scenario, those ambitious price-targets and Pfizer acquisition speculations seem very appropriate.
Unsurprisingly, Lpath's share price has exhibited a continued upwards trend in the last 30 days (nearing the expected restart of iSONEP's clinical trials in Q3 of 2012).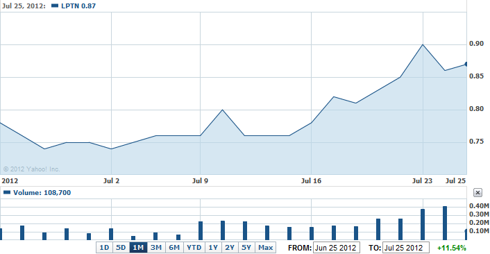 With all of these considerations and (as importantly) interest surrounding Lpath, the current price of $0.85 per share appears like a good time to get in at a discount.
Lpath has proven to be resilient and is no doubt benefiting from both the experience and financial support of Pfizer. While iSONEP's resumed trials will play the lead role in influencing Lpath's movement in the coming months, investors should not overlook the other drugs in its product pipeline. Additional discoveries and patents brought about by the ImmuneY2 technology would further validate this already promising technology.
Disclosure: I am long LPTN.OB.