Wal-Mart (NYSE:WMT) knows how to knock the stuffings out of its competitors' stock prices and make its customers happier. When it announced its $4 prescription drug program a couple of years ago, the stock prices for Walgreens (WAG), CVS Caremark (NYSE:CVS) and other drug store chains and pharmacy benefit managers such as Medco (NYSE:MHS) took a tumble. All of Wal-Mart's pharmacy competitors met its $4 deal, and they won't be able to avoid to continue meeting its prices on the expanded list of low priced generics drugs that Wal-Mart announced yesterday.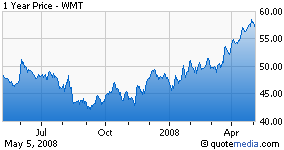 Somehow almost all of the drug store chains and PBMS have managed to grow their profits despite the generics drugs price war. This price war also will continue to help the makers of generic drugs while putting new price pressures on the big pharma makers of patented prescription drugs.
Wal-Mart said it is expanding its $4 prescription drug program and is specifically targeting the mail order pharmacy benefit managers that health insurers use to reduce their drug costs. The new phase three of Wal-Mart's program
. . .now covers a 90-day prescription for $10, additional women's health medications and a new $4 over-the-counter [OTC] offer. The 90-day option gives more choices to customers and physicians who may have been limited to mail order prescriptions in the past.
Of course, as it always is with Wal-Mart, the big winners are the consumers. Some of WMT's close drug store and PBM competitors include Wallgreens (WAG), CVS Caremark (CVS), Express Scripts (NASDAQ:ESRX), Long Drugs (LDG), Medco (MHS), Drugstore.com (NASDAQ:DSCM) and Rite Aid (NYSE:RAD). Daily charts are here. Click on a chart to see weekly and point and figure (PnF) charts.
Full disclosure. I have no positions in WMT or the other stocks mentioned.