International Paper manufactures and markets coated and uncoated freesheet, pulp, uncoated bristols, containerboard, paperboard and corrugated boxes. They also own about 300,000 acres of forest lands in the U.S. and 250,000 acres in Brazil. The slow economy is depressing revenues while the commodity boom may be increasing the value of their timber holdings on an asset basis.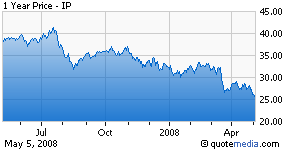 Last week IP reported Q1 earnings that were down slightly from $0.45 in 2007 to $0.41 (both on continuing ops) in 2008 (see conference call transcript). The shares have reacted badly hitting a share price low not seen for more than 12 years. Is this justified? Let's do some analysis.
The newly reduced estimates for this year now run from $1.96 - $2.11 and 2009 consensus numbers now suggest $2.33 - $2.45. Thus IP shares now trade at 13x and < 11x the low-end estimates for 2008 & 2009. The last time IP's multiple was this low was in 1995.
While IP has not raised it dividend rate (of $1 /share annually) since 1996 the current yield is now a 20-year high of 3.92%. The payout ratio [on trailing 12-month EPS] is now the lowest it has been over the past 15 years.
Book Value climbed from $15.39 in 2002 to an estimated $20.40 in 2007 through a combination of retained earnings, share buybacks and non-strategic asset sales.
Is this an ideal environment for International Paper? No. Does a multi-year low absolute share price and a treasury bond-like yield (of 3.88%) more than compensate for that? I think so.
Here are some historical data* comparisons to consider:

*source: MSN MoneyCentral.com
If IP shares return to even 0.7x sales they will bounce back to > $35.
At only 1.7x their expected 2008 year-end book value they'll reach > $35.
On just 17 times $1.96 in EPS we'd expect $33.32 by year-end 2008.
That implies a target price range $7.82 to $9.50 above today's quote of $25.50 or plus 30.6% - 37.25%. Add in the yield and we're talking very juicy total returns.
Large Holders as of December 31, 2007 [YE 2007 share price: $31.81]:
Morgan Stanley……………..9.55%

Capital World Investors…….7.91%
T. Rowe Price……………….7.67%

State Street …………………6.10%

Franklin Resources…………5.82%

Barclays Global Inv………...4.21%
An explosion at one of IP's mills over the weekend also contributed to today's share price weakness. This is clearly a one-time event.
International Paper is a world leader in its field, asset-rich and yielding a CD-like 3.92%. I think it's worth a play at today's multi-year low price.
If you want to play long-term but not lay out any cash there are nice LEAP put premium available if you're willing to sell January 2009 or 2010 puts at $25, $27.50 or $30 strikes.
Disclosure: Author bought shares of IP yesterday and is short LEAP puts for the 2010 expiration date.