The Citigroup analyst whose calculations were hotly disputed by Royal Bank of Canada (NYSE:RY) last week has gone back to her spreadsheets and halved her estimate of RBC's potential credit crunch writedowns.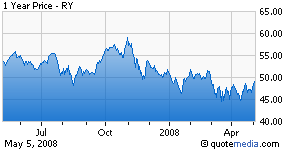 Shannon Cowherd issued a "less aggressive" estimate for the bank's writedowns in a report published Sunday. Ms. Cowherd says she is now expecting RBC's total charges on structured products to eventually rise to C$2.6-billion — of which C$787-million has already been accounted for in previous quarters — down from her earlier estimate of C$700-million.
Last week, the bank broke with convention by specifically targeting Ms. Cowherd's analysis, saying her earlier report
contains significant errors in fact and significantly overstates both the risks and the amount of any potential write-down RBC might incur.
The Citigroup analyst said in her revised report the new estimates are based on "incremental information and a broader comparison of similar institutions." Citigroup has a "sell" rating on RBC shares with a C$42.00 target price.