We added to our position in Sprint (S) last month based on that company's efforts to turn itself around, as well as the fact that we saw Sprint potentially picking up market share in the wake of Verizon's (VZ) new data price plan. We expect that AT&T (T) will be matching Verizon's new smartphone pricing plan. We have no illusion that Sprint has a way to go in order to gain ground on the Verizon-AT&T duopoly and we have noted that in our previous reports on Sprint. We're impressed with AT&T Mobility's performance since 2007, when it began selling Apple's (OTC:APPL) game-changing iPhone smartphone device and merged with BellSouth. In a previous report, we mentioned that the iPhone helped AT&T stay relevant in the 21st century and allowed AT&T Mobility's growth to offset declines in its wireline and directory businesses. The merger with BellSouth was a good idea because it allowed AT&T to increase its share of AT&T Mobility (Cingular Wireless) from 60% to 100%. If only Verizon had executed a similar transaction with Vodafone (VOD) to acquire VOD's 45% share of Verizon Wireless, Verizon would have actually seen a higher level of net income versus AT&T.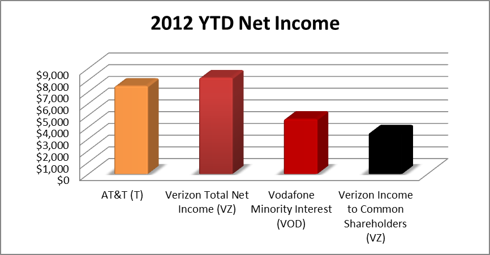 Click to enlarge
Sources: AT&T and Verizon Q2 Earnings Releases
AT&T Mobility continues to be the star-performer and workhorse for AT&T shareholders. VZW grew its Q2 2012 revenues by 4.8% versus Q2 2011 levels. Wireless service revenues grew by 4.3%, aided by an 18.8% growth in data revenues. Equipment revenues grew by $142M (9.8%) and were nearly $1.6B. AT&T's data revenues grew by $1B year-over-year and now represent 43.35% of its service revenues. As VZW only grew its total service revenues by $608M and total division revenues by $750M, we can see beyond a reasonable doubt that AT&T is benefiting from carrying Apple's (OTC:APPL) iPhone and iPad and the lucrative data plans that AT&T Mobility can sell to customers. Without the growth in data revenues, AT&T Mobility would have seen a revenue decline. AT&T also tightened its grip on retaining customers with its strong 0.97% contract customer churn rate and its 1.18% total retail customer churn rate, which improved by 18bp and 25bp versus the prior year period. AT&T sold 5.1M new smartphones during the quarter, 3.7M of which were iPhones. Despite the ballyhooed promotional campaign for Nokia's (NOK) new Lumia 900 smartphone with Microsoft's (MSFT) Windows Phone operating system were statistically insignificant. Sanford C Bernstein analyst Pierre Ferragu estimated that AT&T's Lumia 900 sales were 250,000 in the quarter. At least AT&T will save $25M in equipment subsidy payments, which should please AT&T Mobility CEO Ralph de la Vega. 22% of iPhone sales were to new AT&T customers (versus 25% for Verizon Wireless) and nearly 62% (43.1M) of AT&T's postpaid subscriber base had a smartphone in Q2 2012, up from nearly 50% (34.1M) in comparable quarter last year.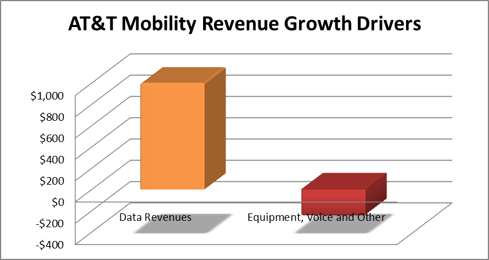 Click to enlarge
Source: AT&T Q2 Investor Briefing
AT&T Mobility benefitted from strong operational execution as its operating expenses were exactly the same as the prior year's period. This enabled it to generate a 17.85% segment operating income growth and improvement in its operating margin from 26.9% to 30.3%. AT&T's smartphone sales represented 77% of postpaid devices sold and provide a lucrative $30/per month and up revenue stream for data service. ARPU for retail postpaid customers increased by more than $1 year-over-year and reached $64.93 for the quarter. Because AT&T was the first carrier to sell the iPhone, we're not surprised that AT&T's ARPU exceeds Verizon's and Sprint's.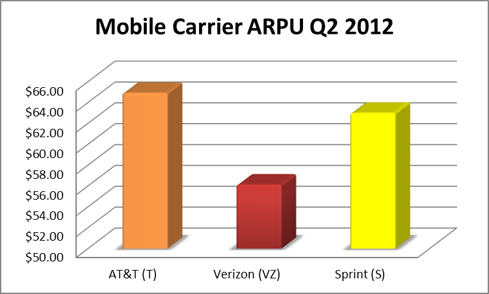 Click to enlarge
Sources: AT&T and Verizon Q2 Earnings Releases and Saibus Research Sprint report
With 1,266,000 new subscribers added during the quarter, AT&T saw its wireless subscriber base increase faster than Verizon Wireless's. However, Verizon Wireless had nearly three times as many retail postpaid subscribers added versus AT&T. Unlike Verizon, AT&T saw its retail postpaid customer additions stabilize while VZW saw its postpaid additions decline by 29.4%. VZW outshined AT&T on retail prepaid additions, growing by 290K new retail prepaid versus 92K for AT&T. VZW does not itemize its subscriber figures for its reseller and connected devices product lines during the quarter, only during the annual financial reports, so we can't really compare AT&T versus VZW in this segment. We noticed that the bulk of AT&T's new customers came from the reseller and connected devices channels and growth in new customers from the reseller channel single-handedly accounted for the growth in new AT&T Mobility subscribers.
We believe that this division is maturing as AT&T's corporate-wide capital expenditures have declined by over 7% year-to-date and 15% versus the prior year's quarter. However, as AT&T Mobility invested $4.7B year-to-date in CapEx, we see that it still sees solid growth going forward in its wireless division. We find it amusing that AT&T on one hand said it needed to acquire T-Mobile USA and raise data prices because it is running out of capacity only to cut the capital expenditure budget by 15% for the quarter. We concede that AT&T Mobility's CapEx increased by 6% YTD versus H1 2011; however that was easily met by reduced wireline CapEx and the sale of its directory services business. We noticed the same thing with Verizon in it increased the price for data and reduced its CapEx budget for VZW. We also noticed that VZW's revenue growth has slightly decelerated in Q2 2012 versus Q1 2012 levels (4.8% in Q2 versus 5.4% in Q1). With AT&T announcing it will match Verizon's new data plan, we potentially see further reductions in subscriber growth as more people are made aware of Sprint's unlimited data and texting smartphone plans for $79.99, versus much higher prices at AT&T and Verizon Wireless.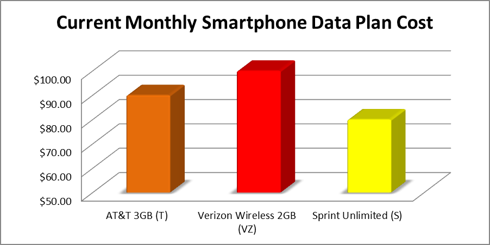 Click to enlarge
Source: Mobile Carrier Websites
AT&T Wireline is certainly not going to be confused for AT&T Mobility anytime soon. However, the division is making efforts to offset the decline of its traditional wireline business with strategic communications services such as its U-Verse Digital TV, High Speed Internet and Video services to residential and business customers. AT&T U-Verse has seen its subscriber base increase from 4.4M in Q2 2011 to 6.8M in Q2 2012. Wireline data revenues grew by 7.8% versus last year's quarter and 8.3% versus H1 2011 and nearly offset the revenue declines from voice and other wireline services. Even though AT&T has an ostensibly higher cost structure due to its larger proportion of unionized wireline employees, AT&T Wireline boasts a significantly higher profit margin than Verizon Wireline. AT&T Wireline actually grew its business segment income by 2.1% as reduced operating expenses and depreciation more than offset the decline in wireline revenues.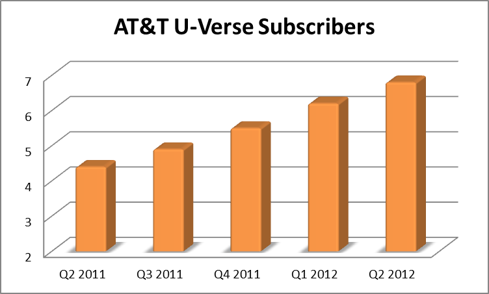 Click to enlarge
Source: AT&T Q2 Investor Briefing
In conclusion, we can't argue with yield hungry investors who are interested in the AT&T-Verizon duopoly, as those companies sport a 5% and 4.5% dividend yield respectively. AT&T has a nearly 1.75-1 dividend coverage ratio based on its 2012 YTD free cash flow of $9B and its $5.2B in dividend payments. Verizon checks in with a nearly 3-1 dividend coverage ratio based on its 2012 YTD free cash flow of $7.7B and its $2.6B in dividend payments. Dividend coverage is important because while it is not infallible, you want to be able to project that the company is generating free cash flows to cover its implicit dividend obligation to shareholders. Based on the strong market presence for both these companies, we can felt confident that each company will maintain and expand its dividend. In our professional opinion, we think that both Verizon and AT&T are suitable candidates for a dividend-rich portfolio. Verizon leads AT&T in the Wireless communications business (except for its 45% Minority Interest Tribute to Vodafone). AT&T is a much better performer in the Wireline communications segment than Verizon. We also believe that both companies would be more suitable to income-oriented investors than blue-chip growth investors because we believe that both companies are underestimating Sprint's transformation efforts. We noticed that Sprint implemented its first 4G LTE operations deep in the heart of Texas, deep in the heart of important incumbent local exchange markets of AT&T. We also would like to call out AT&T's management for engaging in double talk. On one hand, the company is talking about how little capacity it has and how it needed to acquire T-Mobile and jack up data rates while on the other hand it reduces CapEx and spends $4.25B on net share repurchases.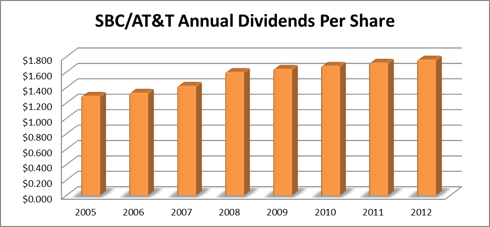 Click to enlarge
Source: AT&T/SBC Dividend History
Disclosure: I am long S, AAPL.
Additional disclosure: Saibus Research has not received compensation directly or indirectly for expressing the recommendation in this report. Under no circumstances must this report be considered an offer to buy, sell, subscribe for or trade securities or other instruments.