There are those who value company stock by the so-called fundamentals of net income, cash flow and a host of accounting ratios. Others love to see what the herd is doing, and then do "the opposite." (Think George Costanza getting a date with a beautiful woman by telling her that he lives at home with his parents and is currently unemployed!)
Of course, there's more info at our fingertips. Historical trends, economic cycles... even geopolitical news may move equities.
Yet the Rodney Dangerfield of equity analysis has always been "technical analysis." The mere idea that one should evaluate assets through price movement alone is often held in the same esteem as palm reading.
Myself? I've said it before. I love all info... albeit, not equally.
I tend to give the greatest weight to historical evidence as well as to contrarian indicators like the put/call ratio; that said, I take note when segments of the global economy climb above popular trendlines like the 50-day and 200-day moving averages.
Keep in mind, 6-8 weeks ago, you could not find a major economic sector that hadn't fallen below its long-term (200 days) or short term (50 days) trend. And now, 9 of 9 segments are above the 50-day, while 5 of 9 have climbed above the 200-day.
We may not have returned to a vibrant bull market. We may be stuck in a trading range that is consistent with slower-growth and higher inflation. But... big, ugly nasty bear? Perhaps not!
As of Friday's market close (5/2/08), 9 of 9 global sectors finished convincingly above their 50-day, while 5 of 9 had claimed "uptrend status" above the 200-day. Might you guess which sectors had further to climb?
iShares S&P Global Sectors And Their % Above/Below 200-Day Moving Average
Materials (NYSEARCA:MXI) 9.4%
Energy (NYSEARCA:IXC) 8.0%
Staples (NYSEARCA:KXI) 1.5%
Utilities (NYSEARCA:JXI) 0.2%
Technology (NYSEARCA:IXN) 0.1%
Industrials (NYSEARCA:EXI) -1.2%
Financials (NYSEARCA:IXG) -4.1%
Discretion (NYSEARCA:RXI) -4.9%
Healthcare (NYSEARCA:IXJ) -6.4%
Indeed, it may be troubling to note that if a new bull market were going to emerge, wouldn't we need to see leadership from financials and consumer discretionary? Wouldn't the old guard of materials and energy drop back to the middle of the pack?
Yet one needs to keep in mind that financials and consumer discretionary had fallen much further. It follows, that they have further to climb on the upside.
And perhaps they are beginning to show signs of leadership. After all, if we ranked these segments by 8-week performance, it is the iShares S&P Global Financials Sector (IXG) with the best return of 16.1%.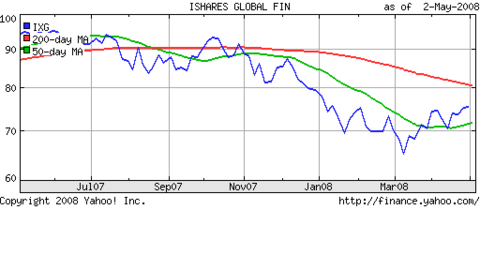 From my perspective, technology and financials show plenty of signs of leading the way forward. Specifically, tech companies are growing successfully and their earnings are solid. Meanwhile, there's plenty of reason to believe that the year-long credit crisis is working itself out.
The big concern is the consumer. Investors clearly do not believe that they are ready to spend again.
The lesson? Stick with my recommended sectors from my "Hit List." (Investors can bargain hunt in tech and financials, but it may not be time to bargain hunt on the beaten-down consumer.)
Disclosure Statement: ETF Expert is a web log ("blog") that makes the world of ETFs easier to understand. Pacific Park Financial, Inc., a Registered Investment Advisor with the SEC, may hold positions in the ETFs, mutual funds and/or index funds mentioned above. Investors who are interested in money management services may visit the Pacific Park Financial, Inc. web site.