In the span of a month, Horizon Lines (HRZ) has been marked down from $17-18 down to $10. First came news of a federal subpoena relating to pricing practices in the Puerto Rico trade. And then followed an ugly earnings report, or more accurately, the nasty guidance revision.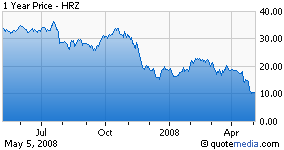 After raising diluted EPS guidance in February, management marked down 2008 earnings and free cash flow projections down by 30% and 34% respectively, blaming higher fuel prices amid a recessionary environment. This does not include any provision for the Puerto Rico investigation as they have no visibility on that at the moment.
Even at lowered FCF projections of $72M - $87M for 2008, the stock appears cheap (view my valuation assessment here). Seeing as I based my valuation on a $50M FCF base, company guidance still doesn't puncture my valuation thesis.
But at this point, CEO Chuck Raymond has what Jack Welch might call a credibility issue and as a result, Horizon's stock is getting its ass kicked. Management projections for its markets sans Puerto Rico strike me as a little optimistic (these projections have been trending downward with each passing quarter). The debt load climbed higher, which is troublesome even as the company lowers its cost of debt by fixing rates. Interest expense covered 77% of operating income and net margins dropped to 1%.
But in their favor, the first quarter is the weakest for HRZ and free cash flow was stronger YOY despite the downturn. They acknowledged that meeting revised guidance for 2008 was a must and see good growth possibilities in the logistics segment.
In the end, I am inclined to take my cue from management. Toward the end of the conference call, Raymond states:
And then finally, you have to look at the stock price today, and say to yourself this really represents a compelling investing opportunity.
But when asked earlier in the call if Horizon would be renewing its buyback program after the massive drop in share price, Raymond responded:
Well, John, you know, share repurchase is always something we keep on our radar screen. Clearly, with the stock down where it is right now, we have a much more compelling case for a share buyback. When you look at the cost of our debt and the yield that we would save on this thing, it probably makes sense. But, on the other hand, we've got opportunities to grow this business that are a good long term opportunities, and think that we'll take a good hard look at it. Are we considering a buy back right now? The answer is no. We haven't come to that conclusion. But we will certainly keep that alive as an option.
The fact that the company is hesitant to buy its own stock despite being able to borrow at lower rates than the shares are yielding speaks volumes. I got lucky in that the share meltdown happened shortly after closing my put positions.
A heavy debt load combined with a still un-budgeted capex program to replace an aging fleet weakens my confidence in the company's financial position but this is not new information. The rapidly escalating cost of fuel as well as deteriorating results which question the recession-resistant aspect of the investment thesis gives me serious pause. I'm not sure if my original investment thesis is wrong, but if it is wrong, there is a plausible scenario where HRZ goes to zero.
At this point, the company may be too risky to open a position.
* All conference call quotes courtesy of Seeking Alpha.
Disclosure: None