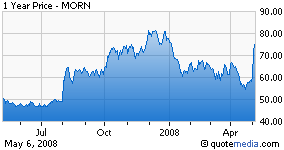 Morningstar, Inc. (NASDAQ:MORN) reported earnings late last week which were met with enthusiasm by investors. The company reported that although the first quarter had challenges relating to a volatile and declining market, the company still managed to grow revenues to $125.4 million which is 31.4% higher than last year. Their profitability was equally impressive, with net income coming in at 47 cents per share compared to 33 the year before. Management noted that the results were driven by strength in investment consulting as well as the licensed data it sells to subscribers.
Although the 30%-plus revenue growth looks very impressive on the surface, after accounting for acquisitions over the last year, organic growth was only 17.4%. Currency translation also benefited the headline revenue number as the company has grown international sources of revenue. In fact, overseas revenue now accounts for about 25% of total revenue which is a testament to the diversification efforts of management.
While acquired revenue growth may not carry the same weight as organic revenue growth, management should be commended for their disciplined approach to acquisitions. At this point, the balance sheet is still very strong with $215 million in cash and investments. On the liability side there is no long-term debt, which will give them flexibility to not only ride out a weak economic period, but enables them to take advantage of the situation by making long-term investments in new acquisition targets at a time when prices for these companies are very low.
The most recent major acquisition was a purchase of Hemscott, and although this new company may not have as much in the way of additional revenue, Morningstar is getting a very attractive India data center which it should be able to leverage by storing more of its company-wide information in this centralized location. Hopefully this will lead to cost-cutting measures that will improve the efficiency of the entire operation.
In reading a research report by WR Hambrecht, I became aware of a disturbing cloud on the horizon.
Currently, Morningstar receives a good bit of business from major Wall Street firms who purchase research. The agreements are a result of lawsuits back in 2004 and as part of the settlement, companies such as Merrill Lynch (MER) and SmithBarney are required to offer their clients independent third-party research for five years. Up to this point, the Hambrecht analyst believed that Wall Street would continue with the arrangement in order to stave off additional lawsuits in the future. But now that the firms are in more financial distress and are in cost-cutting mode, there is more likelihood that the individual contracts will not be renewed. While this is an issue that will not actually occur until July of 2009, it is worth keeping on the radar as the stock price will adjust in accordance with future expected events.
While Morningstar is a very healthy company and has traded up very nicely in the past few days, the valuation is at a place where there appears to be a good deal of risk in the position. For those holding a long position with profits, it may make sense to take some gains off the table or to hedge the position by selling out at the money calls. For example, at the time of writing, one could sell the June 75 calls for $3.30 which helps to cut back a bit on exposure and gives additional premium to add to current gains. In conclusion, this is a strong company that should survive a weak global economic cycle, but the stock is pricey at this point and should be treated with caution.
Disclosure: Author does not have a position in MORN.