The latest news out of the Eurozone concerning Spain and the bank bailout has put downward pressure on the euro. In turn, investors have found refuge in the U.S. dollar and focused exchange traded fund, but for how long?
Today, the head banker of the European Central Bank (ECB) made comments that the ECB is ready to do whatever it takes to preserve the euro.
Six new regions in Spain asked the central government for support, and yields on Spanish government debt are at unsustainable highs, around 7.5%. The euro had been trading at two-year lows against the U.S. dollar, resulting in sell-offs in European equities and the euro.
CurrencyShares Euro Trust (NYSEARCA:FXE) lost around 3% over the past month. Traders fled the euro for safer bets in the U.S. dollar and Japanese yen, reports Trang Ho for Investor's Business Daily. Shares of FXE were trading around $120, a level some analysts say is oversold territory.
Meanwhile, the U.S. dollar rebounded off the falling euro, as investors reacted to the news coming out of the Eurozone and weak economic indicators. While the greenback has some strength on the euro, the "fiscal cliff" is still hanging in the foreground and other liquid G10 currencies could appreciate, reports David Cottle for The WSJ.
PowerShares DB US Dollar Index Bullish (NYSEARCA:UUP) has been up around 5% since early May as investors have perceived the U.S. dollar to be a safe haven, reports John Nyaradi for MarketWatch.
"At the same time the U.S. dollar's appreciation against the major currencies continues for more than a year. Since May 2011 till the end of the first quarter of 2012 it has gained almost 10% against the euro," Emeil Mark wrote for Seeking Alpha.
PowerShares DB US Dollar Index Bullish
Click to enlarge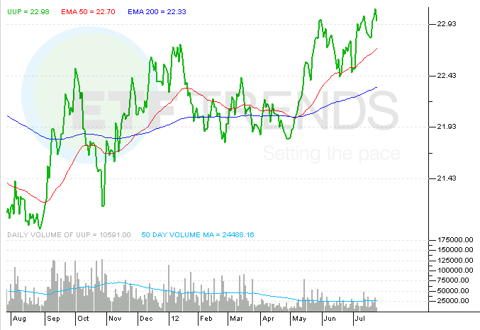 Click to enlarge
Tisha Guerrero contributed to this article.
Read the disclaimer: Tom Lydon is a board member of Guggenheim Investments.
Disclosure: I have no positions in any stocks mentioned, and no plans to initiate any positions within the next 72 hours.