Small-cap stocks, if picked wisely, provide an excellent opportunity to make blockbuster profits. Everyone wants to get in early and have some share in the growth of the company. Who does not want to hold a Microsoft (NASDAQ:MSFT) or Apple (NASDAQ:AAPL) when they just started doing business? More recently, we have seen the meteoric rise of Arena Pharmaceuticals (NASDAQ:ARNA). Arena stock reached above $11 from a mere $1.5 a share in less than a year.
Small-cap stocks present opportunities for large gains, but these gains also come with elevated levels of risk. Small-cap companies are usually in constant need of financing to fund the growth. It is extremely vital to choose small-cap stocks after a thorough research due to a higher probability of failure. Deteriorating market conditions did nothing to deter risk savvy investors. A fair few made heavy profits with their wise picks of small-cap stocks. I have tried to take a look at three stocks, which I believe could be winners in the future and have massive potential for growth.
Majesco Entertainment Company (NASDAQ:COOL):
Majesco is an innovative games producer catering to the mass market. The company has an operating history of more than 20 years. At the start, Majesco focused on reissuing the old titles. Eventually, the company started in-house game development. Video games market is booming all over the world. The Sony PlayStation, XBOX, and Nintendo Wii have totally revolutionized the market. There are a lot of products entering the market everyday, and the market keeps on absorbing them. Majesco offers unique products, which cater a wide range of family-oriented consumers.
In June, Majesco struck a strategic partnership with Fremantlemedia Enterprises to develop and produce games based on reality TV show "American Idol." American Idol has a loyal fan base, and receiving exclusive rights to publish these games for North America gives Majesco a tremendous advantage. Majesco also produces games for hand-held platforms, social networks and mobile devices. The company is targeting all the game platforms, which will form the future of the gaming industry.
Majesco's products include Zumba Fitness, Cooking Mama, and Alvin and the Chipmunks. Recently, Majesco announced its high-intensity NBA Baller Beats song list. This is the first ever full body motion-based NBA video game. The game allows players to use a real ball to learn and showcase their skills.
Majesco stock is currently trading at $1.85. The company has a substantial portion of its debt in accounts payable. Long-term liabilities are not excessive for the company, although liabilities increased during the previous year. The common shares of the firm have increased in recent years. Majesco has strong operating cash flows. For the last year, operating cash flows were over $9 million. With new partnerships and new products hitting the market, I expect the cash flows to improve further. There is a strong institutional ownership in the stock. A total of 42 institutions invested in the stocks. Majesco has a surprisingly low debt-to-equity ratio of 0.05. Majesco has healthy levered free cash flow of over $28 million. I expect Majesco to gain substantially in the near future. It is one stock to watch for big moves.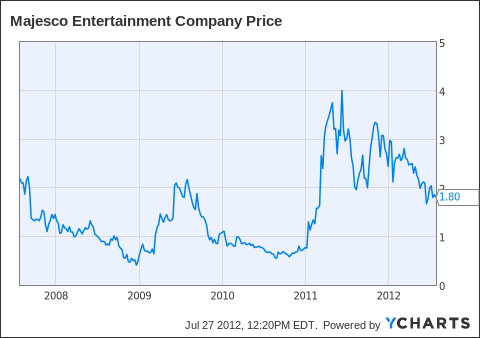 Celsion Corporation (NASDAQ:CLSN):
Celsion is a biopharmaceutical company focused on developing heat-activated liposomal drug delivery system. This technology will help create more effective ways of cancer therapies. This new system of cure will be a massive breakthrough in the industry. This new therapeutic system will bring added safety benefits for patients. Celsion stock has nearly doubled during the last year. Like any other firm involved in developing a product, Celsion needs stable infusion of cash. Celsion has cash reserves of $24.59 million. The company has negative operating cash flow of just above $24 million. It has been borrowing to meet the needs of cash. Long-term debt of the company has been increasing during the last three years.
The company has also issued stocks to raise capital. A regular increase in the number of shares indicates the company has been able to raise capital through share issues and investors have shown confidence in the stock. Financing is hugely crucial for any growing company; Celsion looks to be well placed to meet its financing needs through equity or debt markets. 36 institutions possess Celsion stocks amounting to 11% of the total shares. Insiders hold 4% of the stock. During the past six months, insiders bought 64,375 shares. Celsion is currently in the phase III trials of ThermoDox. The therapy will revolutionize the liver cancer treatment. Analysts are forecasting a 27% percent growth in earnings for Celsion. There is strong potential in this stock.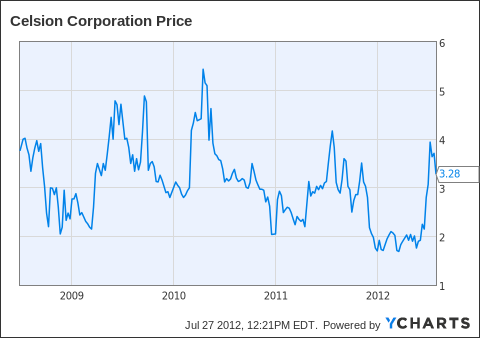 Craft Brew Alliance, Inc. (NASDAQ:BREW):
Craft Brew Alliance is an independent brewer. The company focuses on developing and producing one-of-a-kind beer. The stock has gained about 187% in the last five years. It gained about 30% in this year alone. The firm introduced its gluten-free beer. "Omission" is the first gluten free beer in U.S. produced using malted barley. This new beer will bring in healthy revenues, as the gluten-free market keeps growing. Craft increased production to meet the demand as 13,000 crates a day was not enough. Craft has a diligent management, which has a clear direction and has motivation to do more. The company has developed effective methods to brew its product, which gives Craft an advantage.
Analysts are expecting a 17.65% earnings growth for 2012 and a whopping 70% growth for 2013. Current revenue growth for Craft stands at just above 15%. Craft reported a 19% increase in revenues for the first quarter of the year and a 10% growth in non-contract shipments. There was an increase of 186 basis points in gross profit margin. The company is also spending on capital enhancements; $1.8 million was the capital expenditure for the first quarter. Craft has healthy revenue per share of $8.25. It holds cash reserves of $3.48 million and a total debt of just above $14 million. Operating cash flows for Craft were $9.88 million. Its management is optimistic about the future growth of the firm. The firm is growing and on its way to become a key player in the market. Given its cash rich giant competitors, the company might also be a takeover target in the long-term.
Disclosure: I have no positions in any stocks mentioned, and no plans to initiate any positions within the next 72 hours.