IMAX Corporation (NYSE:IMAX) is one of the world's leading entertainment technology companies, specializing in immersive motion picture technologies. The worldwide IMAX theater network is among the most important and successful theatrical distribution platforms for major event Hollywood films around the globe, with IMAX theaters delivering the world's best cinematic presentations using proprietary IMAX, IMAX 3D, and IMAX DMR technology.
Click to enlarge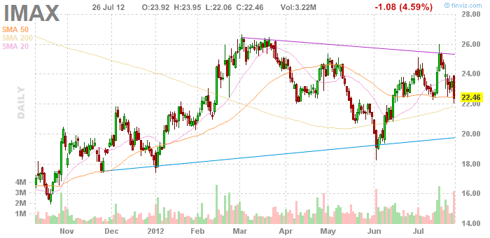 I see at least three reasons to buy the stock currently:
1. The stock has seen insider buying this month
Kevin Douglas purchased 100,000 shares on July 20, 100,000 shares on July 17, 183,600 shares on July 12 and 326,400 shares on July 9. Mr. Douglas controls 8,436,447 shares currently. The company has 68.4 million shares outstanding, which makes Kevin Douglas a 12.3% owner of the company. Mr. Douglas is the founder and chairman of closely held Douglas Telecommunications, a San Rafael, California-based provider of VoiP telephone services. Kevin Douglas has also purchased shares of Westport Innovations Inc (NASDAQ:WPRT) and Fuel Systems Solutions (NASDAQ:FSYS) this month.
2. The company reported strong earnings growth for the second quarter
The company released second-quarter earnings on July 26 with the following metrics:
| | |
| --- | --- |
| Earnings growth | 206% |
| Earnings | $0.16 per share |
| Revenue | $70.2 million |
"Our second quarter financial results reflect growth in recurring revenues and gross margin, driven by the power and scale of our global network and the solid performance of a portfolio of films," said IMAX Chief Executive Officer Richard L. Gelfond.

"In addition to our healthy box office results and our expanding network, during the quarter we signed deals for 40 IMAX theatre systems, our backlog rose sequentially and our pipeline for future theatre deals remains robust. We believe the fundamentals of our business are fueling our earnings growth and positioning us for success over the long term."
3. The company recently increased its estimate of worldwide IMAX zones to 1,700
Over the last two and a half years, the company has signed theater deals for 500 IMAX digital theater systems. Driving most of the signings momentum in its existing client base. In the second quarter of 2012, the company signed contracts for 40 theater systems and installed 20 theater systems. Based on the number of recent theater signings, the company has increased its 2012 installations scheduled only from current backlog to approximately 110 new theaters, from its previous outlook of 95-100 new theaters from backlog. In addition, the company may sign agreements for new theaters that install within that same year.
Conclusion
The stock has a $43.5 price target from the Point&Figure chart. I believe the target price is achievable during next 12-24 months.
Disclosure: I am long IMAX.