SanDisk's (SNDK) Flash memory products are in a sweet market segment and expected to grow significantly over the next decade or so. SanDisk has a three-pronged approach with respect to future execution—continue to drive scaling of NAND, partner with Toshiba in the development of vertical NAND or Bit Cost Scalable (BiCS) NAND and the development of 3D Resistive RAM (ReRAM). SanDisk's plan is to use BiCS technology as a bridge for the development of 3D ReRAM.
While SanDisk reported 10% sequential revenue growth in its Q2 2012 earnings call held on July 19, 2012, the company dropped a negative bombshell in the previous quarter and as a result its stock price took a big hit as shown below: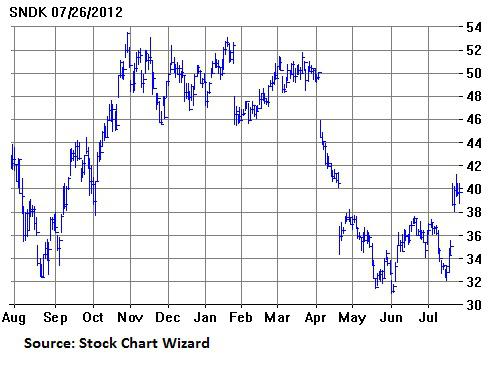 In the Q1 2012 earnings call held on April 20, 2012, the company attributed the negative performance to a demand/supply imbalance, and expected the imbalance to continue in Q2, but expected the imbalance to ease in the second half of the year.
The company has a number of initiatives for forward progress, including the development of new products for the mobile device market, which is expected to drive revenue growth in Q3 2012. In Q2, the company began initial revenue shipments to customers for embedded solutions, which is expected to contribute significantly to revenue going forward.
SanDisk has completed qualification and began initial shipments of new multi-chip package (MCP) solutions to some smartphone customers. The MCP is essentially an iNAND embedded product packaged with mobile DRAMs.
SanDisk's next generation high performance iNAND is currently in testing and qualification stages with various mobile OEM customers.
The company's Client Solid State Drive (SSD) products continue to scale nicely and the company also experienced strong sequential growth in Enterprise SSDs. The company also began shipments of first-generation PCIe solution with 200 gigabyte and 400 gigabyte configurations.
In Q2, 50% of the production mix was 19-nanometer technology. Going forward, the company excepts to increase the mix of two-bit memory, as embedded mobile and SSD applications are expected to use two-bit memory technology.
The company noted the launch of several new smartphones and tablet devices in the second half of 2012, along with a number of SSD-equipped Ultrabooks, is expected to drive the demand for NAND Flash. SanDisk does not plan a major capacity increase until sometime in 2013.
In a series of previous articles related to SanDisk, a married put position was first considered for the company, followed by a series of bull-put credit spreads. The losing married put position was exchanged for a bull-put credit spread, in an effort to recover from the loss and generate a profit. The bull-put credit spread was rolled several times, with the latest bull-put credit position having an aggregate potential return of 16%. The latest bull-put credit spread, consisting of a 2012 Oct 24/29 put spread, is now 30% out-of-the-money and can be exited for a net debit of $0.21 as shown below:
Click to enlarge

Since SanDisk appears to be doing much better, the current bull-put credit spread position is now out of trouble, and since time decay occurs for shorter time-frame options, it would be nice to roll from October options to August options. Looking at August bull-put credit spreads for SanDisk reveals:

The 2012 Aug 33/38 bull-put credit spread can be entered for a credit of $0.37, so combined with the net debit for closing the 2012 Oct 24/29 put spread of $0.21, the roll can be executed for a total net credit of $0.16, which represents an additional potential return of 3.3%. This takes the total potential return, including previous trades, to a total aggregate potential return of 19.3%. The details for the roll trade are shown below:
Trade
Sell to Close SNDK 2012 Oct 24 Put at $0.16
Buy to Close SNDK 2012 Oct 29 Put at $0.37
Buy to Open SNDK 2012 Aug 33 Put at $0.09
Sell to Open SNDK 2012 Aug 38 Put at $0.46
For those having not participated in the previous positions, a new position can be entered with a potential return of 8% (133% annualized) as shown below:
Trade
Buy to Open SNDK 2012 Aug 33 Put at $0.09
Sell to Open SNDK 2012 Aug 38 Put at $0.46
A profit/loss graph for one contract of the 2012 Aug 33/38 put spread, not including previous positions, is shown below: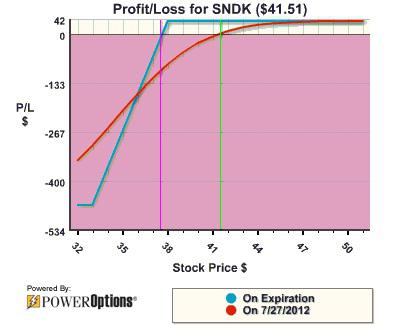 For a stock price above the $38 strike price of the short put option at expiration, the position is fully profitable. For a stock price below the $33 strike price of the long put option, the position is a total loss, however, the position should be rolled prior to sustaining a loss.
A new management point is set for $39.50. If the price of the stock drops below $39.50, the position should be managed for an exit or a roll.
Disclosure: I have no positions in any stocks mentioned, and no plans to initiate any positions within the next 72 hours.