EnerSys (NYSE:ENS) is a manufacturer, marketer and distributor of industrial batteries, primarily focused on reserve and motive power products. These products are marketed to over 10,000 customers in more than 100 countries. Currently, the company considers itself a market leader in both Europe and the Americas, while it is growing its presence in Asia.
The company appears to have very strong fundamentals, with a high return on equity, solid balance sheet and diversified growth, while its stock chart suggests that it could be ready for a breakout of an ascending triangle pattern. In this article, we'll take a look at these fundamentals and explore how investors can take advantage of the breakout opportunity.
EnerSys Has Strong Fundamentals...
EnerSys has very strong fundamentals thanks to strong secular demand for its battery and power storage products. Over the past five years, the company has generated a return on equity (ROE) of approximately 10.8% with positive revenue and net income growth. The company's balance sheet is also very robust with a current ratio of 2.3x and a debt-to-equity ratio of 0.8x.
The company also trades at a price-earnings multiple of 11.57x that compares favorably to the S&P 500 average of 15.77x, while its enterprise value to EBITDA (EV/EBITDA) of 6.51x means that investors are only paying $6.51 for each dollar of EBITDA. These metrics are very cheap relative to the company's strong growth rate in recent quarters.
Finally, the company's growth should continue, given its commitment to cutting costs and expanding its revenue base through acquisitions. According to its most recent 10-K filing:
Total net sales increased 16.2% or $319 million in fiscal 2012 from fiscal 2011. This was due to an 8% or $149 million increase in organic volume and price increases of 2% or $49 million. Acquisitions in fiscal 2012 added approximately 4% or $73 million to net sales. Fluctuations in the U.S. dollar versus foreign currencies increased sales by 2% or $48 million.

We believe we are well positioned to take advantage of future growth in our markets. We have taken numerous steps to restructure our manufacturing base and administrative operations to reduce our costs. We expect the economic climate and our strong capital structure will be conducive to a continuation of acquisitions which will help grow our business faster than the overall market growth.
…And Appears Ready For A Technical Breakout…
On a technical level, EnerSys' stock is trading in an ascending triangle pattern, suggesting that there could be a breakout in the future. The upper resistance (breakout point) is at approximately $36.00 per share, while the lower support has been moving up slowly from $30.00 per share to approximately $33.00 per share now.
Investors should look for a high volume breakout from the $36.00 per share level to indicate a successful ascending triangle breakout. Once this occurs, investors may consider the $36.00 per share level a new support for another move higher.
Click to enlarge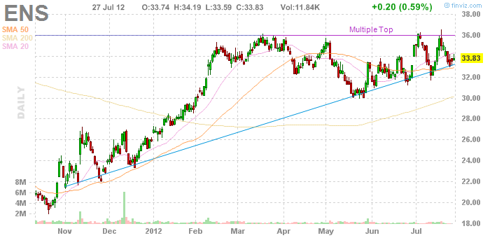 Chart from FinViz
…But There Are Some Risks
Despite the bullish outlook, EnerSys does face a few risks that investors should be aware of before committing any capital.
The battery market is highly competitive and very fragmented, with significant competition from companies like Exide Technologies (XIDE). While the company has a lot of leverage as the largest player, it could face pricing pressure that could erode margins.
The global economy continues to take a turn for the worst and many government subsidies that support the secular move towards batteries could disappear. This is particularly true in European markets where governments are cutting back.
The company has a large amount of convertible notes, $172.5 million worth, that could be exercised and adversely affect its liquidity. However, the company expects to have sufficient cash and/or stock to settle these demands, if they arise.
Disclosure: I have no positions in any stocks mentioned, and no plans to initiate any positions within the next 72 hours.