By Carla Fried
Prospects for the housing sector seem to be firming up like a newly poured foundation. Key indicators are beginning to show promising positive trends.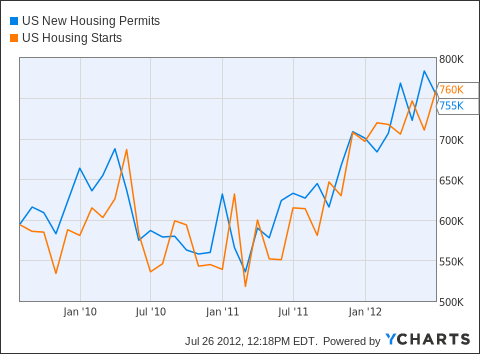 US New Housing Permits data by YCharts
The fact that the existing home sales ticked down this month was seen as a function of supply, not demand. There's a lack of inventory as potential sellers are slow to move off the fence. That's a lot better than a scenario of falling sales because no one wants to buy.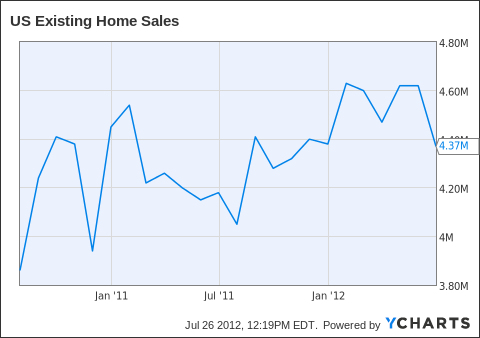 US Existing Home Sales data by YCharts
The sense that housing is beginning to show positive forward movement and not just a slower pace of erosion is also expected to spur more homeowners to plow more into home renovations.
The Joint Center for Housing Studies at Harvard has an ongoing forecast of remodeling activity. The just-released forecast is that spending in the 12 months starting in this year's fourth quarter will grow at a 5.9% pace. That's more than double the 2.2% expected annual growth rate the JCHS expects through the end of this year.
And that seems to be the start of some strong growth. The forecast expects remodeling spending in 2013 will be 12% higher than the growth rate for 2012.
Though logic might lead you to think all that means good times are ahead for Home Depot (NYSE:HD) and Lowe's (NYSE:LOW), it's not exactly a slam dunk call. Think more reverse layup in traffic.
For starters, as if you haven't noticed, we've got ourselves a fragile economy struggling to keep from stalling out. In the most recent retail sales release, there was a decided decline in what we're spending on home improvements.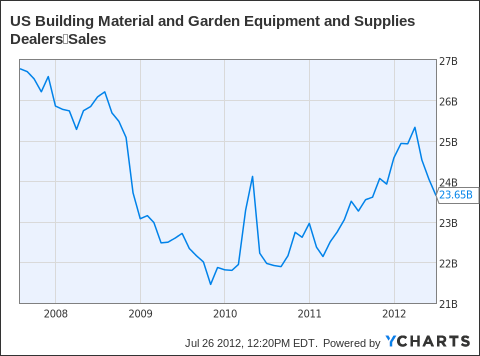 US Building Material and Garden Equipment and Supplies DealersSales data by YCharts
As that chart shows, Home Depot and Lowe's were a more compelling buy back in late 2010 and early 2011 when there was a big jump in post-crisis delayed maintenance.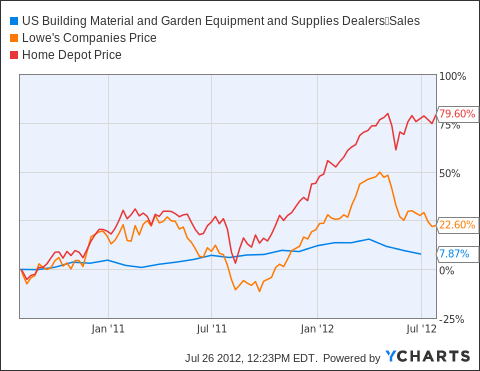 US Building Material and Garden Equipment and Supplies DealersSales data by YCharts
Right now, neither is a screaming value, based on P/E ratio, when stacked up against the 13 P/E ratio for the S&P 500.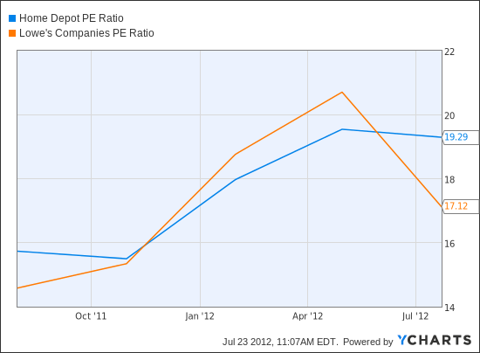 HD PE Ratio data by YCharts
Yes, there is a nice dividend to be had. Home Depot's current payout is 2.3% and Lowe's is 2.5 percent. Moreover, both are committed to increasing their dividends.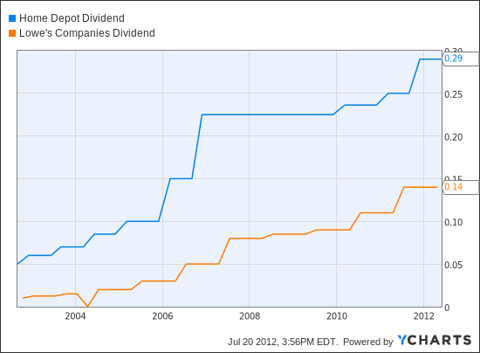 HD Dividend data by YCharts
But keep your eye on retail sales in the coming months. That's the surest signal of whether homeowners have the confidence in their jobs, and local home values, to sink money into home improvements.
Carla Fried is an editor for the YCharts Pro Investor Service which includes professional stock charts, stock ratings and portfolio strategies.
Disclosure: I have no positions in any stocks mentioned, and no plans to initiate any positions within the next 72 hours.