One of Brazil's largest residential home developers, Gafisa (NYSE:GFA) has been meted out some hefty punishment by the market. Its shares have declined by around 75% over the last year. This plunge in value can be partly attributed to Brazil's rapid economic deceleration, but also to deeper issues within the company. Gafisa has been battling a high rate of cash burn, diminishing cash flow, and less than profitable operations in Brazil's budget housing market. However, the company has sought to address these issues and return to profitability over the last 6 months. This leaves investors to consider whether the company has turned the corner, and with a significantly depressed share price, now represents value.
Recent financial performance has improved markedly
Gafisa's significant depreciation in value can be attributed to a loss of investor confidence triggered by a series of poor management decisions that prompted a decline in the company's profitability. For the full year 2011, it reported a substantial loss of $518 million, which was a 457% fall from the previous year.
Its worsening prospects caused Gafisa to stage a company wide restructuring, putting new management in place in an attempt to turn the company around. As a result, the company's performance significantly improved in the first quarter 2012. Revenue rose ninefold to $509 million, and net income sevenfold, at a net loss of $17 million.
However, its balance sheet weakened, with cash and cash equivalents falling by 4% to $519 million, and long-term debt almost quadrupling to $1.5 billion. But importantly, these improvements have occurred on the back of stronger sales volumes. For the second quarter 2012, sales velocity increased to 16% from 10% for first quarter.
The company's recently released unaudited second quarter 2012 preview of operational results indicates further improvement. The company has reported positive free cash flow of $82 million, which is a significant improvement over the first quarter cash burn of $37 million. Additionally, Gafisa increased its cash and cash equivalents by 8% to $559 million.
All of which is a considerable feat in light of the significant slowdown in Brazil's economic growth, combined with the major banks' tightening credit requirements.
Debt profile is of some concern
Despite the improvement in cash flow and financial performance, the company's degree of leverage has significantly increased. Compared to the fourth quarter 2011, long-term debt has increased threefold to $105 billion. But short-term debt has fallen by 60%, and overall liabilities are down by 5%.
This gives Gafisa a debt to equity ratio of 149%. While I prefer companies where equity is greater than debt, I do not believe that it is overly leveraged. Such a degree of leverage is typical of a residential construction company that relies upon financing to fund new development projects. It is also commensurate with many of its peers, including the U.S based Brookfield Residential Properties (NYSE:BRP), which has a debt to equity ratio of 142%.
One key consideration is whether Gafisa is generating sufficient cash flow to support this level of debt. Based on its first quarter financials, the company's cash flow to debt ratio is a very low 2%. This indicates that cash flow generation in proportion to the degree of leverage is quite weak. It is of further concern that the company's $145 million of cash on hand is less than 1% of its long-term debt. This indicates that Gafisa has a very limited capacity to fund its debt expenses.
The resultant risk is that unless Gafisa can continue to increase sales and boost operating cash flow, it will burn through its cash holdings extremely fast. However, I believe that this risk is offset by Gafisa's improved performance. As illustrated by the second quarter earnings preview, the company has become cash positive.
Unlike many other Brazilian companies with U.S listed ADRs, Gafisa's debt is denominated in reals rather than U.S dollars -- another positive. This minimizes the currency risk associated with investing in the company, because in the event of the real further depreciating against the dollar, interest costs won't rise.
Expenses could be lower
For the first quarter 2012, the company reported that cost-of-goods-sold (COGS) had risen by 37% to $398 million. This can be attributed to the significant operating expenses that were incurred with the implementation of the company's turnaround strategy. It can also be attributed to increased sales activity, which increased evenue by almost 900%. When compared on a year-on-year basis, costs only increased 18%, yet revenue rose by 27% -- another signal that the company's turnaround strategy is gaining traction.
For the last quarter, total COGS as a portion of revenue was 78%, making Gafisa a marginally higher cost producer than its peer, Brookfield, which has a COGS to revenue ratio of 72%. This leaves Gafisa with a gross margin of around 22% -- lower than the industry average of 27%, and than Brookfield's 28%. Disappointingly, despite having a double digit gross margin for the first quarter, Gafisa had a net profit margin of -3%.
Gafisa is cheap for a reason
After having fallen by 77% in value over the last year, the company is now trading at a 74% discount to its book value per share. As a result, it appears ridiculously cheap, especially when you consider the company's 2013 forward price-to-earnings ratio of 6.
But there is a reason for this. The root of Gafisa's problems stems from its 2008 acquisition of high volume, low income housing developer Tenda. At the time of the acquisition, the market perceived it to be an exceptional buy that meshed well with Gafisa's existing business, for a bargain price.
This was eventually found to be untrue, with Gafisa finding itself saddled with developments that had little to no profitability. Furthermore, many of the pre-approved buyers for existing developments were unable to proceed with their purchases from Tenda, because they lacked the financial capacity to do so. As such, Gafisa was forced to make a series of write downs on these assets.
It also left Gafisa facing rising costs from its growing inventory of low cost housing units that would be particularly difficult to sell. But over the last two quarters, Gafisa has been able to significantly reduce this inventory, selling 62% of the cancelled Tenda units.
The macro outlook remains poor
Gafisa investors face considerable risks, as the outlook for the Brazilian economy is muted at best. For the first quarter 2012, the GDP growth rate had slowed to 1.89%. For the full year, it is now expected to be less than 2%. As I have previously written, it is also unlikely that there will be any significant sustained recovery in Brazil until the European financial crisis is resolved and Chinese economic growth resumes.
The poor economic outlook for Brazil is also evidenced by the expectation that there will be an additional rate cut taking the Selic rate to 7.5%. This will more than likely see downward pressure placed on the real, with it depreciating further against the U.S dollar. In that case, further downward pressure will be applied to the prices of Brazilian ADRs. However, any further cuts in the Selic rate will create some economic growth and reduce the cost of credit for borrowers and prospective home buyers.
Housing demand in Brazil has slumped
The demand for residential properties in Brazil has slowed significantly, not only because of slower economic growth, but also because of high inventories and the reduced availability of credit. The rapid expansion of the Brazilian economy in 2010, which saw GDP growth hit 7.5%, created a building frenzy among residential property developers and a lending frenzy among Brazil's banks.
This has created a housing glut with the volume of new properties on the market exceeding demand, particularly as the economy slowed and domestic consumption stalled. It has been predicted that Brazil will experience sufficient economic growth over this year and the next, and that the housing market can absorb this excess supply by the end of 2013.
Another factor that doesn't bode well for the Brazilian housing market over the short- to mid-term is that Brazil's main mortgage lenders have tightened their lending standards in response to growing concern over increased loans in arrears and defaults. In May 2012, the national non-performing loan ratio was 7.9%, which is a 20 basis point gain on the same period in 2011. The Brazilian non-performing loan ratio for mortgages is lower at 5.3%, although I believe that is still uncomfortably high.
As a point of reference, the Brazilian non-performing loan ratio is almost double the U.S national average non-performing loan ratio of around 4.2%. However, the rising default rate is being predominantly driven by consumer loans extended for the purchase of consumer durables rather than mortgages.
Long-term growth catalysts abound
Despite the negative near-term outlook for the Brazilian housing market, there are still significant long-term growth catalysts. These should also provide some relief in the short-term.
The cuts to the Selic rate, combined with the government ordering state banks to cut borrowing costs, has reduced the cost of credit, making it more available and affordable. In the short-term, this will ease the burden on existing borrowers and act as an incentive for prospective buyers to purchase property.
This is also being assisted by a reduction in living costs, with the government cutting taxes on consumer and industrial goods as part of its measures to kick-start economic growth. Another promising sign is that, despite the economy slowing, the unemployment rate has remained stable. For May 2012 it was reported at 5.8%, which is a 20 basis point drop from April.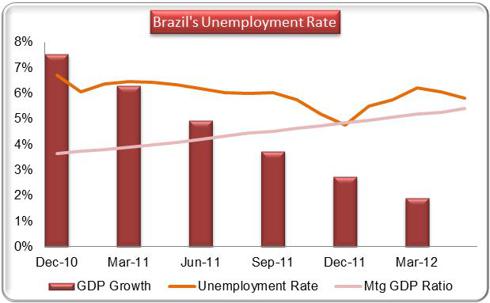 source data: Banco Central do Brasil
Furthermore as the chart illustrates, the mortgage to GDP ratio has also continued to grow. It reached 5.4% in May 2012, which is a 15 basis point increase from April.
The long-term outlook for the Brazilian housing market is positive
Over the long-term, the outlook for the Brazilian housing market is far more positive. In a country with a rapidly urbanizing population, a growing middle-class and an acute housing shortage, it is likely that demand for housing units will significantly increase. It is also estimated that at this time, Brazil has a housing shortage of around 6 million homes. This shortage is also expected to grow, primarily in the low income housing market.
In addition, Brazil's level of household debt is relatively low at only 43% of GDP, and the credit to GDP ratio is also quite conservative at 50%. This indicates there is room for credit growth, although this growth has been estimated to be relatively modest, with the credit to GDP ratio expected to increase to 55% over the next two years. Due to demographic constraints and structural issues, it is also likely that the Brazilian economy is currently incapable of sustaining a substantially higher credit to GDP ratio.
However, Brazil's mortgage to GDP ratio at 5% is one of the lowest in Latin America and among developing economies, as the chart below illustrates. This is because Brazilians have typically used cash for property transactions as a result of high borrowing costs and interest rates. But with interest rates and borrowing costs significantly reduced, the uptake of mortgages should increase.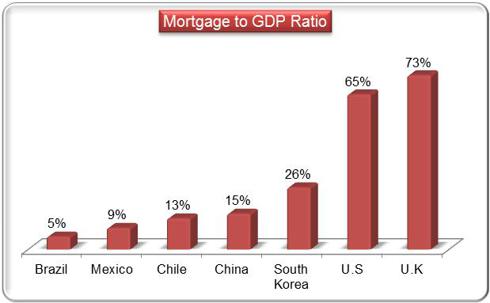 source data: Banco Central do Brasil, Banco Bradesco, ABAD & IMF
With cheaper borrowing costs, it is apparent that the Brazilian economy can sustain a higher mortgage to GDP ratio. This bodes well for increased growth in home ownership and long-term demand for housing.
Government sponsored housing development
As part of its ambitious social reform package, the Brazilian government has established a housing program called Minha Casa Minha Vida, which translates to; "my house, my life." The program's goal is to build 1 million new homes for impoverished and low income families by 2016, with the government contributing an investment of $16.8 million. The program also facilitates housing credit for households that typically would not be able to access regular credit. All of which bodes well for increasing demand for low income housing units, which Gafisa is able to take advantage of through its Tenda unit.
Gafisa strategy and competitive advantage
As part of its company-wide restructuring, Gafisa has also introduced measures to minimize the risks associated with buyers who forfeit possession of completed Tenda units. As part of the new model, housing projects are only be made available to low-income clients if they have been approved by Caixa Economica Federal, the state run bank responsible for financing the Minha Casa Minha Vida program.
The company also has broad-based market appeal, serving all segments of the Brazilian real estate market through its three brands: Gafisa, Tenda and AlphaVille. This makes Gafisa one of the most diversified builders in terms of products, including residential properties, subdivisions and projects for low-income earners.
Bottom line
Gafisa has been severely punished by the market for its poor performance and failure to effectively execute its business strategy in what is a particularly challenging operating environment. Furthermore, there still a significant degree of risk for investors when the high level of leverage, low cash on hand and poor cash flow are taken into account.
Additionally, the outlook for Brazil's economy and housing market is quite poor, and neither are expected to recover in the short-term. All of these factors have contributed to the fact that the company is now trading at less than half of its book value per share. But with Gafisa trading at such a significant discount to its book value, combined with its growing sales and a stronger financial position, as well as the positive long-term outlook for the Brazilian housing sector, I believe that it presents as an opportunity for risk tolerant long-term investors.
Disclosure: I have no positions in any stocks mentioned, but may initiate a long position in GFA over the next 72 hours.