The list of six REIT Dividend Aristocrats (S&P companies that have consistently increased dividends every year for at least 20 years) has now become five. This week Washington Real Estate Investment Trust (NYSE:WRE) announced that the company would cut its dividend - the first cut in more than 50 years.
During the company's conference call (on July 27th) executives said the reduced dividend - down to 30 cents per share from the previous 43.375 cents - meant its coverage ratio is now in an extremely comfortable range. Management also pointed out that, should there be further shocks to the D.C. market, the cash freed up by the dividend cut - estimated at about $35 million per year - would allow Washington REIT to be aggressive.
As Zach Fox of SNL Financial wrote,
With the U.S. presidential election and so-called fiscal cliff looming at year-end, there is a real possibility that some D.C. landlords could be in trouble.

[...]

During that back-and-forth with analysts, an executive offered further support for the thesis that the D.C. office market is showing increased signs of weakness. He said there have been signs of depreciation in suburban D.C. properties, pointing to a Chantilly, Va., property that recently traded at an 8% cap rate. He said Washington REIT sold a similar property about a year ago at a 6.2% cap rate.

[...]

Most of the call focused on the state of the D.C. market, with one analyst asking the company whether the outcome of the presidential election would affect the state of the market
George "Skip" McKenzie, CEO of Washington REIT answered,
Honestly, I'm not smart enough to know that. I mean, really, the [desired] outcome would be if we get the legislative body on the same page to make decisions. … Honestly, I'm not sure anybody knows [how to get there]. But we're hopeful that cooler heads will prevail and people will get together and realize that this is not the way to run a country.
In his prepared remarks, McKenzie said concerns over sequestration and the fiscal cliff have left business managers with "little motivation to execute leases or expand business." Later in the call, he said the entire D.C. market is waiting on a decision from the government as to how much office space it will cut.
On the dividend cut, John Guinee, an analyst with Stifel Nicolaus & Co., commented that it marked
A sad day, but I guess a necessary day.
On July 11th I wrote an article on S&P's High Yield Dividend Aristocrats list (a list designed to measure the performance of companies within the S&P Composite 1500 that have followed a managed-dividends policy of consistently increasing dividends every year for at least 20 years). That list of six dividend aristocrats is now five.
Washington Real Estate Investment closed Friday at $26.24 per share, down 5.24 percent. The company has a market capitalization of $1.74 billion and the current dividend yield is 6.3 percent.
click to enlarge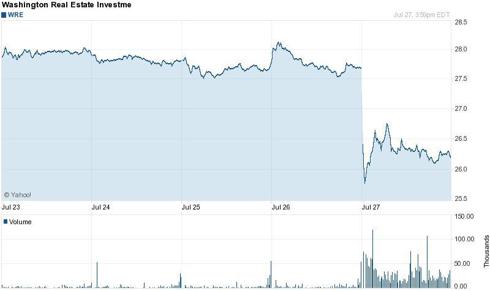 Click to enlarge
Source: SNL Financial
Other REITs mentioned in this article include FRT, HCP, NNN, UHT, and SKT.
Disclosure: I have no positions in any stocks mentioned, and no plans to initiate any positions within the next 72 hours.