Magellan Midstream Partners LP (MMP) confirmed their reputation as a top dividend retiree income play. The partnership increased the partnership's quarterly cash distribution to 94.25 cents. This is a 12% increase over the first quarter 2012 distribution of 84 cents. The distribution hike is 20% above 2011's 2nd quarter. The new annual distribution amounts to $3.77 per share. This is a consistent income producing midstream partnership for retirement investment allocations. Retirees can rely upon consistent distribution hikes and an increasing flow of funds to their brokerage accounts.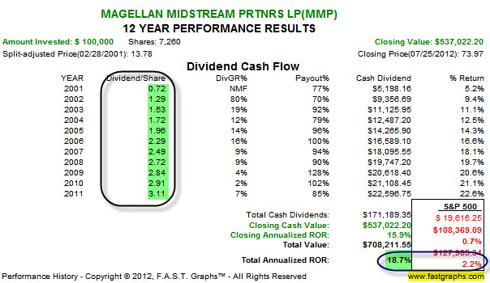 Click to enlarge
Partnership Business Model Overview
Magellan Midstream Partners is a midstream partnership focused upon the transportation, storage, and distribution of hydrocarbons in the U.S. Gulf coast and upper Midwest regions. Petroleum pipelines represented 80% of 2011 revenues. The pipeline division has 9,600 miles and 51 terminals.
The petroleum terminal division represented 18% of 2011 revenues. This division has 6 marine and 27 inland terminals.
Similar Peer
Enterprise Products Partners L.P. (EPD) is a leading midstream operator without General Partner (GP) Incentive Distribution Rights (IDR). The elimination of GP IDR's provides an impetus for bidding on projects as a low cost provider. The cost of capital is clearly defined in this table: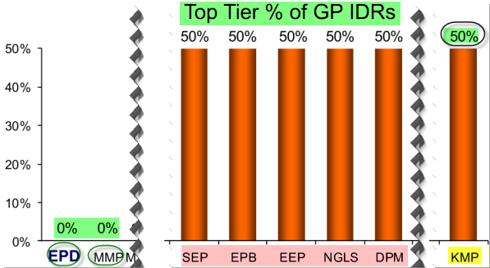 Click to enlarge
There is one distribution rate to unit holders. A GP IDR gives preferential payouts to the General Partner IDR unit holders.
Kinder Morgan (KMI) owns GP IDR's over Kinder Morgan Partnership units (KMP). The partnership units, per the terms of the IDR, provide more financial benefits to their GP than to the partnership units. The benefits is vastly in favor of owning the Kinder Morgan GP than the partnerships.
Magellan Midstream Partners' Positive Catalysts
1. The partnership has increased its quarterly distribution for 40 consecutive quarters. This is 10 years of consistent unit holder pay raises. The below table shows the present value of $1,000 through present date if distributions were reinvested since the initial public offering. One thousand dollars is now worth $10,594.30.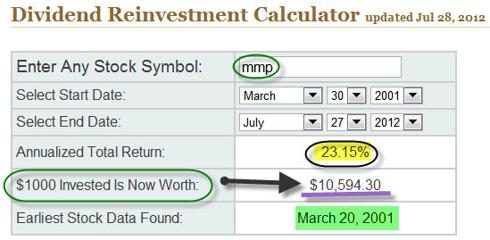 Click to enlarge
The annual returns equate to an average 23.15% return. The distribution is expected to increase a net 9% this year, and a 8% - 10% hike in 2013. These are staggering increases when compounded interest is factored in.
2. Magellan Midstream Partners doesn't have IDR's. This provides the partnership one of the lowest cost of capital in the master limited partnership. These savings are passed down to the shareholder. This is a significant competitive advantage.
3. Transportation and terminals revenues will increase, in part, due to a tariff increase directly related to the Producer Price Index (PPI). The July 2012 PPI increase is expected to be 8.6%. Profit is derived via volume and tariffs. The average 2011 tariff was increased by 7%.
4. Management anticipates future endeavors to result in 85% of operating margin to be fee based, and low risk activities. 83% of Magellan Midstream Partners' 2011 operating margins were based upon these low risk activities.
5. Magellan Midstream Partners has $860 million in acquisition activities under way. These are designed to produce free cash flow and increase net operating margins.
Future growth projects, if internal rates of return warrant, continued investments in a) Canadian and central U.S. crude pipelines; b) an ongoing open season, for up to 225,000 barrels per day, on a expected reversed crude oil line in the Permian Basin; c) an ongoing open interest in a potential BridgeTex pipeline with Occidental Petroleum; and d) enhancements to the Magellan Midstream Partners' Houston crude oil pipeline between Houston and Texas City refineries.
Strong Management Team
I personally focus upon a management team prior to any investment. Strong management will deliver results for shareholders. Michael N. Mears currently serves as Magellan Midstream Partners' Chairman of the Board, President and Chief Executive Officer.
The entire team has extensive experience in the midstream industry. The salaries are reasonable and they are not exploiting common unit holders with excessive GP IDR's.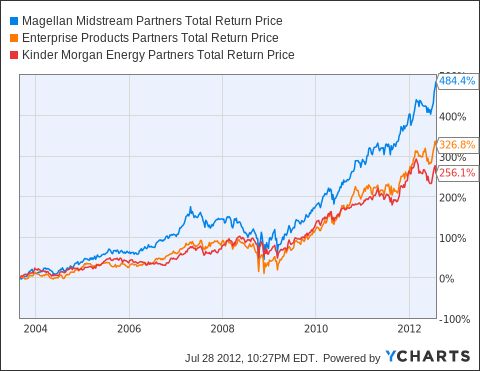 MMP Total Return Price data by YCharts
Action
The partnership has a strong management team, 40 consecutive quarterly increases, low risk projects in development, and a commitment to deliver outstanding returns to unit holders. This partnership should provide consistent results in the midstream sector. I am confident management will make accretive acquisitions to generate free cash flow level. This, in turn, will result in continued quarterly distribution increases. 40 quarters is proof that quarterly increases should be expected by retirees.