I have habitually listened to the earnings conference call from Apple (NASDAQ:AAPL) ever since a friend let me know late last year its availability as a podcast (yes, I was a bit behind the times). These conference calls are always fascinating but this time around, I took a particular interest in management's expectations for foreign exchange and conditions in global economies.
Like all companies with extensive international presence, Apple took a hit from the strong dollar (quotes from Seeking Alpha transcripts):
…the dollar strengthened against most currencies around the world, which reduced our revenue growth sequentially by over $200 million net of our hedges.
Apple appears to expect continued strength in the U.S. dollar as the company projects a $400M hit to revenue (net of hedges) from the currency in the current quarter. These numbers are of course small potatoes for a company that earned $35B in revenue last quarter at a growth rate of 23% year-over-year. So, Apple's general call on macro-economic conditions is more important:
…we are not expecting the economies in Europe or the natural resource based countries including Australia, Brazil and Canada to improve from what we saw in the June quarter. As Tim said, we saw no obvious evidence of the economy impacting our sales in China in the June quarter or in the U.S., but we are reading the same things that you all are about these economies.
Putting aside the implication that Apple's management claims it has no unique insight into global economic conditions, I think the choice of words is insightful. At the risk of over-interpretation, I think a prediction that conditions will not improve communicates an expectation (and hope) that conditions will stabilize. Calling out resource-based countries points to weak demand for commodities which in turn suggests little to no improvement in China. I have marveled at the strength in the Australian dollar's bounce from June lows against the U.S. dollar (NYSEARCA:FXA) and have assumed that carry trades chasing yield are moving the currency. A stabilization in economic conditions can also explain the strong bounce.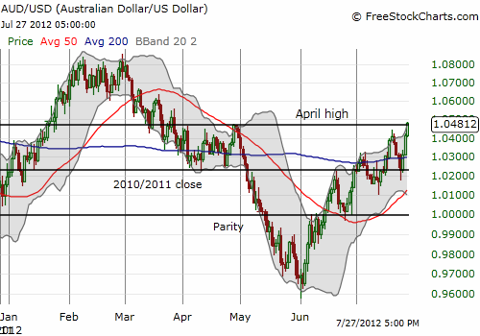 Click to enlarge
The Australian dollar breaks out
Source for charts: FreeStockCharts.com
Fortunately for Apple, it seems that hot demand for its products in China have been largely independent of general economic conditions there (the new iPad has only just now rolled out after resolving a trademark dispute). Demand in the U.S. also remains robust.
The weakness in Europe did not break down as I would have expected. Demand in the United Kingdom appears fine despite the country falling into recession. Relative strength in the German economy is not translating into stronger growth in that country…
Within Europe, now I'll switch from iPhone to talking about more of the gross revenue level…The U.K. was relatively solid at 30% growth, but France and Greece and Italy were particularly poor, and Germany was also similarly a single-digit positive growth for the quarter. Eastern Europe was strong, materially stronger than Western Europe, but obviously the Western European countries drive the preponderance of the revenue in that segment. And so, we're certainly seeing a slow down in business in that area. Fortunately, the U.S. and China, although I realize it's getting a lot of [press], we're not seeing anything that we would classify as an obvious economic issue.
All things considered given the macro calls, I have to assume that the small setback in Apple's stock represents a buying opportunity. The recovery in the stock already appears underway with Apple closing at a post-earnings high on Friday that closed the stock above its 50-day moving average (DMA).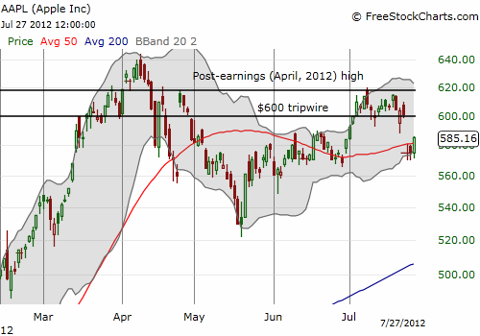 Click to enlarge
Apple's post-earnings recovery appears to be in motion
Source: FreeStockCharts.com
I did not make a pre-earnings play on AAPL given it did not close within my trigger areas as defined in my updated Apple's pre-earnings analysis (see "Apple July Earnings Play Hinges On The Final Days"). If the stock had stayed where it was the day before earnings, I would have pulled the trigger for a bearish position.
Apple's history of recoveries from post-earnings sell-offs is consistent. Since 2007, Apple has sold off only 6 out of 22 earnings calls, excluding the last one. Apple eventually closed these gaps in EACH case before the next earnings call (not surprising for a stock in a strong, long-term uptrend). The longest recovery was after the October, 2011 earnings call where it took Apple 79 calendar days to recover. It took Apple 75 calendar days to recover from losses after the January, 2008 earnings call. The shortest recoveries were 6 days after January, 2011 earnings and 16 days after October, 2010 earnings. However in both cases, Apple still spent less than 50% of the quarter at recovery levels (45% and 36% respectively).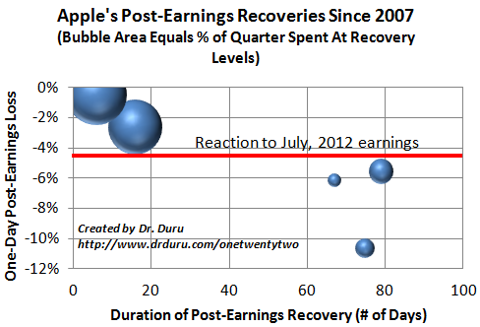 Click to enlarge
Apple's Post-Earnings Recoveries Since 2007
Source: Earnings dates from briefing.com, price data from Yahoo!Finance
In the above bubble chart, the area of the bubble represents the percentage of time before the next earnings announcement that Apple's stock spends at a fully recovered price level. The x-axis measures the number of calendar days it takes for Apple to FIRST achieve a full recovery from a post-earnings sell-off. The bubble for the 16-day recovery after the October, 2010 earnings completely covers the bubble for the 17-day recovery following the July, 2008 earnings. The red line represents the -4.3% price performance the day following this month's earnings. This line neatly splits the small sell-off, quick recovery scenarios and the large sell-off, long recovery scenarios. So, it seems there is about a 50/50 chance Apple will experience a short versus a long post-earnings recovery this quarter…but it WILL happen assuming history continues to matter here.
[For history buffs, since 2000, Apple has sold off 20 out of 50 earnings calls, excluding the last one. The stock recovered those losses before the next earnings call a total of 16 times].
Disclosure: I have no positions in any stocks mentioned, but may initiate a long position in AAPL over the next 72 hours.