I won't go rummaging through my StockTwits steam trying to find the quotes because that would take forever, but I want to highlight why I was very bearish on Starbucks (NASDAQ:SBUX) going into the print, and have been for about 3 weeks now. I think it contains an important lesson for trend/momentum traders, and those who love the long term story of Starbucks, or any other high growth company for that matter.
Just a side note, I know this feature won't move important metrics for either Twitter or StockTwits, but I would really love it if one of them allowed for filtering on a stream.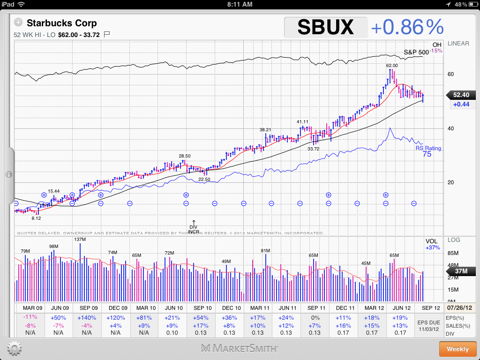 The bottom of this chart shows the YOY revenue growth (bottom row) of Starbucks. The lesson here is in comp analysis, and what happens when growth slows.
As you can see, pullbacks along this chart correspond very directly to earnings releases in which YOY revenue growth slowed. Why? Because investors are dumb and panicky people. Starbucks has traded at a considerable growth multiple the whole way up, and when that's the case investors shoot first and ask questions later when they see slowing YOY growth; in some cases where there isn't a cyclical pattern to earnings they will use sequential growth.
In the September quarter of 2010 Starbucks grew YOY revenue at a 17% clip, huge! After a max growth rate of 9% of the previous few years, that was an outlier quarter. So when Starbucks was ready to report earnings for the September quarter of 2011, it wasn't hard to imagine that they weren't going to match that growth rate. And low and behold the stock got crushed when it reported 7% YOY growth against that very difficult comp.
Investors don't give the company a pass for being up against a tough comp from a quarter when they blew it out of the water. They see slowing growth, end of story.
So why was I bearish the last few weeks going into this quarter, and will continue to be bearish on Starbucks for the next 3? Look at the growth rate from the June quarter of 2011, 12%. The second highest in several years up against a 9% YOY growth rate the year before. There's a good reason Starbucks has gone on such a great run, those are outstanding numbers for a food chain of their size. But can they continue to top that, a requisite for the multiple they had? No.
Up against a 12% comp the year before, and the last two quarters where they grew 16% and 15% respectively, it was abundantly obvious that they were going to see slower growth this quarter. And they did, at 13%. Still a great report, don't get me wrong, but not for their multiple, they needed 16% at least to maintain in.
How about going forward? Next quarter they are up against a weak 7% comp which could provide some support to the stock, but they they get up against that 16% and 15% number which I guarantee they won't match. So in the face of slowing growth and a multiple that is going to be cut, why would I be long this stock? Yes, the long term story is great, but the stock isn't going anywhere right now; you have to play the odds.
When companies that you believe can't grow over a certain rate get up against really tough comps from a big growth cycle, you don't want to be heavily long. They are likely to see multiple contraction caused by investors like me selling as they see slower growth taking place. This is the way the market works, don't fight it or justify holding the stock because you love the company's long term plan. You never know when a few quarters of slower growth turn into Research In Motion (RIMM) or Netflix (NASDAQ:NFLX).
Play the odds.
Disclosure: I have no position in SBUX