Last week, Town Sports International (NASDAQ: CLUB) reported better-than-expected 1Q08 results and reaffirmed its full-year outlook, triggering a 26% surge in the share price on Friday. Though we were a bit surprised that management's commentary was as upbeat as it was (we cautioned about the possibility of negative statements regarding local markets in our earnings preview post last week), we remain bullish on Town Sports International's [TSI] long-term prospects as well as the fitness club space as a whole.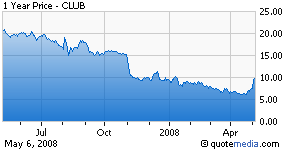 The full-year sales guidance range $510-$520M seems reasonable (an 8%-10% increase year-over-year) if comparable club growth can remain in the mid single-digit range for the remainder of the year (a safe assumption given the high proportion of members that are enrolled in a one- or two-year "commit" structure, reliance on electronic transfer to collect dues, and an annual CPI-consistent dues increase to in September). While some analysts have cautioned about increasing cost pressures, we expect operating margins to remain at least flat to last year's 12% range, putting 2008 EPS near the high-end of management's $0.80-$0.84 outlook (not including potential upside from interest expense reductions or share repurchases).
Generally speaking, we believe TSI provides far more resiliency than most consumer discretionary stocks (i.e., retailers) due to (1) the subscription nature of membership packages; (2) solid, predictable club-level returns on invested capital; (3) margins that are greatly amplified by economy of scale benefits; (4) opportunities to double the club count in existing markets; and (5) relatively stable major market economies.
In simpler terms, we believe extended membership structures will continue to generate stable revenue streams (aided by an increasing number of consumers that consider memberships a necessity rather than a discretionary expense), existing markets provide ample organic growth potential, and the regional clustering strategy limits competitive pressures and provides several levers (ability to overlap personnel, reduced hours of operation at some locations) to mitigate operating cost inflation.
However, TSI's stock has been anything but stable over the past twelve months, going from a high of $22 this time last year (a forward P/E of about 21x, excluding one-time items) to a low of $6 in April (a forward P/E of about 7x). Admittedly, the stock price decline was not completely unfounded - management warned about slowing membership growth at mature clubs on its 3Q07 conference call in November, there were reports of surging unemployment among NYC's financial firms (a key component of TSI's organic growth is corporate membership partnerships), CEO Bob Giardina left the company, and there was the threat of increasing competition in local markets - not to mention the slowdown in consumer discretionary spending.
Moreover, there is a general stigma among institutional investors regarding fitness clubs due to the downfall and eventual bankruptcy of Bally Total Fitness.We believe the aforementioned fears have been greatly exaggerated by the Street, and savvy investors can take advantage of this overreaction. November commentary regarding membership growth at mature clubs was a concern, but prudent given the rapidly deteriorating economic situation.
However, the subsequent stock price correction indicated that the Street was valuing the stock using earnings expectations well below the revised guidance (recall that expectations were only reduced by a few pennies) or disproportionately low forward multiples (or both).
Unemployment rates in NYC remained relatively stable (some analysts were using NYC unemployment rate assumptions as high as 7%, an excessively high number), and a relatively small percentage (10%-15%) of members in the area are employed by financial houses. There are always fears when key members of management depart, but new CEO Alex Alimanestianu has been with the firm for over 15 years and played a critical role in the development or acquisition of virtually every TSI club.
Finally, competition will increase - LifeTime Fitness (NYSE: LTM), 24-Hour Fitness (Private), and LA Fitness (Private) will all have additional clubs in TSI markets in coming years - but we believe there is more than enough consumer demand for fitness clubs to support multiple competitors for years to come (just 20% of the urban population is currently enrolled in a fitness club membership).
Investment recommendation
All things considered, we believe the most appropriate investment strategy for TSI would be to initiate or add to a long positions (buying the stock), but paired with put protection (purchasing sufficient put options to limit your downside risk). TSI has provided a intriguing case study in investor psychology over the past few months, and demonstrated that stocks don't always trade on fundamentals. While we have not ruled out the possibility of this happening again (hence the need for put protection), we find a handful of catalysts on the horizon that could drive the stock upward (the Analyst Day on May 21st, tax rebate and economic stimulus checks, ongoing legislature to make memberships more affordable and tax credits for corporate wellness programs).
Considering that the stock is trading well below its historical mid-teen range (even using the most conservative earnings estimates), we believe TSI is undervalued and would be buyers at current levels.
Disclosure: none