Montreal-based t-shirt manufacturer Gildan Activewear Inc. (NYSE:GIL) is expected to rally in the coming weeks following last week's announcement of the first profit warning in seven years that cost the stock almost one-third of its value.
According to RBC analyst Sarah O'Brien, investors can expect a short-term recovery as the market digests the short-term and fixable production issues at the Dominican Republic operations that had much to do with Gildan's disappointing Q2 and all-year earnings forecast.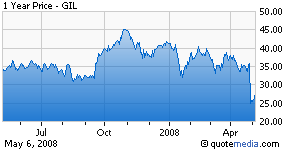 Gildan announced a huge drop in expected profits last week. This year's earnings will rise by 12 to 16%; instead of the 43% as previously forecast. Gildan has averaged about 30% earnings growth annually in the decade since it began to be traded publicly.
In an effort to restore investor confidence, Gildan CEO Glenn Chamandy met with RBC analysts to explain that the long-run growth prospects both in retail and wholesale are very positive.
Ms. O'Brien says in a note to clients that she has looked at the forward price-to-earnings multiple historically, noting it took Gildan seven months to recover from its last plunge due to negative revised guidance back in 2001. Contrary to that year, analysts expect expansion in just weeks due to company marketing, and will gain steam as Dominican Republic issues are resolved likely in Q4.