With apologies to Martin Scorsese, who's debuted as a director in 1967 with the film Who's That Knocking at My Door?, occasional jumps in the price of Dendreon (NASDAQ:DNDN) these days, more often than not, are associated with rumors that one company or another is sniffing around with the intent of purchasing the Seattle-based biotech company. Last week, the rumor de jour was that Celgene (NASDAQ:CELG) was the suitor, though many on the Internet noted that after a series of disappointing takeovers initiated by Celgene management-and given the recent setbacks the company has experienced at the hands of regulators-a takeover of Dendreon would throw CELG shareholders into open revolt.
But the subject of taking over the company that brought the first immunological therapy to market is something that comes up repeatedly these days, especially in the wake of GlaxoSmithKline's (NYSE:GSK) recent takeover of Human Genome Sciences (HGSI) and talk, as this article is written, of the possibility that Biogen Idec (NASDAQ:BIIB) soon will go after Elan (NYSE:ELN).
So, who might have an interest in Dendreon? And why haven't they already made a move with the price of the stock so depressed of late?
Johnson & Johnson
When it comes to suitors, the first one that comes to my mind is J&J (NYSE:JNJ). I say this for many reasons, not the least of which is that J&J's drug Zytiga, which currently is approved for patients with metastatic castration-resistant prostate cancer who have received chemotherapy with Taxotere (docetaxel), is being prescribed in about 20% of pre-chemo cases-cases that fall into Dendreon's Provenge space (asymptomatic or minimally symptomatic metastatic castrate resistant (hormone refractory) prostate cancer). Such off-label applications are based on Zytiga's NCCN Category 2B rating in Provenge's space (Provenge has a Category 1 rating, the highest) that resulted from a limited Phase 2 study performed by J&J. The drug must be taken with prednisone, and patients must have monthly blood tests to monitor their liver functions. J&J had been running a large Phase 3 trial of Zytiga in the pre-chemo environment that recently was unblinded on the recommendation of the safety monitoring board because the trial had achieved statistical significance (stat sig) on the FIRST of two endpoints: radiographic progression free survival (rPFS). However, the trial failed to achieve stat sig on the SECOND endpoint-the gold standard for cancer drugs: overall survival (OS). Here are the data. So, while Zytiga brings benefits in the pre-chemo space, whether or not the FDA will approve it for this indication is not assured.
The above notwithstanding, co-administration of drugs/therapies in the treatment of cancer is more the norm than the exception. To that end, Dendreon now is running a 60-patient, Phase 2 trial to examine the co-administration and sequencing of Provenge and Zytiga (the Journal of Clinical Oncology recommends Provenge be administered first), and we await the results. We know the drugs will be sequenced by physicians. The question is: if Zytiga is administered first, how long must one wait for the patient to 'detox' (that is, rid his body of prednisone) before Provenge can be administered.
If J&J were to buy Dendreon, clearly the marketing arms would be merged, providing significant marketing efficiencies and cost savings. However, given how the two drugs are reimbursed-Provenge and Zytiga are handled in different ways-there is no possibility that the two could be 'bundled,' with discounts offered if both are administered to a given patient. But still, the synergies available by having one company own both treatments could be significant, with benefits accruing to both the top and bottom lines of the acquiring company.
Another reason why J&J might make the perfect suitor has to do with the background of the new president and chief executive officer of Dendreon, John Johnson. Earlier in his career, Mr. Johnson served as the Company Group Chairman of Biopharmaceuticals within Johnson & Johnson, where he was responsible for the Johnson & Johnson Biotechnology, Immunology and Oncology commercial businesses. He knows that corporation…the people, the operation, and its markets. At the least, one would have to assume that the door was open for discussions of a takeover at any point that either party was so disposed.
J&J has major offices in New Brunswick and Pennsauken Township, NJ.
Astellas Pharma, Inc. (Japan)
Astellas Pharma (OTCPK:ALPMF) is Medivation's (NASDAQ:MDVN) partner in the development of the drug MDV3100, also known as enzalutamide for castrate-resistant prostate cancer patients who have received docetaxel-based chemotherapy. The two companies announced on Friday that the New Drug Application (NDA) for enzalutamide has been accepted by the US Food and Drug Administration (FDA). Astellas Pharma already has a large US subsidiary, Astellas Pharma US, and so, the company is well positioned in the United States to launch and aggressively market enzalutamide immediately upon approval. Importantly, J&J has more to fear from the launch of enzalutamide than does Provenge at this time, given that the former does not require the co-administration of prednisone, which carries significant risks to the patient. Given that prednisone is not required with enzalutamide, the co-administration of Provenge and enzalutamide would appear to hold significant benefits for the patient community, and it is hoped that a co-administration clinical trial using the two treatments could be initiated in the near term.
As an added note, Astellas Pharma is partnered with Vical Incorporated (NASDAQ:VICL), another company I follow, and whose president and CEO I recently interviewed. While VICL is developing Allovectin, an immunotherapy for metastatic melanoma, the company president, Mr. Vijay Samant did note that another program the company had in the clinic is their TransVax therapeutic vaccine for cytomegalovirus (CMV). So, Astellas Pharma's interest in therapeutic vaccines is something that cannot be ignored.
Sanofi
Citing Sanofi (NYSE:SNY) is a no-brainer. Its chemotherapeutic treatment Taxotere in combination with prednisone is indicated for the treatment of patients with androgen-independent (hormone-refractory) metastatic prostate cancer. The company also markets Eloxatin for colorectal cancer, one of the top-10 selling cancer drugs in 2011 ($1.2 billion). But the company is in trouble, with generic competition hitting its top-selling drug, Plavix. As well, it recently lost patent protection on a blood thinner product. So, there's no question that corporate officials are under pressure to extend and expand their product lines.
Sanofi has major offices in Bridgewater, NJ.
Genentech
When it comes to developing and marketing treatments of cancer, few do it better than Genentech, now part of Roche (OTCQX:RHHBY). According to an overview by FiercePharma earlier this year, the top three selling cancer drugs were Genentech's Rituxan, Avastin, and Herceptin.
Genentech also markets Xeloda, which last year had revenues of $647.6 million and Tarceva, with sales of $564.2 million. To say the company is a juggernaut in the field of oncology is understatement. Expanding into the area of immunology through the purchase of Dendreon would certainly not be out of the question for this biotech pioneer.
Eli Lilly
Eli Lilly (NYSE:LLY), in partnership with Bristol-Myers Squibb (NYSE:BMY), no slouch in the oncology field itself, markets Erbitux for EGFR-positive colorectal cancer (as well, Erbitux can be prescribed for second line head and neck cancer and first line recurrent or metastatic head and neck cancer). This drug was obtained when the company purchased ImClone Systems, probably best remembered as the drug that was the center of the scandal that sent Martha Stewart to jail. Eli Lilly has a number of drugs in the clinic addressing prostate cancer, including Ramucirumab (IMC-1121B; Phase 2), Cixutumumab (IMC-11F8; Phase 2), Survivin ASO (Phase II), and a molecule known simply as IMC-3G3.
One interesting sidelight here is that Dendreon's president, John Johnson, was the chief executive officer of ImClone at the time of the company's 2008 acquisition by Eli Lilly. He went on to serve as president of Eli Lilly & Company's Oncology Unit following the takeover.
Bristol-Myers Squibb
As noted above, Bristol-Myers Squibb markets Erbitux in partnership with Eli Lilly, but the company is a formidable competitor in the field of oncology in its own right. The FDA's Clinical Trials database lists 20 trials for BMY in the field of prostate cancer alone, some involving their drug Yervoy (ipilimumab) for metastatic melanoma. Others are investigating the treatment of prostate cancer using BMY's Sprycel (dasatinib), which currently is prescribed for a specific type of chronic myeloid leukemia (CML).
BMY's major management office facilities in the US are located in Princeton, Plainsboro Township, and New Brunswick, NJ.
Takeda Pharmaceutical Industries
Takeda Pharmaceutical Industries (TKPHF.PK) is the largest pharmaceutical company in Japan. In 2008, it purchased Millennium Pharmaceuticals for the purposed of acquiring access to Velcade for the treatment of multiple myeloma and mantle cell lymphoma. (Velcade is marketed in partnership with J&J.) Interestingly, in 2005, Velcade (bortezomib) was being investigated in a Phase 1/2 trial led by Dr. Howard I. Scher of Memorial Sloan Kettering for late-stage hormone-refractory prostate cancer patients. That study was terminated in 2006, but Takeda's Millennium Pharmaceutical's continues its work in the prostate cancer area to this day, with several ongoing studies listed on the FDA's Clinical Trial Web site.
The companies discussed above are by no means the only ones that might be interested in acquiring Dendreon. My intent in reviewing them was only to indicate some of the potential players in the oncology universe who not only have deep pockets, but also, established marketing arms that could rapidly expand and accelerate Dendreon's current launch effort…a launch effort that is still in its formative stages. Remember, for all intents and purposes, the launch didn't get off the ground until August 2011, when CMS issued the long-awaited Q-code for Provenge, thereby providing uniform reimbursement guidelines across all CMS payers. That the launch ranks among the top 10 in oncology is amazing, given the many missteps of the previous management team. Think what could have been accomplished-and what still is possible-with Provenge in the right hands!
So, to the second question: With the price of the stock so depressed, why hasn't Big Pharma already made a bid for the company? I believe Big Pharma is waiting…and watching…to see how fast Johnson (who manages the company from his home state of New Jersey) and Dendreon's Seattle-based CFO, Mr. Greg Schiffman, not only can spur their new marketing team on to raise the top line but also, to implement the efficiencies needed to expand the bottom line by lowering the cost of goods (COGS). Regarding the latter, the target for COGS is in the 20-30% range, and it will be achieved through the implementation of data processing and manufacturing efficiencies over the next 2 years (listen to this presentation, for example). I believe once Big Pharma sees product acceptance accelerate and COGS fall, they will get serious about acquiring the company. When that point is reach, two questions will arise: Who will make the first move? And will they set off a bidding war?
Finally, keep this in mind: It takes a long time-up to 10 years and more-and a lot of money-billions of dollars-to bring a drug or therapy through the FDA's approval process and to market. Dendreon not only has an approved product-Provenge-available today, but also, a proven therapeutic platform from which to launch new immunotherapeutics, of which Neuvenge for bladder cancer is one. Big Pharma, on the other hand, while having deep pockets, is losing patent protection on its blockbusters with each passing day. These large corporations desperately need to fill their pipelines with new drugs and therapies, and the easiest way to do that is to purchase drugs already in development. The closer they are to FDA approval, the better. Even better are products already on the market because for these, bureaucratic risks associated with the approval process (shorthand for an 'unpredictable Food and Drug Administration') are virtually eliminated. This is why, everything else being equal, one might expect Big Pharma to pay a premium for an approved product and its associated, specialized, FDA-approved manufacturing facilities.
Importantly, we'll get an update as to where Dendreon stands on Monday, July 30, 2012, after the close, when Dendreon reports 2Q12 earnings and holds a conference call at 4:30 pm, ET. For an earnings preview, look here.
Stay tuned. With this company and this stock, there's never a dull moment.
Technical Analysis (as of close of business, Friday)
The daily chart, courtesy StockChart.com, shows Dendreon's stock price holding steady going into the quarterly earnings report. Relative Strength is at a relatively low level, and the MACD is neutral. A move above $7, the 50-day moving average, would be significant, and would signal the beginning of a new upleg.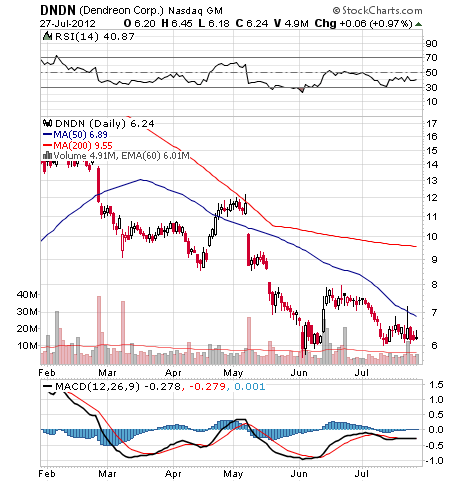 The data found on the weekly chart mirror the data above. Obviously, for the weekly average to break resistance at $10 would indicate the stock had indeed embarked on a significant new upleg.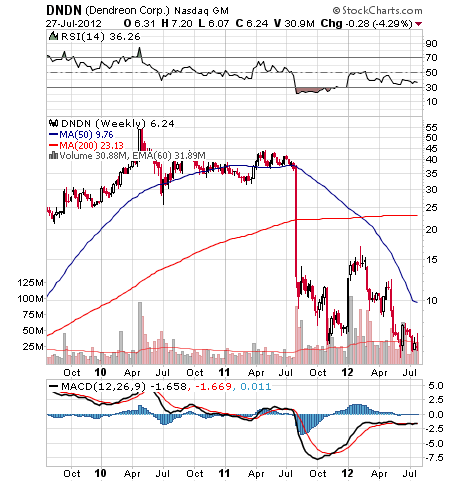 Disclosure: I am long DNDN, VICL.
Disclaimer: I am long DNDN and VICL and will not alter my positions within 72 hours of the time of publication of this article. I am not a registered investment advisor and do not provide specific investment advice. The information contained herein is for informational purposes only. Nothing in this article should be taken as a solicitation to purchase or sell securities. Before buying or selling any stock you should do your own research and reach your own conclusion. It is up to investors to make the correct decision after necessary research. Investing includes risks, including loss of principal.