Do you look for undervalued opportunities in the market? If so, here's a list you might find interesting. We began by screening the healthcare sector for stocks with bearish sentiment, with float shorts above 10%.
We then screened for stocks that appear undervalued relative to their cash flows, indicated by high ratios of levered free cash flow/enterprise value.
Levered free cash flow is the free cash flow after deducting interest payments on outstanding debt. Enterprise value is the sum of the firm's value from all ownership sources: market cap, outstanding debt, and preferred shares. When companies have ratios of levered free cash flow/enterprise value in excess of 10%, it may indicate that the company as a whole is being undervalued.
For an interactive version of this chart, click on the image below. Analyst ratings sourced from Zacks Investment Reslearch.
Click to enlarge: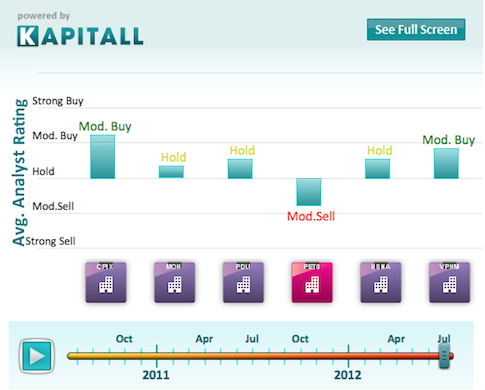 Tool provided by Kapitall. More investing ideas here.
Do you think these names are being undervalued? Use this list as a starting point for your own analysis.
List sorted by LFCF/EV.
*LFCF/EV data sourced from Yahoo! Finance, all other data sourced from Finviz.
Disclosure: I have no positions in any stocks mentioned, and no plans to initiate any positions within the next 72 hours.