Before the advent of container shipping in the 1950s and 1960s, shipping goods meant loading individual irregular-shaped items onto a ship. This proved inefficient, as there was no way to move many individual items at once, and securing odd-shaped goods for an ocean voyage took a great deal of time and labor.
Nowadays, items are packed into standard 20 or 40-foot long containers that can be stacked neatly on the decks of giant ships. Standardizing containers makes it easier to handle loading, unloading, and bundling cargo from multiple shippers. Containerships can carry cargoes as varied as auto parts, consumer goods and toys all in the same shipment.
Growth in the containership industry was rapid from 2000 through 2006, averaging over +11% annualized. The main driver of that growth was increased trade globally including, of course, the shipping of consumer goods from Asian to U.S. and European markets.
Lately, growth in containership volumes to the U.S. has slowed mainly due to the weakening economy and U.S. dollar; both factors have slowed U.S. imports. Nonetheless, trade routes between Asian nations and the Middle East have picked up markedly and volumes between Asia and Europe remain strong -- these factors have offset much of the U.S. decline.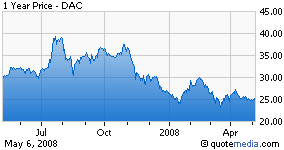 But despite the almost continuous increase in demand, shipping rates are seasonal and can be volatile at times. Fortunately, my pick today, Danaos Corp. (NYSE: DAC), has very little exposure to this volatility because almost all of its 36 containerships are locked in 8 to 12-year fixed-rate contracts with major shipping firms. These contracts minimize the company's exposure to short-term swings in supply and demand.
And DAC also benefits from a growing trend toward vessel outsourcing. In other words, shipping firms do not want to shell out to purchase their own fleet of ships to transport goods. Instead, they prefer to lease these ships from dedicated third-party operators like DAC; this trend has allowed DAC to grow its fleet and sign up new ships under long-term lease agreements. In fact, the firm has 32 additional ships scheduled for delivery in the next three years, and the majority of them already have contracts in the works.
DAC currently sports a dividend yield of 7.4%; there is little downside risk to dividends due to DAC's long-term charter deals. And as new ships are delivered and start earning fees, there's room for DAC to continue boosting its payout.
Danaos offers a strong yield with relatively little exposure to any short-term weakness in containership traffic to the U.S. That said, the stock has been unfairly hit by fears that a U.S. economic slowdown would hurt the containership industry. This situation has given long-term investors a rare chance to capture a steadily growing company and a solid dividend yield at a rock-bottom price.
Disclosure: none