By G C Mays
Potash Corp (POT) reported Q2 earnings of 0.60 per share, which was well below its own Q2 guidance of $0.90 to $1.10 per share. The company cited a non-cash impairment charge of $341 million, or $0.39 per share related to the company's investment in Sinofert Holdings Limited, the largest fertilizer importer and distributor in China. I think this is a notable development given that by the company's own estimation their investments in publicly traded companies around the world were worth about $8.6 billion or $10 per share as of July 25. I will publish a nut and bolts look at these investments in an article shortly following this one. For now lets take a nitty-gritty look at the quarter.
Potash
Potash revenues of $1.18 billion are 5.7 percent higher than a year ago. However, offshore shipments saved the quarter in the potash operating segment. Tons sold in North America were down by almost 22 percent as dealers had enough inventory to meet their customers needs and declined to replenish inventories as they continued to mitigate both inventory and price risk while the spring planting season came to an end.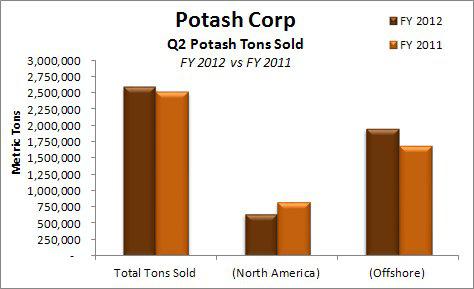 Source: The Mays Report
The 15.7 percent or 265,000 increase in offshore tons sold more than offset the 180,000 ton decline in North America. Strong demand from South America and southeast Asian markets contributed to the sales growth. Sales to South America represented 35 percent of shipments from Canpotex as Brazil purchased aggressively while in Asia China fulfilled their first-half contracted buying commitments. China and India represented roughly 21 percent and 6 percent of sales, respectively.
Like Mosaic (MOS), Potash Corp is mum on pricing due to ongoing negotiations between Canpotex and the Government of India. Potash Corp. Management insists that India must buy more potash based on soil tests. As I outlined when I wrote "What In The World Is Going On With The Global Economy", since June 2007, the rupee has plummeted roughly 30 percent against the Canadian Loonie and 27 percent against the U.S. dollar. The weak currency has increased the country's sensitivity to price as its purchasing power falls.
Click to enlarge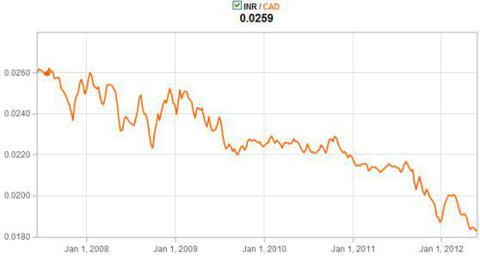 Source: The Mays Report
Fiscal year-to-date potash sales volumes are down by 27 percent with volumes in North America tumbling by 45 percent as dealers hold off on restocking. Even with the Q2 surge, offshore sales volumes remain 17 percent below year ago levels. The company says that orders have been strong so far in Q3.
Phosphate
At $569 million phosphate revenues were off 10 percent compared to Q2 of 2011 as both tons sold and price received were lower than a year ago. Gross Margin tumbled to 16.8 percent. The company cited an $18 million charge to asset retirement obligations due to a reduction in the discount rate and a $11 million accrual related to workforce reduction. However, when you remove those items from cost of goods sold margins only rise to 21.9 percent, which is well below fiscal 2011 Q2 margins of 26.2 percent.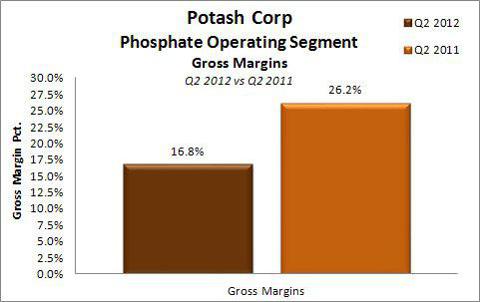 Source: The Mays Report
Nitrogen
As one would expect with record corn acres planted this spring, the company's nitrogen business was strong with revenues of $642 million versus $571 million in the same quarter a year ago. Ammonia and Ammonium Nitrate tons sold were higher while UREA tons sold fell 10.8 percent to 295,000. Strong pricing offset the reduction in tons sold as average prices received for UREA was $613 per ton, which is 48% higher than a year ago.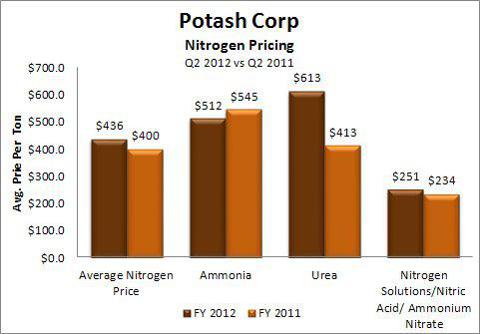 Source: The Mays Report
At a recent closing price of $45.59 the stock is trading at 4.7 times sales and 15.2 times its updated mean earnings guidance for 2012 of $3.00 per share. A price to sales ratio of 4.7 is 1.8 times the mean peer group average of 2.6 and 2.2 times the median average. A leading PE of 15.2 is just about equal to the peer group median average of 15.6 and slightly above the group mean average of 14.6. However, in this weather and European debt driven market, fundamentals have taken a back seat to speculation.
As I have recently written, these stocks are more likely to rise until more clear information is known about the corn and soybean crops. Since June investors have enjoyed nice gains in these stocks. However, once investors begin to look at the fundamentals of the fertilizer business in the current business cycle some degree of short-term profit taking may begin.
Disclosure: I have no positions in any stocks mentioned, and no plans to initiate any positions within the next 72 hours.