Google (NASDAQ:GOOG) CEO Eric Schmidt profoundly stated, "The internet is the first thing humanity has built that humanity doesn't understand." He was right, that is...until Omniture (OMTR) came along.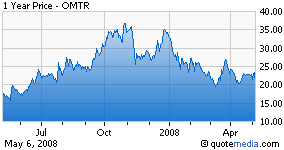 Omniture is the best of breed in web analytics, an industry that has quickly turned from hobby to necessity. Their innovative consumer tracking service, SiteCatalyst, has enabled the web to become the most accountable medium for marketing. During Q1, Omniture grew their customer base to 4500 with 95% annual retention rates. Some notable additions include Fox International, Kia Motors, New Balance Shoe, Nutrisystem, Jones Soda Company, and Volkswagon. These names join current clients eBay, Wal Mart, Microsoft, General Motors, Sony, and Hewlett Packard. Transactional volumes across SiteCatalyst increased significantly from 619 billion transactions in Q4 '07 to 777 billion transactions in Q1 '08. Omniture's core business of internet measurement also acts as the perfect springboard for additional product sales.
On the Q1 conference call, CEO Josh James said:
We believe our position of managing the data for our customers...gives us not only the background and infrastructure, but also the influence and strategic position to deliver this end-to-end solution in the most robust way possible. Omniture is in what we believe to be a multi-billion dollar market opportunity.
Q1 revenue grew by 117% to only 63.2 million which makes James' prediction seem unrealistic, until you realize that Omniture is in the right place at the right time. They offer the software that enables decision makers to effectively understand the internet.
The big boys have taken notice of this new market; Google offers a free web analytics service and Yahoo (NASDAQ:YHOO) is in the process of acquiring IntexTools, a European web analytics company.
The key question for Omniture investors is, does this cheap competition hurt future growth?
Omniture's Brent Hieggelke responds:
This Yahoo acquisition is further evidence that web analytics is indeed, mandatory for all. Between 2000 and 2004, back when this was a fledgling little industry, I was out on the road hitting every major city delivering 3 hour seminars on the business and marketing value of web analytics. My fellow marketers just didn't get it yet. On one tour, I started brashly stating that everyone doing business on the Web will be using web analytics within 5 years. Well, it's been less than 5 years, and It's satisfying to see that this prediction has come true. No one doing digital marketing or any form of digital business can survive without it.
CEO Josh James adds:
We have not been seeing any change of behavior from the time that the first free analytics product was offered until now. It is not just about collecting data and generating report in a dash board. That's like step one out of ten steps.
Recent analyst reports agree. Citi, Piper Jaffray, and RBC Capital have all upgraded Omniture after the company showed no signs of letting up during Q1 and raised full year revenue guidance to $300 million. PJ analyst Aaron Kessler said Omniture is the leader in the web analytics sector, and its strategy of selling more products to former customers of Visual Sciences Inc. -- which Omniture bought in the first quarter -- is working. He increased his price target to $30 per share from $25. He added that the company's profit margins are improving and should continue to grow, and broader economic conditions are not hurting Omniture's sales growth. Kessler's new price target implies shares of the Orem, Utah, company will rise 36.8 percent over the next year.
Clearly the street is pleased with ahead-of-schedule synergy from the recent acquisition but what investors are most excited about is the new strategic alliance with Chinese search giant, Baidu.com (NASDAQ:BIDU). This alliance will give marketers direct access to the largest online market in the world. China recently passed the United States and Omniture is in prime position to reap the benefits. In March, Chinese internet use surged to 233 million. The United States, by comparison, is still lingering around its end-of-2007 total of 216 million. 71 percent of the United States' population is on the internet, while only 17 percent of China's population has the same access, according to USA Today. China has 1.3 billion people versus the United States' 304 million.
If 71 percent of China had access to the internet, that would be close to a billion people.
Haoyu Shen, Baidu.com's vice president of business operations said:
By integrating our search metrics with Omniture, we believe online marketers will not only be able to measure campaigns but also improve conversion by making the end-to-end search experience more relevant. Companies tapping the Chinese market should now be able to reach Baidu.com customers more easily.
Omniture is perfectly positioned for substantial international growth due to the Baidu effect.
Omniture ended 2007 priced at $33.29 a share. Since then, shares have dropped over $10 due to broad market credit crisis panic. As our markets regain stability investors should look to buy companies who have been wrongfully punished. Omniture is one such company. Still well off its 52 week high of $38.57, Omniture is a great buy.
Disclosure: Author is LONG OMTR, YHOO, BIDU