The ingredients for finding a great REIT are summed up with two words: dividend consistency. These core ingredients - made up of repeatable sources of income - are also pivotal for building a premium fixed-income portfolio and the secret sauce for investing is summed up by Warren Buffett:
Your premium brand had better be delivering something special, or it's not going to get the business
National Retail Properties, Inc.
National Retail Properties (NNN) is a leading triple-net REIT based in Orlando, Florida. A few days ago (July 16, 2012) National Retail declared a quarterly dividend of 39.5 cents per share (payable August 15, 2012) and that dividend (annualized at $1.58 per share) marks the twenty-third consecutive year that the company has paid increased annual dividends per share. National Retail is one of only four publicly traded REITs and 104 publicly traded companies in America to have increased annual dividends for 23 or more consecutive years.
In a press release, Craig Macnab, Chairman and CEO of National Retail Properties, explained the historic accomplishment:
We are proud to reach our twenty-third consecutive year of increased annual dividend payments. A consistent and increasing dividend is extremely important to our shareholders and is a track record we intend to perpetuate.
National Retail Properties value proposition is built around the company's extraordinarily successful track record of providing consistent and increasing dividends. This premium fixed-income brand has a measurable record of performance as National Retail has paid increased dividends longer than 97 percent of all public REITs and 98 percent of all public companies.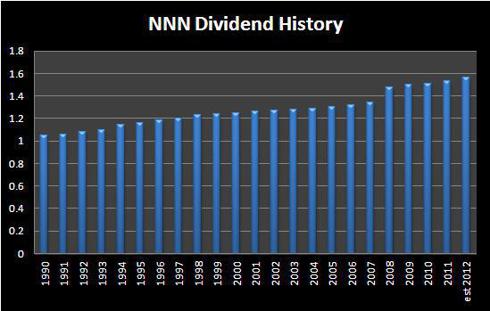 The Ingredients for the Premium Brand
One of the key ingredients of the National Retail brand is its balance sheet. With around 99 percent of assets unencumbered ($23 million in secured debt), National Retail has one of the healthiest balance sheet's around (S&P rating is BBB). The company has well-laddered debt maturities and just $26.2 million (as of March 31, 2012) drawn down on its $450 million credit facility (with a $200 million accordion).
Recently National Retail strengthened its balance sheet by issuing $287.5 million in perpetual preferred stock at 6.625 percent. The company also redeemed $92 million of 7.375 percent preferred stock (saving $690,000 of annual dividends).
The current (March 3, 2012) capitalization of $3.909 billion consists of around $22.9 million in secured debt, $1.374 billion in unsecured debt, $287.5 million in preferred equity, and $2.225 billion in common equity.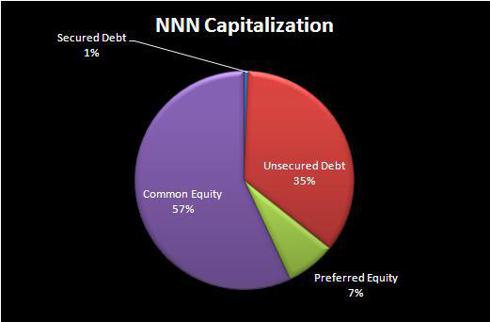 As of March 31, 2012 assets grew to $3.613 billion (as of Q1-12) and the total liabilities to total assets are around 35.7 percent. Here is a snapshot of historical assets: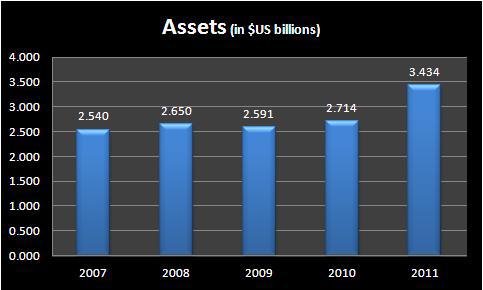 From 2007 through 2011, National Retail's revenue has grown by around 69 percent. During the first quarter of this year revenue increased from $61,529 (Q1-11) to $78,658 (Q-12). Here is snapshot of historical revenue: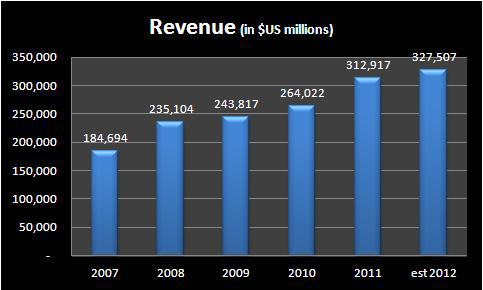 National Retail announced an increase in 2012 FFO guidance to $1.67 to $1.72 per share (excluding first quarter's $3.1 million preferred stock redemption charge and any impairment expenses). Here is a snapshot of historical and estimated FFO per share: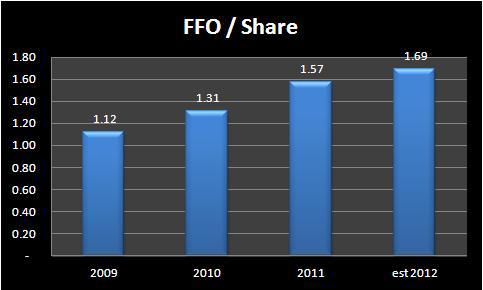 National Retail maintains a high level of occupancy of around 97.5 percent (Q1-12). Since 2003 the company's occupancy has never dropped below 93.5 percent and the company's advantage has been magnified in the current environment as National Retail lost only 0.7 percent of its occupancy from Q4-2006 to Q1-2012 while the REIT industry lost an average of 3.9 percent.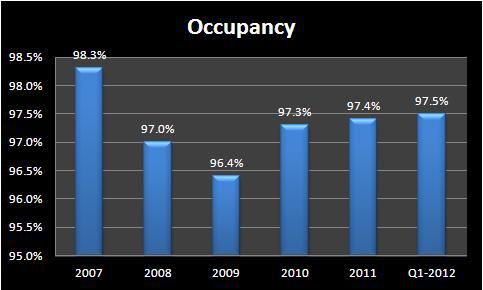 National Retail has one of the most diverse operating platforms in the REIT sector. The well-balanced model consists of around 1,486 properties (as of March 31, 2012) made up of 17.0 million square feet in 47 states. This broad-based portfolio has around 300 different tenants with a weighted lease average of around 12 years.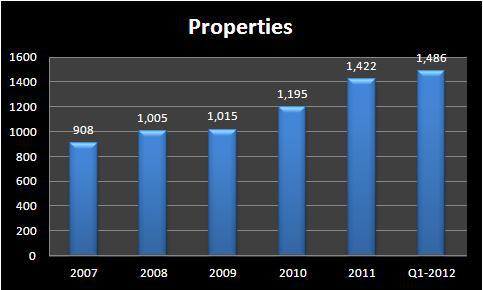 National Retail has a diverse geographic composition with the highest concentration of properties in Texas (20.5 percent) and Florida (17.2 percent). Here is a snapshot of the company's geographic representation.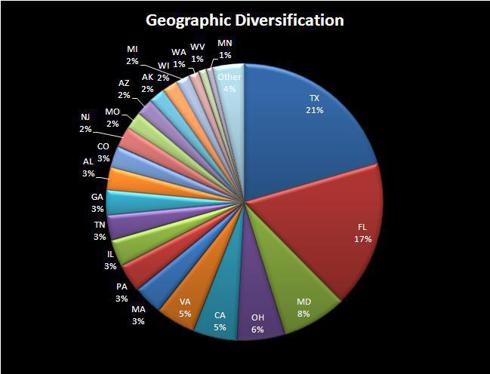 National Retail has always focused its investment strategy on acquiring smaller ($2 - $4 million) assets - many of which are "one off" deals or "off market" portfolios. Accordingly, National Retail is able to achieve higher initial returns (on assets) - typically 175 bps higher than core triple net REITs.
One of the primary differentiators of the company's success has been its consistently strong acquisition volumes coupled with its significantly higher cap rates. By acquiring single-tenant properties with risk-aligned cap rate spreads, National Retail has been able to maintain very consistent arbitrage levels (difference between cost of capital and cap rate) that has produced highly sustainable and growing dividends.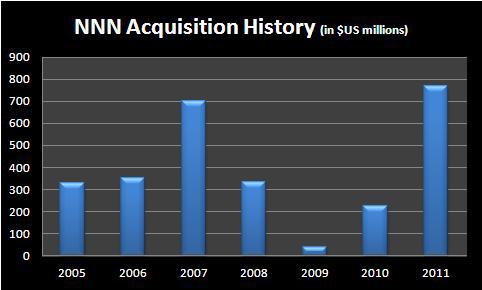 National Retail closed on around $767 million of properties during 2011 and the company has already closed on around $198 million during the first quarter of 2012 (at an average cap rate of 8.3 percent). Some examples of the REIT's highly accretive investments include six single-tenant MedExpress Urgent Care health centers with 10-year leases for a combined $13.0 million ($309 per square foot) and three single-tenant DSI Dialysis facilities for a combined $15.1 million. Here is a snapshot of National Retail's top fifteen tenants (based on ABR):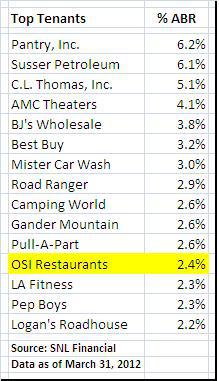 One of the biggest transactions announced by National Retail during the first quarter was a portfolio of single-tenant properties leased to OSI - parent company to Outback Steakhouse and numerous other brands. During the REIT's earnings call, Craig MacNab, Chairman and CEO, explains (Source: Morningstar),
The largest transaction that we completed in the quarter was the acquisition of 34 properties leased to Outback Steakhouse and their various brands, where we invested just shy of $100 million. In this transaction, we acquired mature restaurant locations at a very stable and have a rent coverage ratio that's comfortably in excess of two times. Outback is performing very well as a company and you may have seen recent press reports that they are considering going public.
Last week Bloomin' Brands, Inc. (proposed BLMN) filed a Form S-1 Registration to sale 10,714,285 shares of common stock. As explained in the S-1, Bloomin' Brands expects to raise around $150 million (proposed offering price to be between $13.00 and $15.00 per share) in gross proceeds (net closer to $136 million) to retire all outstanding 10 percent notes due 2015 (Senior Notes).
As indicated in the S-1, National Retail was one of two third-party institutional investors (the other is a company affiliated with Cole Real Estate Investments) in which OSI sold 67 restaurant properties for net proceeds of $192.9 million. This sale-leaseback transaction was arranged under nine separate master leases (on or before March 14, 2012).
Bloomin' Brands, Inc. is one of the largest restaurant companies in the world, with a portfolio of leading, differentiated restaurant concepts. The company owns and operates 1,247 restaurants and has 195 restaurants operating under franchise or joint venture arrangements across 49 states and 21 countries and territories internationally. The company has five founder-inspired concepts: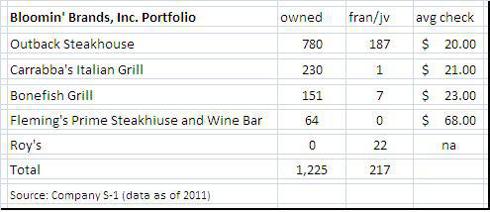 Although Bloomin' Brands has considerable debt ($1.8 billion as March 31, 2012), the company has been making strides to reduce leverage and prepare for the initial public offering. Here is a snapshot of the recent deleveraging history: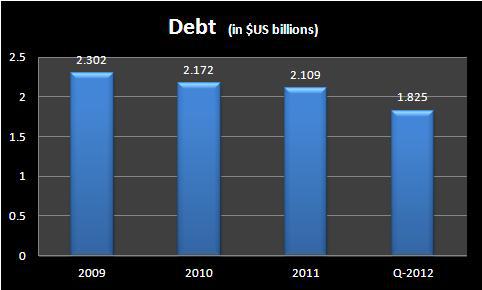 Bloomin' Brands has reported recent quarter performance (ended June 30, 2012) with total quarterly revenue of $980.9 million compared to $955.5 million for the same quarter in 2011. Income from operations is around $48 million compared with $40.8 million for the same quarter in 2011. Combined comparable restaurant sales at domestic concepts increased 2.4 percent. Here is a snapshot of Bloomin' Brands historical revenue: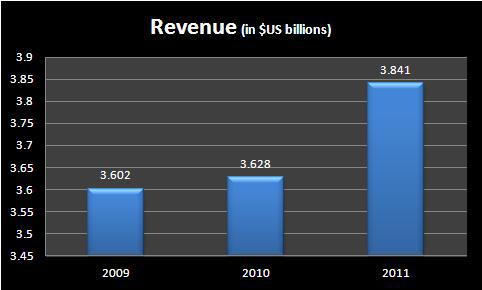 G'Day Mate! National Retail is a Bloomin' Great REIT
National Retail continues to invest in the facilities leased to companies that have desirable and sustainable business models. Bloomin' Brands is one such example of a what makes National Retail Properties a very compelling fixed-income alternative.
As I recently wrote, National Retail Properties is just one of five public REITs that is considered a dividend aristocrat by S&P. This distinguished group (of having at least 20 years of dividend increases) includes other exceptional REITs including Federal Realty (FRT), HCP, Inc. (HCP), Tanger Factory Outlets (SKT), and Universal Health Income Trust (UHT).
Note: Washington (WRE) REIT recently cut its dividend and the company is no longer considered a dividend aristocrat. I wrote about that here.
National Retail has several peers in the triple-net sector including Realty Income (O), American Realty Capital Properties (ARCP), American Realty Capital Trust (ARCT), Agree Realty (ADC), and Lexington Realty Trust (LXP). Of this group, National Retail Properties and Realty Income are the only two triple-net REITs that increased dividends through the great recession (note ARCT and ARCP were not publicly-traded until 2011 and 2012). Here is a snapshot of the current dividends for the peer group.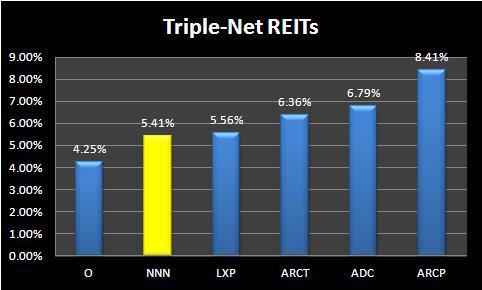 National Retail Properties has a bloomin' extraordinary value proposition and this differentiated investment strategy is best described by Chris Zook and James Allen, co-authors of Repeatability: Building Enduring Businesses for a World of Constant Change:
Differentiation is the essence of strategy, the prime source of competitive advantage. You earn money not just by performing a valuable task but by being different from your competitors in a manner that lets you serve your core customers better and more profitably.
National Retail has a current price of $29.21 and the 52-week high was $30.22 (on July 17, 2012). The company is rated investment grade by S&P (BBB) and Moody's (Baa2) and the market capitalization is around $3.126 billion.
When it comes to yield, sometimes you can find some special ingredients found in the preferred issues. Like many REITs, National Retail has been looking for ways to keep its balance sheet attractive (to lenders and equity investors) and its recent issue appears to provide the best risk-adjusted return (compared with NNN's common stock).
The new preferred issue (NNN-D) trades at $26.29 per share and has a coupon rate of 6.625 percent. There is no call for about four years and these rock solid shares are great for retires and people with retirement accounts. Contributing Seeking Alpha writer Michael Terry wrote an article on Realty Income's latest preferred issue that has an identical coupon rate of 6.625 percent and a price per share of $27.55.
As Zook and Allen explained (in Repeatability: Building Enduring Businesses for a World of Constant Change)
The power of the repeatable model lies in the way it turns the sources (income) of differentiation into routines, behaviors, and activity systems that everyone in the organization can understand and follow so that when a company sets out on a particular path, it knows how to maintain differentiation that led to its initial success.
Accordingly, Ben Graham described National Retail Properties strongest source of differentiation when he wrote (in The Intelligent Investor):
The defensive investor must confine himself to the shares of important companies with a long record of profitable operations and in strong financial condition.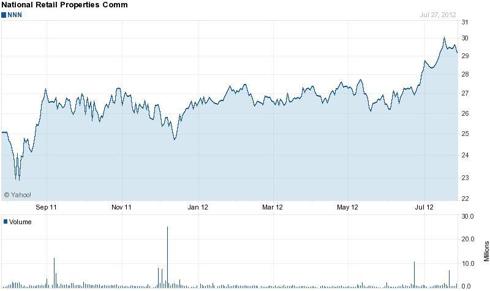 National Retail Properties releases second quarter earnings in August 2, 2012.
Sources: National Retail Properties Investor Presentation, SNL Financial, Yahoo Finance, and S-1 for Bloomin' Brands.
Disclosure: I have no positions in any stocks mentioned, and no plans to initiate any positions within the next 72 hours.