Apparently euro area leaders don't want to interrupt their planned August vacations this year. It seems possible that the bout of 'verbal intervention' courtesy of Mario Draghi last week was designed to buy them the desired vacation time.
The new 'crunch time' for the euro area debt crisis is therefore September, or so they say:
Over the past couple of years, Europe has muddled through a long series of crunch moments in its debt crisis, but this September is shaping up as a "make-or-break" month as policymakers run desperately short of options to save the common currency.

Crisis or no crisis, many European policymakers will take their summer holidays in August. When they return, a number of crucial events, decisions and deadlines will be waiting.

"September will undoubtedly be the crunch time," one senior eurozone policymaker said.

In that month a German court makes a ruling that could neuter the new eurozone rescue fund, the anti-bailout Dutch vote in elections just as Greece tries to renegotiate its financial lifeline, and decisions need to be made on whether taxpayers suffer huge losses on state loans to Athens. On top of that, the euro zone has to figure out how to help its next wobbling dominoes, Spain and Italy - or what do if one or both were to topple.

"In nearly 20 years of dealing with EU issues, I've never known a state of affairs like we are in now," one eurozone diplomat said this week. "It really is a very, very difficult fix and it's far from certain that we'll be able to find the right way out of it."

Since the crisis erupted in January 2010, the eurozone has had to rescue relative minnows in Greece, Ireland and Portugal as they lost the ability to fund their budget deficits and debt obligations by borrowing commercially at affordable rates. Now two much larger economies are in the firing line and policymakers must consider ever more radical solutions.

If Spain, the eurozone's fourth biggest economy and the world's 12th, loses affordable market financing the next domino at risk of falling is Italy - the eurozone's third biggest economy and a member of the G7 group of big wealthy nations. A bailout of Spain would probably be double those of Greece, Ireland and Portugal combined, while Italy's economy is twice as large as Spain's again.
(emphasis added)
Well, it is clear that at some point, the 'crunch time' will indeed be upon us. Whether it will really be this September remains to be seen, but it is clear that the moment when can-kicking will cease to work is creeping closer.
What 'radical solutions' are coming our way is still undecided at this point, as the pseudo 'solutions' the markets would like best are legally dubious, not to mention that employing them could cost Mrs. Merkel the next election. We are, of course, referring to enabling the ECB to print money to bring down bond yields in the periphery by whatever circuitous route - such as issuing a banking license to the ESM. As both Mr. Draghi and various BuBa representatives have kept reminding us, this step would be in conflict with the 'spirit of the law' and must therefore be rejected. And yet, ECB council member Ewald Nowotny brought the idea up again last week.
Whatever It Takes
Last week and this weekend were a time of full-throated announcements and assurances. Mrs. Merkel telephoned Mr. Hollande and later Mario Monti to discuss the crisis. After her pow-wow with Monti, they released a statement brimming with pledges. We class these broadly worded statements as 'whatever it takes' statements. They are usually vague on details and very forceful on promises to preserve the euro, no matter what. The new watchword is 'we'll do everything' (just not during the August vacations, one presumes).
German Chancellor Angela Merkel and Italian Prime Minister Mario Monti will do everything to protect the euro zone and swiftly implement measures agreed by European leaders in June, their governments said in a statement on Sunday.

The wording of the statement, issued after the pair discussed the euro zone crisis in a phone call on Saturday, echoed a pledge made by Merkel and French President Francois Hollande on Friday and the European Central Bank (ECB) President Mario Draghi on Thursday.

European leaders have gone on the offensive in recent days, underlining their commitment to tackling the euro zone's crippling debt problems and seeking to restore calm after a week in which Spanish bond yields hit euro-era highs and Greece raised concern it would be unable to honor its bailout conditions and could exit the euro.
The recent flurry of ESM ratification and announcement activity appears to have cost Mrs. Merkel a great deal of support in Germany, where people fear for their savings (rightly so). This is quite in contrast to poll results that were obtained as recently as mid-July, shortly after the last euro-group meeting.
Only one third of Germans still believe Angela Merkel is making the right decisions over the eurozone debt crisis, according to a survey published on Sunday, pointing to a steep erosion in domestic support for the chancellor over the last weeks.

The survey by YouGov, due to be printed in Monday's edition of Bild newspaper, found 33 percent in favor of her stance but 48 percent against, a setback for the chancellor who is to seek a third term in a 2013 federal election, which she has vowed to make a vote on Europe. Asked in the survey whether they feared for their savings, 44 percent of Germans said that they did.

In mid-July, a poll by ZDF-Politbarometer showed 63 percent of Germans backed Merkel's handling of the crisis, although a majority thought she should explain her policies better."
(emphasis added)
Such polls highlight the extent to which any decisions about to be taken will be dictated by German domestic political considerations. It actually doesn't look so good for the 'whatever it takes' faction in view of such poll results. One could on the other hand argue that this makes it all the more likely that politicians will acquiesce to an ECB directed intervention - as no parliamentary debates, ratifications, or other messy democratic decisions are required. All that's needed is to break down the resistance of the Bundesbank, or failing that, a decision to simply outvote it. Below is the result of the 'verbal intervention' blitz of last week, as reflected in Spain's and Italy's bond yields and stock markets.
---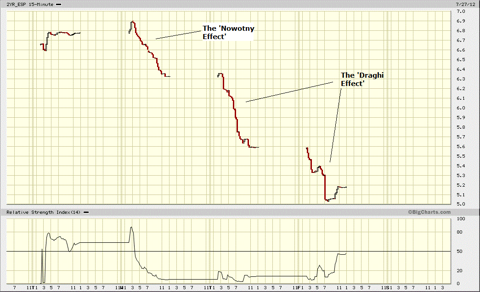 Click to enlarge
Spain's two year government bond yield, a 15 minute chart showing the market reaction to Nowotny's and Draghi's musings.
---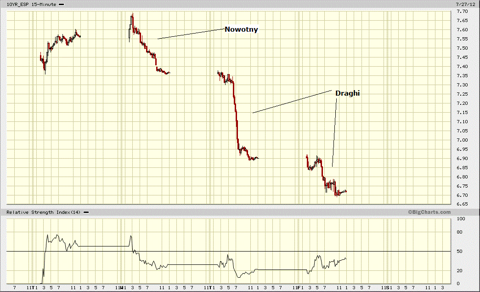 Click to enlarge
Spain's 10 year government bond yield, 15 minute chart.
---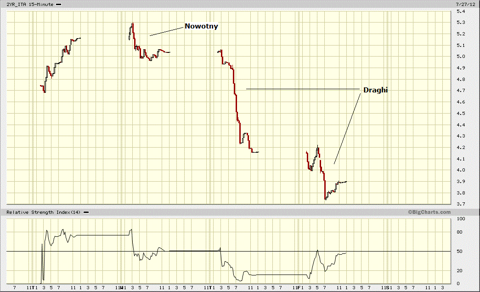 Click to enlarge
Italy's 2 year yield, 15 minute chart.
---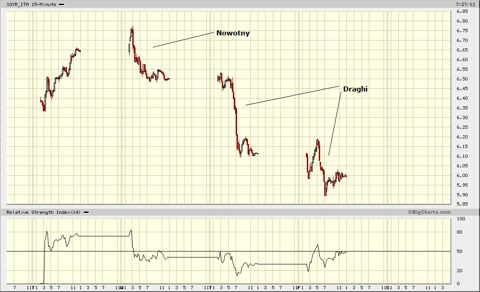 Click to enlarge
Italy's 10 year yield, 15 minute chart.
---
Over the weekend, analysts commented on Draghi's remarks while Draghi himself added further comments as well. As we have noted previously, one of the conclusions one could come to from the speech Draghi delivered on Thursday was that he has found a way around the ECB's statutory limitations against bond buying by arguing that the divergence in euro area bond yields has created an obstacle to monetary policy transmission.
This has dawned on others as well as the below excerpt from a Reuters article over the weekend shows; of course it remains open to question how far Germany is willing to go, but the fact remains that leaving the ECB to handle interventions is politically less difficult than asking one's parliament to agree to ever bigger tax payer financed bailouts. If the 'independent' central bank finds a justification for printing money, no politician will stand in its way.
On Wednesday, ECB policymaker Ewald Nowotny broke ranks with his colleagues, saying that giving Europe's permanent rescue fund a banking license so that it could drawn on central bank funds had merits. Draghi and others have previously rejected that option. Alternatively, the bank could act as the Federal Reserve and Bank of England have, and opt for straight quantitative easing - money-printing by another name.

The comments about high government bond yields disrupting ECB monetary policy transmission are interesting, in so far as they hint at a possible attempt to circumvent the restrictions on outright government bond purchases," said Marc Ostwald, Strategist at Monument Securities.

Of course it remains to be see whether Herr Weidmann, Herr Asmussen, Frau Merkel and Herr Schaeuble would agree with his assessment," he said, referring to the senior members of the German government and its representatives at the ECB.

French Finance Minister Pierre Moscovici said Draghi's remarks on government bond yields were "very positive", adding that the euro zone should also not ignore the option to use its EFSF bailout fund to buy bonds.

The IMF also gave its approval. "Draghi's remarks are a welcome reiteration of the ECB's well-known commitment to do what is necessary," a spokesman for the fund told a news briefing.
(emphasis added)
See, even the IMF concurs with what is yet another 'whatever it takes' statement. What could possibly go wrong? Over the weekend Draghi then added that there are 'no taboos' as to the actions the ECB might consider. No taboos? That's a new one.
Draghi said at the weekend that the ECB had "no taboos" over what it could or could not do. His fears about the failing transmission of record low interest rates and uber-cheap loans into the real economy chime with similar warnings from Bank of France head Christian Noyer.

Draghi's remarks "suggest that he has either convinced the German members of the ECB that it is time to intervene verbally, and if necessary follow through with actual intervention, or he is willing to risk a showdown knowing that a vast majority of the Council will support him," said Riccardo Barbieri, chief European economist at Mizuho International.

A crucial issue for the eurozone is that its bailout fund would not be able to cope with supporting a country as large as Spain or Italy without a major injection of firepower. In the absence of that, the ECB is the only line of defense.

Draghi stressed that the ECB did not want to do things that should be done by governments. He refused to speculate on the chance of a country leaving the euro but said that the single currency was "irreversible". "Our job is to maintain price stability in the medium-term. Our job is to cope with financial fragmentation, when it falls within our mandate," he added.
(emphasis added)
There is of course plenty of 'financial fragmentation' by now, so if the ECB thinks that alleviating it is part of its mandate, then a new raft of interventionist measures should be expected. What of the Buba's resistance though? It is true that the Bundesbank's representatives at the governing council can be outvoted, but it seems very unlikely that such a confrontational course would be pursued by Draghi. Since he met with Jens Weidmann on Friday, some sort of compromise has likely been hatched out. So the question remains, what can they actually do? The Bundesbank seemed quite clear that its view on monetary policy straying into fiscal matters remains unchanged. It will be interesting to see what this now means in practice. From the ECB's point of view the 'irreversibility' of the euro is of course an existential question. There will be no ECB without a euro, and it would be the first ever bureaucracy to disappear without putting up a fight. It has of course a not inconsiderable advantage in that it is a potential fount of money ex nihilo without limit.
Stock Market Reaction
Battered stock markets in the euro area rebounded as well following Draghi's remarks last week. This happened at an interesting juncture, as both the IBEX and the MIB had just broken to new lows before reversing. From a technical perspective this was a false breakdown, which is often a short- to medium-term bullish sign.
---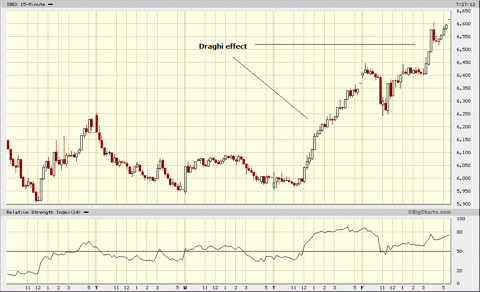 Click to enlarge
A 15 minute chart of the action in Spain's IBEX index last week.
---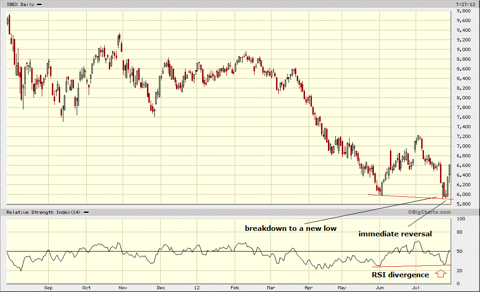 Click to enlarge
A daily chart of the IBEX: the market briefly fell to a new low and then reversed immediately. This was accompanied by an RSI divergence, which is put in when the previously dominant trend loses momentum.
---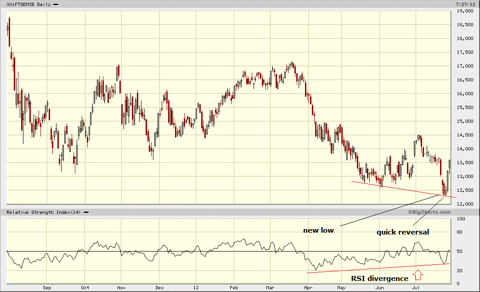 Click to enlarge
Italy's MIB index, daily. Here the reversal from a new low is even more pronounced. As can be seen, the the momentum of the decline has been slowing for some time.
---
The question is though how to label a long-term weekly chart of the IBEX and MIB (both look fairly similar). Below is a tentative labeling of the bear market to date, using the IBEX weekly chart as an example. The 2008 crash is labeled as wave A of an A-B-C shaped large degree corrective wave. The action since then consists of wave B into the early 2010 high, with wave C underway since then, whereby probably not all of its sub-divisions are in yet. We say 'probably' because it is of course not yet certain how big this wave will become - future developments may necessitate a relabeling. However, it is to be expected that C is going to be in some sort of relationship to A in terms of points or percentages traveled - often C has the same size as A or becomes a Fibonacci extension of A, such as 1.62 times the size of A. An alternate labeling possibility is the one shown further below for the long-term SPX wave count.
---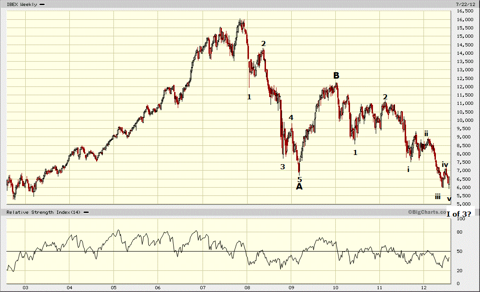 Click to enlarge
The IBEX weekly, waves A and B and waves 1, 2 and 1 of 3 of C (this labeling of the sub-divisions of C is still open to debate. Also, 'A' and 'B' could also be labeled 1 and 2 of a much larger down wave).
---
Other European stock market offer a decidedly mixed picture on long-term charts. The Athens General index has suffered a collapsed of over 90% at its recent low, worse than the decline in the DJIA in the early 1930's bear market. In real terms, it is an even more remarkable plunge, as the money supply contracted in the 1930's and most prices fell, something that has not happened in the euro area up until now. France's CAC40 is immersed in a long-term bear market too, while Germany's DAX has held up remarkably well. The DAX is currently likely supported by strength in the shares of exporters, as the weaker euro boosts their margins.
---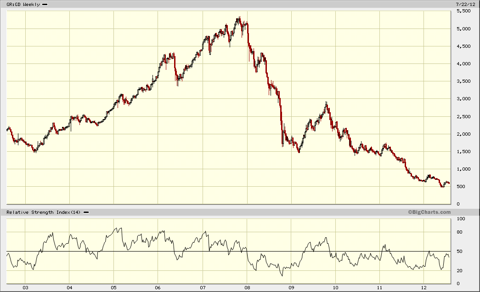 Click to enlarge
The Athens General Index: A collapse on a par with the bear market at the beginning of the Great Depression.
---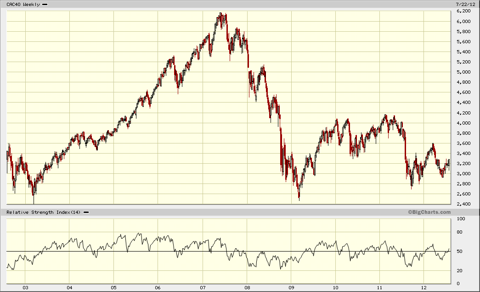 Click to enlarge
The CAC 40 in Paris (weekly chart) has produced a divergent secondary high in 2011 as well as divergent higher lows in 2011 and 2012. This market has so far been in a very severe secular bear market as well.
---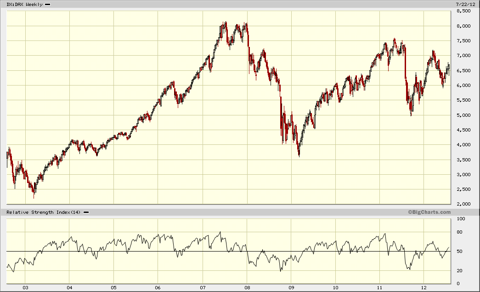 Click to enlarge
The DAX, weekly. The DAX since 2009 reflects Germany's relatively better economic performance as well as the effect of the weaker euro on the margins of exporters. However, the advance from the 2009 low looks corrective.
---
Euro Area Developments and the Fed
Given that the Fed remains split on what to do next (however, a majority of FOMC members is in the 'dovish' camp), the recent show of stock market strength could actually keep it from going forward with 'QE3'. The reason for this is not only the political headwinds the central bank is facing, but also the desire to hold on to some 'ammunition' for a time when things might get worse. To the extent that the Fed raises expectations for new interventions and the market reacts by discounting them in advance, the implementation of actual interventions ironically becomes less rather than more likely.
On the other hand, by raising expectations for more monetary pumping, the Fed risks creating disappointment in the markets (we are looking at this now from the central bank's own perspective; as far as we are concerned a lack of intervention can only lead to more rational prices, so it is to be welcomed).
Below we reproduce the SPX wave count again we have shown previously. So far nothing has happened that makes it necessary to alter it.
We also show the NYA with a larger degree wave count from the May 2011 peak. In the NYA the impulsive shape of the one degree larger decline and the corrective shape of the rebound are easily discernible. As always, our wave labels of the correction are tentative, as the complexity of corrections is unforeseeable and can only be fully appreciated after the market has tipped its hand. The important thing to remember here is that the correction wave counts below will be invalidated in the event of the NYA reaching a new high above the May 2011 peak and the SPX exceeding the early April 2012 top.
---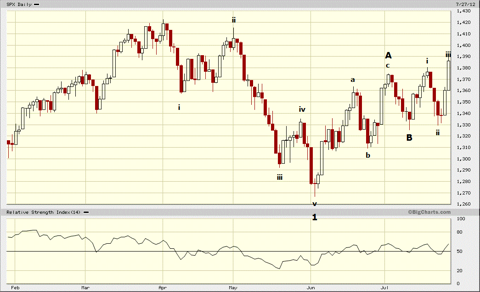 Click to enlarge
A tentative wave count for the SPX since the early April 2012 high. There are two reasons to believe that the most recent advance is corrective in nature: the overlapping waves making up the rebound and the fact that broader indexes that include mid and small cap stocks are exhibiting relative weakness.
---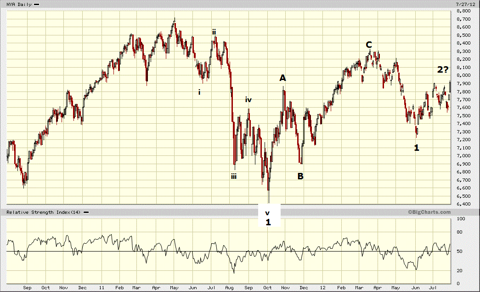 Click to enlarge
The NYA, with the one degree larger wave count since the May 2011 high (i.e., we are zooming out here to a longer term view). The labeling of the correction remains tentative - it is possible that after some time has passed the final two waves on this chart (which are viewed as subdivisions of the next impulse wave here) will have to be relabeled as parts of a larger corrective structure.
---
If we zoom even further out to a monthly chart of the SPX, we can see the wave shape of the entire secular bear market period to date. It should be noted here that nominal prices are belied by real prices (as represented by the SPX-gold ratio). In real terms the stock market has declined a lot more than in nominal terms over the past decade. Still, the main issue with the longer term wave count is how one views what has happened since 2007.
---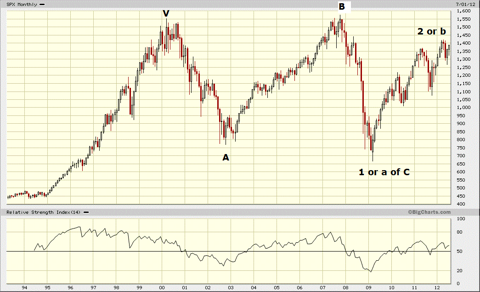 Click to enlarge
The SPX monthly. We are quite sure that 'A' and 'B' are correctly labeled. What has happened since then is a matter of debate. Apart from the two possibilities indicated above (the 2007-2009 decline was either wave 1 of C or wave 'a' of C, and the advance since then is either a corrective wave 2 or a 'b' wave, it cannot be apodictically ruled out that the initial decline (labeled 1 or 'a' above) was the entire 'C' wave. The arguments in favor of the the variations as indicated on the chart are: the rally from the 2009 low looks corrective and many international markets have bearishly diverged from the SPX. In addition there are many notable intra-market divergences as we have previously discussed.
---
If the euro area crisis were to calm down for a while, this would initially no doubt be regarded as good news. On the other hand, dollars that have flowed into the U.S. from Europe might then flow back, which in turn could end up putting pressure on U.S. financial assets to some extent. It is unknowable to what degree current market prices reflect expectations of more Fed easing or represent a reaction to developments in Europe, but there will soon be another opportunity to find out. The last FOMC meeting prior to the September meeting will take place this week on July 31 to August 1. The ECB meets for its next rate setting meeting on August 2. Given a slowdown in earnings and softer revenues as well as weakening macro-economic data, the market has little but intervention to look forward to.
A general rule of thumb is that when the markets rise into central bank rate meetings, they are more likely to be weak thereafter and vice versa (as either positive or negative outcomes are discounted in advance, with positive expectations then ending up disappointed or negative ones not fulfilled to the extent feared). However, this is not always the case. In the concrete circumstances of today there appear to be greater expectations on the part of market participants for more interventionist measures than there have been for some time. The central bank bureaucrats must be aware of this, since they have raised said expectations. This seems an opportune moment to quote Bob Hoye: "The interventionists are hell-bent on proving to us that their theories really work."
One thing is certain: more 'interesting times' are directly ahead.
---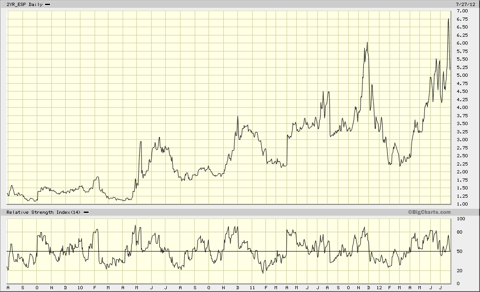 Click to enlarge
Arguably the most important interest rate in the world right now: Spain's 2 year government note yield - click chart for better resolution.
---
Charts by: BigCharts