Weekly Outlook: The market had a strong week on the back of an ECB confidence boost as ECB President Mario Draghi reaffirmed his commitment to the euro and said he would do what it takes to keep it together. The confidence boost puts Eurobonds back on the table most likely. On Friday, that confidence was furthered by President Merkel and Hollande backing Draghi's comments and saying they were behind the euro. While the talk is just that...talk, the market saw the opportunity to move on the news as it was the first boost of confidence for the market in some time. Until we do see some action, however, the conversation is nothing more than a short-term rally chip.
The week coming up should be an interesting one as the market continues to play off of the ECB news as well as earnings. The market has a lot more earnings to process this week as well as economic data, but it should be a week where we pay attention to Europe more than anything.
Economic data is very abundant this week, and it will set the stage for an interesting week. Employment data will be the big ticket item this week, which should lead to an interesting finish to the week. We will get Personal Income and Spending reports on Tuesday, Chicago PMI, and Consumer Confidence. On Wednesday, we get an important ADP Employment Change report as well as the ISM Index, Construction Spending, and the FOMC Rate Decision. Thursday we will get Challenger Job Cuts report as well as Initial Jobless Claims and Factory Orders. Finally, we finish up on Friday with Nonfarm Payrolls, Unemployment Rate, and ISM Services. This week is extremely packed full of data that should not be taken lightly. The jobs report is finishing up the week, and that news will definitely provide some market direction.
Overseas, Europe is definitely important to the market again this week. We will start the week on a high from the comments last week, but the longer no action is taken the longer these comments mean very little. There appears to be action in the works, and that announcement will definitely send the markets soaring. Yet, if things stall, we could see a reversal of market strength. We get some important unemployment data on Tuesday. Additionally, we will get the ECB rate decision on Thursday, which could be the date for some action to take place in the market. Europe is going to be big this week, and we have to keep them on the radar. The news may die down a bit mid-week and attention will turn to employment as well this week, but the Europeans hold the key to American confidence right now.
Earnings are still going to be important this week, but with Europe and unemployment, these rear-view looks may not be as crucial to the market as the past couple weeks. Some of the reports to watch for, though, are Loews (NYSE:L) on Monday. Tuesday will give us important reports from BP and Coach (NYSE:COH). Wednesday's important reports will be First Solar (NASDAQ:FSLR) and Harley Davidson (NYSE:HOG). Thursday will bring us Kellogg (NYSE:K) and Linkedin (NYSE:LNKD). We finish up on Friday with an important report from Procter & Gamble (NYSE:PG). We do not have crucial reports this week, but some interesting cyclicals, retail, and web-based businesses report this week. These reports will take a backseat to the other news though.
The Federal Reserve has a big week as well to add yet another variable to the week as they have their FOMC rate decision on Wednesday. The Fed said last week that they are looking at some more potential action, and the market may be looking at a decision for some new program. What would happen to the market if we got a move from the ECB and the Fed this week? Lack of action may not be as hurtful if Europe does something as well, but it will be interesting to see what they do this week.
So where are we headed this week?
All signs point up this week, which is the reason to be somewhat fearful. If Europe does nothing this week and the Fed continues to drag their feet, the market will not get what it expects. If that happens, we could lose a lot of the gains made. At the same time, it appears like something is going to happen. The market has gained some confidence, and it appears to have gotten the catalyst for some near-term upside. Free money does not fix a ton of the underlying issues, but it does distract the markets. Traders will bid things up significantly if more free money comes from the ECB or Fed. Watch out for unemployment issues on Friday, but a surprise there would definitely provide a significant catalyst to the market.
Stocks To Trade:
The two trades we like right now for the market are going long in Nike (NYSE:NKE) and short in Agilent Technologies (NYSE:A). Nike looks very solid fundamentally right now after a nice bottom at $90. We have the stock as buy-rated and believe the market drastically overreacted to the company's recent weak earnings. We think the stock has more upside especially if this market continues higher. Right now, we like shorting Agilent. The stock has technically seen a lot of weakness at the 0 CCI area and has been making lower lows and lower highs for 2012. The stock looks to have put in close to a top on Friday, and we believe that if the technical pattern holds true, it will move back down lower from here.
Position #1: NKE, Aug18 90/87.50 Bull Put Spread
Position #2: A, Short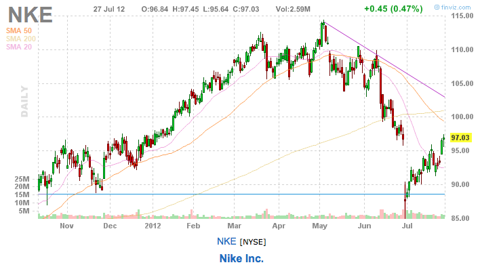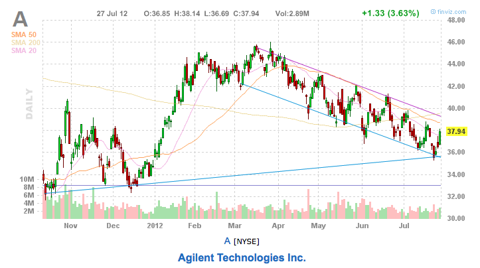 Oxen Group Holdings:
We have the following positions:
In our Short-Term Equity Portfolio we are long Southern (NYSE:SO), Domino's Pizza (NYSE:DPZ), Dollar Tree (NASDAQ:DLTR), Wolverine Worldwide (NYSE:WWW). We are short Pall (NYSE:PLL), Mosaic (NYSE:MOS), and Agilent.
In our Options Portfolio, we are long Monsanto (NYSE:MON), Dollar General (NYSE:DG), Home Depot (NYSE:HD), Nike. We are short Tiffany (NYSE:TIF).
In our Earnings Alpha Portfolio, we are long VeriSign (NASDAQ:VRSN), Seagate Tech (NASDAQ:STX), Apple, Disney (NYSE:DIS), and American Eagle Outfitters (NYSE:AEO). We have a reverse iron butterfly in F5 (NASDAQ:FFIV). We have reverse iron condors in Coinstar (NASDAQ:CSTR) and Facebook (NASDAQ:FB).
In our Goldman Sachs Up/Down Paper Portfolio, we are long MDC (NYSE:MDC), Canon (NYSE:CAJ), Basic Services (NYSE:BAS), and Noble (NYSE:NE).
Disclosure: I have no positions in any stocks mentioned, and no plans to initiate any positions within the next 72 hours.