Paramount Gold and Silver Corp. (AMEX: PZG) announced signing a letter of intent to form a strategic alliance with Mexoro Minerals Ltd. (OTCPK:MXOM). The alliance should provide shareholders of both companies an improved opportunity to realize the potential of their projects during a period of record metal prices. Paramount and Mexoro plan to pool resources to accelerate development of their projects. This arrangement should create critical mass for both companies, helping to improve economics and the potential to secure additional financing, while becoming more attractive to a potential major producer. Successful execution of the alliance may logically lead to a friendly merger of the two companies.
Paramount and Mexoro maintain large concessions between Coeur d'Alene Inc.'s (NYSE: CDE) Palmarejo Project and Goldcorp Inc.'s (NYSE: GG) El Sauzal mine. In addition to simply providing a larger land package to explore, the alliance pulls together Paramount's Clavo 99 (San Miguel Zone) and Mexoro's Encino Gordo project, allowing for more coordinated advancement.
Simplified Palmarejo, Paramount, and Mexoro Concession Map

Source: Mexoro
This is particularly important considering recent exploration results by Paramount, increasing resemblance of Clavo 99 to the Palmarejo deposit with mineralization extending into Encino Gordo. The combination of land concessions in a coordinated effort should allow for greater flexibility in exploring projects jointly that would otherwise be constricted by Peñoles concessions. Paramount reports that the combined land package of Clavo 99 and Encino Gordo, east of Palmarejo, will exceed 1,000 hectares. In addition, the combined concession between Palmarejo and El Sauzal will exceed 100,000 hectares.
Paramount, Mexoro, Penoles Concession Map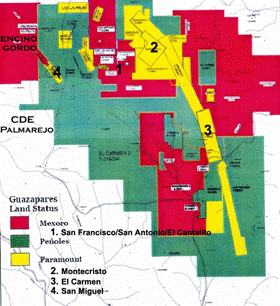 Source: Mexoro
The alliance between Paramount and Mexoro will also combine exploration teams, which Paramount reports may exceed 100 individuals. This should allow for a more comprehensive and coordinated exploration of a large area covering three historic mining districts. The alignment in focus and prioritization should lead to improved scheduling of drilling programs, both reducing costs and increasing productivity. It would also appear that individuals at the executive level will have joint input on prioritizing projects. The alignment of priorities at the executive level will be important for success of the alliance. If successful, the alliance may positively surprise the market by significantly advancing their respective projects at a more rapid pace than if operating independently and competing for resources.
Paramount will be required to invest $4 to $6 million in Mexoro at a cost of $0.50 per unit by June 23, 2008. A unit allows for purchase of one share and half a warrant to purchase an additional share at $0.75 per share. In addition, Paramount may acquire up to 18 million shares, which could result in the ownership of about one third of Mexoro's stock and effectively gaining control. (Paramount has first right of refusal on financings for Mexoro for the next four years.) Accordingly, Paramount's CEO, Christopher Crupi, will be appointed President of Mexoro, while Mario Ayub will remain the Chairman of Mexoro. It would appear to us that both the executive and corporate arrangement appears to align interests in favor of shareholders to both increase the critical mass of the respective companies and accelerate development.
Drill Rig on Mexoro Project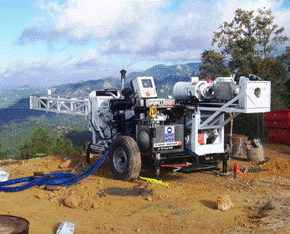 Source: Analyst
We believe that completion of the Alliance, while accelerating development of both companies' respective projects, should accelerate their eventual merger. While Paramount gains an interest in Mexoro, Mexoro enjoys an infusion of cash important to advancing its projects. The alliance may have the benefit of increasing the ability of Paramount to secure additional financing. In addition to accelerating advancement of both companies' projects, the most important benefit may be increasing their potential to secure additional financing. This is essential for increasing their appeal as an attractive acquisition by a major producer.
Disclosure: An affiliate of the author's employer provides research and corporate advisory services to PRZ.