Banco Santander (NYSE:SAN) released first half 2012 results that have buoyed the shares and supported the investment thesis that the bank has been the baby in the bathwater.
Specifically, the headline results were:
Pre-provision profit was EUR 6.223 billion in the quarter and $12.5 billion in the first half, 6% over the first half of 2011 and 10% above that of the second half.
Second quarter ordinary profit was EUR 1.404 billion, which, coupled with the capital gains, amounted to EUR 2.023 billion. After netting out the Spanish real-estate provision (after tax) of EUR 1.923 billion, accounting profit was EUR 100 million.
The group's NPL ratio is 4.11%, 13 basis points higher than in March.
Coverage for all problematic real estate assets of 46%, with increases across the following categories: doubtful loans, 44% from 33% in March; in substandard to 42% from 16% in March; and in foreclosures, to 50% from 48% in March.
As shown by the following chart, all segments were profitable and the bank is, at its core, a retail bank (and therefore more stable):

Risks
The risks involved in investing in this bank's capital structure must be considered prior to investing as this is a higher beta (risk) investment. These risks, as I see it, are:
Spain - The bank is located in Spain and will be affected by not only their investment and loan portfolios, but by Spanish economic and regulatory risk.
Spanish real estate - While the bank is well diversified geographically, they are still the owners of a large portfolio of real estate loans located in Spain and Portugal.
Sovereign and regional exposure - As with most large European banks, Santander has been a buyer of Spanish sovereign and regional debt.
A look at some of the risks in more detail from the conference call and the presentation (all indented sections are quotes from the conference call):
Non-performing loans:
NPL rate? Well, in Spain, it will continue to go up. I might make a mistake, but we think that from 5.9 in June, at the end of the year, it might be 6.7 more or less, so we will continue to see the NPL rate go up in the -- in Q3 and 4.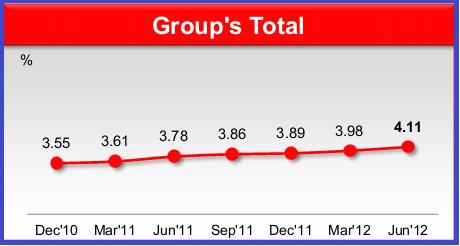 Total non-performing loans were up 13bps in Q2, continuing the trend upwards due Spain and Brazil.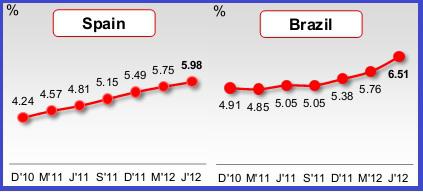 As a result of the increased non-performing loans, Santander continues to increase its provisioning and coverage ratios: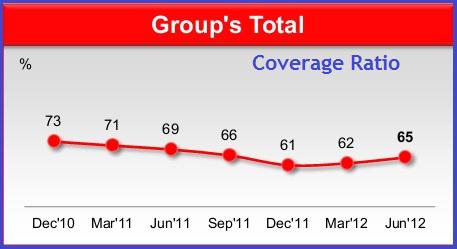 Spanish real estate provisions:
The group decided to allocate EUR 2.78 billion gross, EUR 1.923 billion net of taxes, 1/3 of this amount came from the capital gains obtained from the sale of the subsidiary in Colombia, EUR 619 million. And 2/3, in other words, EUR 1.923 billion, came from the quarter's ordinary profit, underscoring the group's priority in strengthening the balance sheet.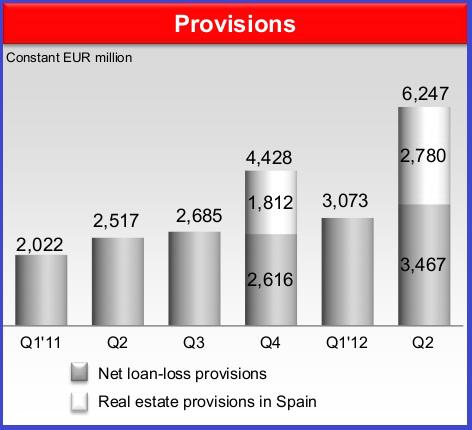 As a result of the increased provisioning, the banks coverage of Spanish exposure has increased and is ahead of the industry: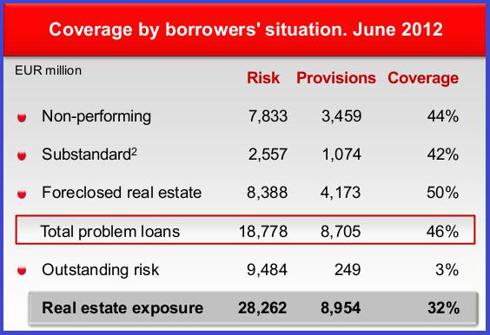 The substandard category is currently 100% current. The 46% coverage of Spanish problem loans is strong, and is forecast to increase to nearly 50%.
Royal Decrees:
Spain has enacted Royal Decrees designed to strengthen the banking sector as well as restore confidence in Spanish banks. These requirements, which must be covered by the end of 2012, will raise the average coverage of loans to the real estate sector from 18% at the end of 2011 to 45%. The higher levels of coverage will be applied to those assets with a reduced capacity to be sold. Developments underway and land, both foreclosed and in doubtful situation, will increase their coverage levels from 65% to 80%, respectively.
In Banco Santander's case, the Royal Decrees amount to approximately EUR 8.8 billion in provisions and capital. Currently, Banco Santander's provisions are at 70% of the Kingdom's Royal Decrees.
Foreclosure sales:
What sell price are we obtaining? Discounts between 35% and 45%, so similar to the level of provisions we have. And as we've explained other quarters, these prices will probably tend to fall slightly as a consequence of pressures in the market. How much are we funding the clients and we sell them our real estate assets? It's about 50%, I think it's a 56% if I remember correctly what is being funded through mortgages and for the individuals who buy a property from Santander.
With discounts of 35-45%, the coverage ratio established by the bank of 50% is sufficient and could ultimately lead to a release of provisions and/or provide flexibility as more assets flow into this category (i.e. provisions will not have to be dollar for dollar).
Sovereign debt:
We have EUR 35 billion Spain, the European Union EUR 12 billion, out of which 2 are Portugal, EUR 4.7 billion the U.K., EUR 11 billion Brazil, EUR 3 billion Mexico, EUR 2 billion Chile, EUR 2 billion the U.S. and EUR 2.3 billion Poland. the mark to market, the net 1 is about 2 billion negative of the whole portfolio.
Other Areas of Interest:
Capital increases:
The bank continues to increase capital levels and is currently well capitalized.

Organic generation of capital until the end of the year. No changes there. 10 or 10 basis points per quarter is more or less what we have been generating.
Dividend policy:
Our dividend policy has been set and reported to the market. It was reported expressly in the last results presentation, and the only thing I will add now is that I can confirm that we will maintain our current payout policy.
The impact on the shares was swift: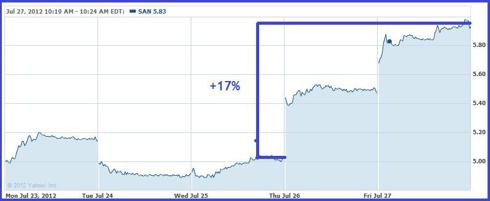 Source: Yahoo!
Interestingly, the SANPrE's did not move (Source: QuoteMedia):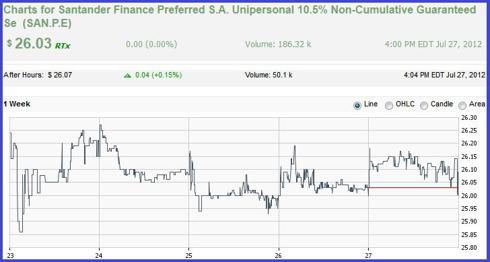 A longer term view of the (SANPrE) preferred (6 month):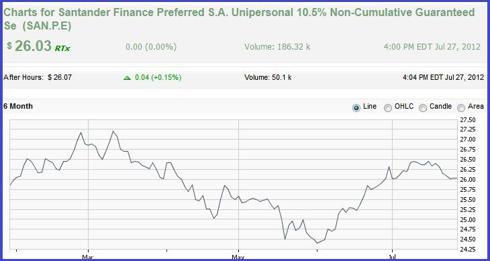 Bottom Line: Banco Santander has shown that it can remain profitable in difficult times and continues to focus on reinforcing its portfolio by increasing provisions in order to cover its problem loans. I continue to believe that an investment in this bank - while a higher risk - will lead to outsized returns. I must emphasize, however, that this is a higher risk investment and should be considered by investors with a longer term investment horizon that can withstand volatility.
There are still issues within its portfolio (although the highest concern areas - Spanish real estate - are well provisioned) and this cannot be overlooked, but the bank has been addressing them. While the equity has jumped since the earnings were released, I still believe there is value in both the equity and the preferred stock (I am particularly fond of the SANPrE 10.5%).
Disclosure: I am long SAN.
Additional disclosure: This article is for informational purposes only, it is not a recommendation to buy or sell any security and is strictly the opinion of Rubicon Associates LLC. Every investor is strongly encouraged to do their own research prior to investing.