Westlake Chemical Corp. (NYSE:WLK) makes and sells olefins and vinyls. Many of its products can be produced from NGLs such as ethane, propane, butane, etc. In the Olefins segment of its business it is easy to see how ethane can be easily turned into ethylene, polyethylene, styrene (also called phenyl ethene), etc. It is easy to see how propane can be used to make propylene, polypropylene, etc. Butane can be used to make butadiene, etc.
However, these NGL building blocks can also be used to make many vynils (plastics). Given this direct connection of WLK's raw materials to its end products, it is easy to see how WLK should be much more profitable with this year's drop in NGL prices. Analysts at Goldman Sachs estimate that for every penny drop in ethane prices, WLK's EPS will jump by +$0.09 per share. According to BENTEK Energy, Mt. Belvieu, TX ethane prices have fallen 65% since January 2012. They were averaging $0.29 per gallon for the week ending June 29, 2012. Ethane prices in Conway, KS averaged $0.05 per gallon for the week ending June 29, 2012. The chart below shows the historical ethane fractionation spread to Mt. Belvieu.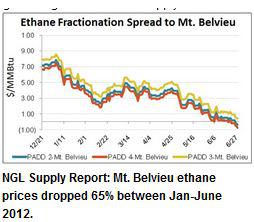 BENTEK Energy expects these conditions to remain in effect throughout the summer.
In the propane case, prices have dropped from approximately $1.20 per gallon at the beginning of April 2012 to a low of nearly $0.70 per gallon at the beginning of June 2012. After that they rose back to approximately $0.80 per gallon at the beginning of July 2012. They are currently at $0.8950 per gallon, which is still far below the price at the start of April. The mundi index chart below shows the macro movements in propane prices this year until the beginning of June.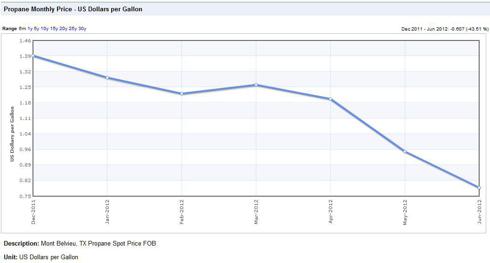 Other NGLs have fallen too. As a conservative estimate ethane prices averaged $0.20 to $0.40 less in Q2 2012 than in Q1 2012. If Goldman Sachs analysts are to be at all believed this would make a minimum +$1.80 per share difference in WLK's earnings in Q2 2012. Of course, I am not sure the GS analysts expected the price drop to be this dramatic. If you add the increase in EPS due to the decrease in Propane prices, you get an outrageously good picture of WLK's likely EPS for Q2 2012.
If you now look at the average analysts' EPS estimates for WLK's Q2 2012, you see that the estimates have on average decreased from $1.44 three months ago to $1.41 today (Yahoo Finance). This is in complete contradiction with the GS analysts' expectations. They are also in complete contradiction with common sense. Yes, the EU is in a period of economic slowdown, but the US production costs for ethylene, etc. are so much lower than comparable EU products, which are largely still being made from petroleum, that the US can easily undercut EU prices. The US olefin manufacturing companies such as WLK should still be tremendously profitable.
If you look at the LyondellBasell Industries (NYSE:LYB) results that were reported on Friday July 27, 2012, you can see that after adjustments they beat by +$0.25 per share. LYB is another company that is benefiting from lower NGL prices. LYB is considering using its excess cash to pay another special dividend. It paid a $4.50 per share special dividend in Dec. 2011 (roughly 10%).
I find all of the EPS estimates very much at odds with the likely performance of WLK for Q2 2012 and beyond. The NGL prices give WLK too much of an advantage in worldwide olefins markets (perhaps in vynil markets too). I am not going to even try to bring the discrepancies of the average analysts' EPS targets for Q2 and the predicted benefits of lower ethane prices by GS's analysts into agreement. It would take a lot of time and effort. I will instead just point out that the likelihood of a big beat by WLK is a near certainty. The company's margins should expand.
Given its pricing advantage, even WLK's revenues seem likely to expand. This should all mean that WLK's stock should go up this week. LYB reported on Friday July 27, 2012. WLK's stock went up nearly 6% that day to $60.86. It probably has farther to run just on LYB's results. Then WLK reports on Thursday Aug. 2, 2012 before the market opens. WLK should be able to run up some more on its own great EPS. It seems a likely great investment for this week (and perhaps longer term).
The two year chart of WLK below gives some technical direction to this trade.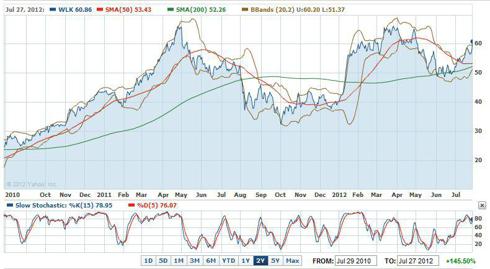 The slow stochastic sub chart shows that WLK is currently overbought. The main chart shows that WLK has recently run up more than 20%. This may cut down on the amount of near term further gains. However, the factors described above still seem likely to push it up further. It trades at a P/E of 15.48 and an FPE of 11.21. These both seem reasonable multiples for a company that analysts on average estimated to grow EPS by 20.70% this year and 16.30% next year. If you agree with me that a big beat is likely, the above numbers may be big underestimates.
You do have to worry about a slowing global economy, especially in Europe. You also have to worry that the ECB may not follow through on its big pronouncement of last week. You have to worry that some investors may be disappointed by no new US Fed announcement of QE after its meeting this week. Still betting on likely great numbers seems a good bet. We will have to wait and see about the rest. If you are truly worried about the US Fed and the ECB, you may wish to average in.
NOTE: Some of the fundamental fiscal data above comes from Yahoo Finance.
Good Luck Trading.
Disclosure: I have no positions in any stocks mentioned, but may initiate a long position in WLK over the next 72 hours.