The low-volume, liquidity-driven, short-covering, airy, melt-up rally continued yesterday as bad news from Fannie Mae (FNM) was sold on the open and 15 down minutes was all the buyers needed to hit the bid.
It was a day when semiconductors, financials, homebuilders, oil, gold, emerging markets and pretty much near every group that should have gone up or down or sideways or all three over the past six weeks pretty much went up anyways.
Have you seen Apple (NASDAQ:AAPL) lately?
click to enlarge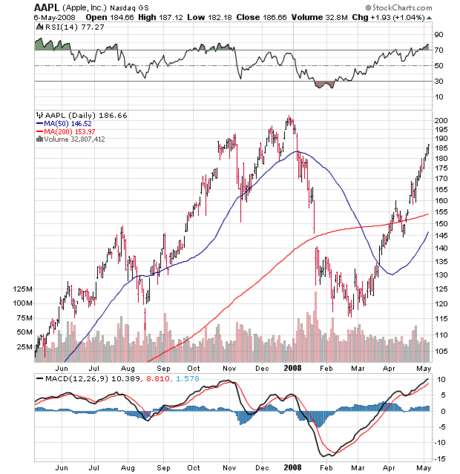 Apple is up 62% since it bottomed on February 26. The momo guys have run it as if everything is hunky-dory in consumer-land.
As an Apple-user, Apple is a great company, but such a parabolic move smacks of panic buying as risk-taking comes flooding back into the market.
But hey, no worries. Credit crisis? Stagnant economy? Pfft! Stop being a spoilsport! Its party, party, party!
One line of thinking in the unwinding of The End of the World Trade is:
Things could not have gotten any worse than Bear Stearns (NYSE:BSC), the market did not go down further, thus the market is going higher.
Yesterday's market action is a remnant of The End of the World Trade.
What the market is not discounting, I believe, is The Economy Will Remain Stagnant Longer Than Everyone Thinks Trade.
And there is good reason to believe the economy is not out of the woods yet. The Fed released its quarterly Loan Officers Survey, and it certainly was not bullish.
The Federal Reserve said the share of banks making it tougher for companies and consumers to borrow approached a record after the subprime-mortgage collapse made them more reluctant to lend.

The quarterly Senior Loan Officers' Survey, published in Washington today, underscores the Fed's concern that $318 billion of credit losses and writedowns among financial firms is causing a credit crunch. The survey, conducted last month, also indicates that the Fed's interest-rate cuts and loans to banks have failed so far to defuse the threat to the six-year economic expansion. ...

Most banks increased loan rates over their cost of funds for commercial and industrial borrowing, according to the central bank's quarterly survey of senior loan officers released today in Washington. The proportion of banks raising such rates rose to a net of 70 percent compared to 45 percent in a January report. ...

"The net fractions of domestic banks reporting tighter lending standards were close to, or above, historical highs for nearly all loan categories in the survey," [emphasis added] today's Fed report said.
"That's, like, so yesterday's news," is what you can hear the bulls saying. After all, the market is a discounting mechanism, and all the bad stuff is behind us.
Maybe not.
On the loan survey, Citigroup (NYSE:C) market strategist, Tobias Levkovich, wrote a piece about this on Tuesday morning that threw cold water on the notion that the worst is behind the economy. To paraphrase the article:
Credit standards for small business loans suggest a worse environment than in the past. Conditions for smaller businesspeople seems more dire than in prior recessions. The reliance on public company balance sheet strength misses the point of potentially weaker private company smaller business trends.
Credit leads the real economy. There is a three-quarter lag between credit standards and corporate investment, and thus companies are on the cusp of seeing their order books soften meaningfully over the next several months.
The risks seem more directed towards industrial companies. With industry margins near 20-year highs, there is considerable exposure to lower earnings guidance as fixed overhead cost absorption variances kick in.
Declines in industrial activity generally translate into earnings declines. It seems very realistic to assume that more cyclical earnings estimates face substantive downward guidance with equity market implications.
Tobias is not a perma-bear, either.
However, none of this matters right now. The market wants to go higher, so the low-volume, liquidity-driven, short-covering, airy, melt-up rally will continue.