Although the market may not have started last week all that bullishly, it sure as heck ended that way. In fact, the last two days may have been a little too bullish for the market's own good. The 3.6% jump between last Wednesday's close and last Friday's close was enough to mean a 1.7% gain for the week… technically, the third winning week in a row (though the only one that was decisively strong). Problem: The big surge may be inviting profit-takers to bail out while they can since stocks didn't leave themselves any likely room to keep rolling straight-away.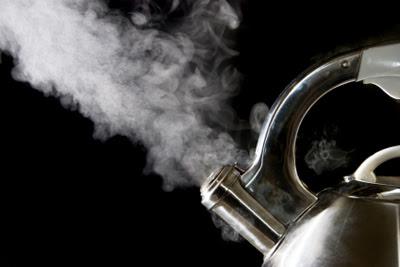 We'll show you the market's exact problems - and upsides - below. First, however, let's take a look at last week's and this week's key economic numbers.
Economic Calendar
It was a pretty light week last week in terms of economic data, though we'll make up for it this week - there's a ton of stuff in the lineup. We do want to run-down last week's biggies though.
* One of the big focal points last week was housing. New homes sales fell from an annual rate of 382K to 350K, while pending home sales fell 1.4%.
* Durable orders were up 1.6%, though automobiles get more than all the credit for the improvement. Without cars, durable orders actually fell 1.1%.
* Last but not least, Q2's GDP growth was only 1.5%. That was weaker than Q1's 2.0% growth, but at least better than the 1.2% growth the prod were expecting.
Everything else is on the table:
Economic Calendar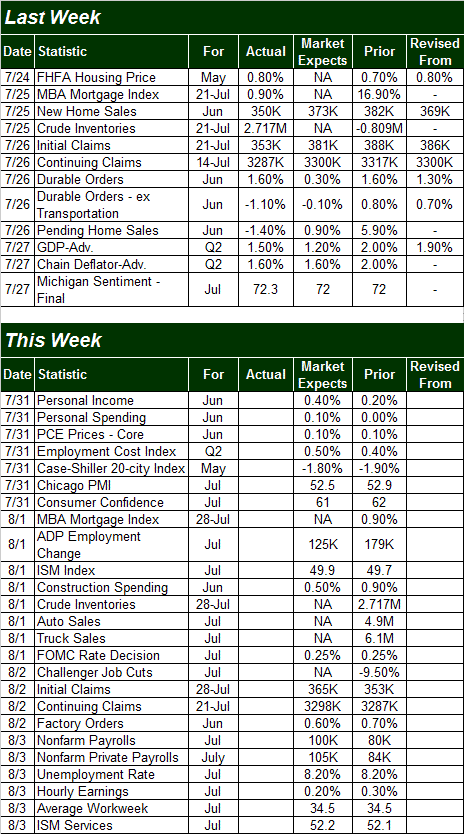 As for the coming week, we've got a ton of data to work through… far too much to look at every single piece of information. Here are the highlights we'll be waiting for.
* Tuesday: Personal income and personal spending. Both are expected to be higher for June, by 0.4% and 0.1%, respectively. That tops respective growth readings of 0.2% and 0.0% for the prior month.
* Tuesday: Case-Shiller (home price) index: Look for a 1.8% dip again, compared to a 1.9% dip in May. The rate of home-sales continues to increase, but at a proverbial price. [Note: New home-sales prices are actually on the rise.]
* Tuesday: Consumer confidence will likely fall a bit, from 62 to 61.
* Wednesday: Will payrolls grow in July following May's disastrous number? ADP will open that can of worms this week, expecting 125K new jobs to be created.
* Wednesday: Auto sales carried the weight of June's durable order growth (see above), but will that actually lead to increases in total car (unit) sales?
* Thursday: Factory orders are forecasted to be up 0.6%, following May's 0.7% increase.
* Friday: This is going to be a huge day, because of the big update on the jobs/unemployment front. The government will unveil July's official job-growth number, which should closely mirror the ADP Employment Change number from earlier in the week; economists say the government number will show 100K new jobs were created last month. That won't be enough to change the unemployment rate from 8.2%.
Stock Markets
As was noted above, a very good finish for the market last week undid a very bad start. The S&P 500's (NYSEARCA:SPY) (SPX) close at 1385.97 was 23.31 points above the prior week's close… a 1.7% improvement on the previous week's closing level. More important, the bullish volume behind the last two days of the week was the most volume we've seen - good or bad - since the June 1st plunge… the plunge that ultimately became a capitulation and the beginning of the current rally.
And that's the worry with the mirror image of the June 1st move that we saw on Thursday and Friday - a huge advance on huge volume. Like the June 1st dip, last week's rally was more than an 'extreme' move. It's the kind of action that could mean a 'blowoff' top, or the end of a big rally.
The other argument for the notion that the rally hit a wall on Friday is where it topped out… the combination of the upper 20-day and 50-day Bollinger bands, which have converged at 1385. As you can see with the chart's recent history, the upper 20-day Bollinger band has capped and repelled the last three rally attempts; why would the fourth one be any different, especially when the upper 50-day ban line is starting to lend a helping hand.
S&P 500 & CBOE Volatility Index (VIX) (NYSEARCA:VXX) - Daily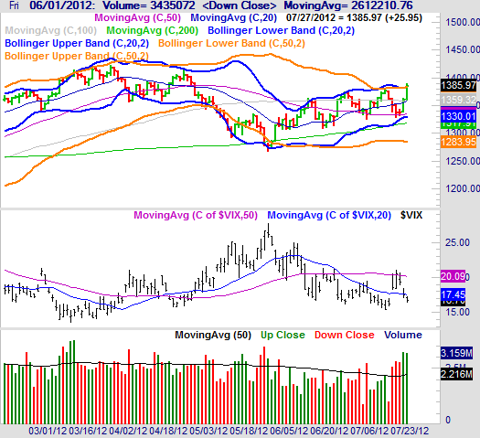 Click to enlarge
So a pullback is a foregone conclusion? No, we're not saying that. We're saying a pullback is the more likely outcome in this particular scenario. Had the market simply walked upward without exploding higher, it could have gently run up and beyond the upper Bollinger band lines. In a case like this though, it's tough for the would-be profit-takers to pass on the bird-in-the-hand.
Nevertheless, our 'guess' is a healthy retreat back to the 1332 area, where the lower 20-day Bollinger band as well as the 50-day moving average line are intersecting. The plan-B target is the 200-day moving average line at 1318.
Either way, the bigger trend is still a bullish one, and one of these times the market is going to hit those technical ceilings and move above them rather than be rejected by them (NASDAQ:QQQ) (NYSEARCA:IWM). Now doesn't appear to be one of those times though.
Now, about earnings…
Q2 Earnings Results
The picture is still a little blurry, but with 56% of the S&P 500's companies having reported in, the picture's at least a little clearer than it was a week ago.
As it stands right now, the S&P 500's expected earnings for Q2 is still $25.42, which is actually a tad better then the $25.21 the pros were looking for at the end of June. So far, 186 (66%) of those companies have topped estimates, 61 (21%) have missed estimates, and 35 (12%) came in right on target. That's a little less impressive than the norm.
At $25.42, the market's on pace to improve its bottom line by 2.2% on a year-over-year basis.
So far, the industrial sector (NYSEARCA:XLI) (NYSEARCA:DIA) is the big winner. Its earnings are up 11.6% on a year over year basis, and 78% of its reporting stock (33 of the 42 that have posted Q2 numbers) topped estimates.
Disclosure: I have no positions in any stocks mentioned, and no plans to initiate any positions within the next 72 hours.