Most investors invest in high-dividend stocks for strong income. In fact, a significant portion of long-term returns come from dividends. Today's saving rates and low yields on bonds have driven investors towards dividend-paying stocks. Ben Bernanke, Fed Chairman, recently announced that the rates would remain at zero till 2014. These flattened yields do not fill investors with confidence, as these may not even be able to cover inflation in future.
Dividend-paying stocks generally present a major liquidity outlet for investors. It is particularly crucial to have some dividend-paying stocks in the portfolio, since many investors rely on dividend-paying stocks to meet their need for cash. However, dividend stocks are not just a source of value and reliable cash flows, but they also provide diversification. Usually, mature and strong companies pay dividends as these companies are generally less affected by economic cycles. This is a hugely important consideration in today's volatile economic environment. Furthermore, dividends usually represent the present level of earnings so there is always a chance for dividends to increase as situations improve.
For many stocks, dividends account for a healthy portion of the total yield. As a matter of fact, the most positively performing stocks over the long-term typically have had a substantial portion of their returns derived from dividends. Dividends and reinvestment can contribute from 85 percent to 90 percent of stock market returns. Being able to identify dividend-paying stocks is extremely valuable, since these stocks can not only sustain healthy dividends, but also continue to grow at the same time. Conversely, stocks with unusually high payout ratios can sometimes have troubles in the future if the need for cash flow arises.
Below are a number of interesting stocks. Based on my fundamental analysis I rate four of them as buy, and one of them as hold. The ones rated as buy are those with on strong earnings expectations, low current valuations, and sustainable dividend yields.
Intel Corporation (NASDAQ:INTC): Buy
The first stock with a buy recommendation is the Intel Corporation. Intel has a nifty dividend yield of 3.30 percent. In May 2012, Intel announced a seven percent increase in the quarterly dividend that is planned to take effect from the third quarter of this year; this was the third increase in the last 18 months. Last year, Intel paid a dividend of $0.84; with the new increase, dividends for 2012 will reach $0.90. This most recent increase follows a consistent pattern, as Intel has been increasing dividends consistently over the last nine years. Its closest competitor, Advanced Micro Devices (NYSE:AMD) does not pay any dividends. Thanks to the superior market position, Intel raised as the glorious winner of microchip battle.
Over the last decade, Intel has been able to increase its EPS at a rate of 30 percent per year and currently has a payout ratio of 34 percent. The company is thus retaining enough for future growth as well as paying a decent amount to its investors. The aforementioned 34 percent payout ratio is almost perfect, and therefore places little pressure on the company, leaving cash reserves ready for investment opportunities. With a healthy dividend yield, sturdy dividend history, and a manageable payout ratio, INTC is clearly a strong buy.
Intel stock is currently trading around $25, below its one-year target of $29. Its Beta stands at 1.07. The firm also has an EPS of $2.36 and a P/E ratio of 10.73, as well as a PEG of one and forward P/E estimate of 9.87. Furthermore, Intel has strong liquidity ratios. Gross margin and operating margin stand at 63.80 percent and 30.92 percent, respectively. Stock is trading 13.70 percent lower than its 52-week upper range. I think there is still an opportunity to possess a capital gain on top of the attractive dividends on offer from Intel.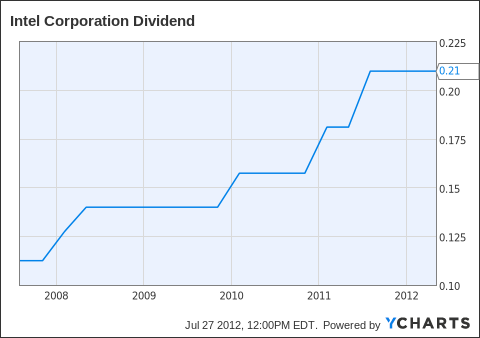 INTC Dividend data by YCharts
Chevron Corporation (NYSE:CVX): Buy
Chevron has an attractive dividend yield of 3.30 percent. In the past twelve months, the company paid dividends worth $3.60 per share. Chevron also has a manageable and sustainable payout ratio of 26 percent. This giant has a market cap of $213 billion and net income of over $27 billion for the last year. Chevron is trading at $108, at a 10 percent discount to its one-year target price of $120. In April, Chevron increased dividends by 11.1 percent, and has thereby now increased annual dividends for 25 consecutive years. In fact, the company has a dividend history that spans over 100 years.
Demand for energy is constantly increasing. Recent manufacturing statistics from China show that an expected increase in production will further augment the growth for Chevron. Moreover, strong demand internationally will also serve to improve Chevron revenue.
Chevron has both an attractive EPS of $13.62 and a P/E ratio of 7.92, while the forward P/E estimate stands at 8.81. The P/S ratio is also positive at 0.84. Chevron is a large, multinational corporation, with a history of strong earnings growth, a handsomely manageable payout ratio, and an appetizing dividend history. I expect Chevron to outperform the market in the coming months and yield a healthy dividend for investors.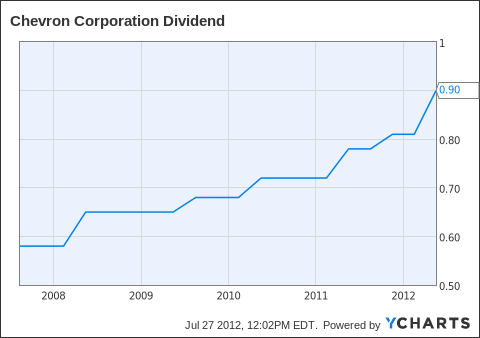 CVX Dividend data by YCharts
JPMorgan Chase & Co. (NYSE:JPM): Buy
JPM is an exciting stock, even though it lost about 20 percent of its value during the recent "London Whale" trading loss. Despite these recent troubles, this stock still has an impressive dividend yield of 3.50 percent. Trailing twelve-month dividends were $1.20 per share. Also, recent loss in value has resulted in an even higher dividend yield for the stock.
Furthermore, management at JPM was able to sail through the storm of 2008, while the company's stock price remained fairly stable as compared to other financial institutions. Recently, the CEO of JPM, Jamie Dimon, bought 500,000 shares for $17,107,533. I think this is a good sign for investors.
JPM is trading at an attractive price of $36, well below its one-year target price of $45. It has a P/E ratio of 7.96 and EPS of $4.33. With a market cap of above $130 billion, this is a strong stock with healthy return potential. Forward P/E ratio for JPM is at 6.60. The company has a healthy payout ratio of about 20 percent. The bank's dividends have a strong history, with only the 2008 financial meltdown causing any decrease in dividends. Since 2008, JPM dividends are again on the rise, increasing dividends gradually. I expect JPM to present a healthy growth in dividends. For this reason, JPM is ranked a "Buy."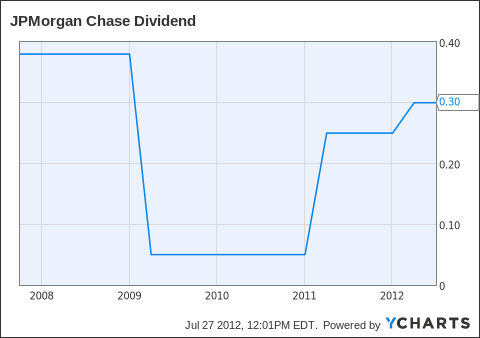 JPM Dividend data by YCharts
Abbott Laboratories (NYSE:ABT): Buy
Abbott has a strong presence in its market and a firmly-established catalog of drugs. The company is expected to continue its healthy growth and strong earnings numbers. Abbott has a dividend yield of 3.10 percent as well as a payout ratio of 62 percent, which is slightly higher than the other stocks I rated as buy. Even at 62 percent, the payout ratio is not in the red zone, and Abbott should be able to pay healthy dividends in the future, especially since Abbott has enough retained earnings to cover any future need for cash. These strong retained earnings should provide a robust cushion against any future troubles. Meanwhile, Abbott's cash flow from operations has been increasing gradually; such a strong cash flows implies that the company will be able to pay a healthy dividend in the future.
Abbott is trading just under its one-year target price of $67. The last twelve-month dividend payments amount to $2.04. The stock has a small Beta of 0.39 and an attractive EPS of $3.08, though the P/E ratio for Abbott is a little high at 20.86. Meanwhile, the forward P/E is 12.06.
Abbott has been increasing dividends for forty consecutive years. This long tradition of increasing dividends shows the strength of its growth and the confidence held by company management. Abbott enjoyed a net income of $4.89 billion in the last 12 months. The gross margin stands at 61.65 percent. Thanks to its strong cash reserves and diversified product pipeline, Abbott should be able to maintain or increase its dividends.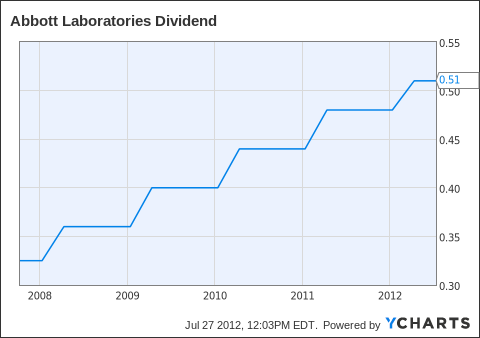 ABT Dividend data by YCharts
American Capital Agency (NASDAQ:AGNC): Hold
mREITs - which generally aim to pay back investors in the form of dividends - usually pay about 90 percent of earnings to investors. Meanwhile, American Capital has an eye-catching dividend yield of 15.39 percent. American Capital also paid a quarterly dividend of $1.40 for 10 consecutive quarters, until the end of 2011, at which point the company decreased the dividend to $1.25. Payout ratio for American Capital Agency is generally just above 70 percent. The last annual dividend paid by the firm was $5. P/E ratio for agency stock is fairly low at 5.25, while the stock's PEG is 1.77. EPS for the company is $6.69 and the P/B ratio is 1.1.
Mortgage-backed real estate investment trusts follow a business model, where the mREIT borrows for the short term and invests the proceeds in long-term mortgage securities. As long as interest rates remain low, mREITs will make healthy earnings and enough cash flow for dividend payments. However, in the case of American Capital Agency, the debt to equity ratio of 8.11 is pretty high. The company might be subject to spread squeeze due to this high leverage. In order to maintain the dividend, the management is taking more risk by increasing the leverage. The stock is also trading near 52-week highs. Therefore, I rate it as a hold.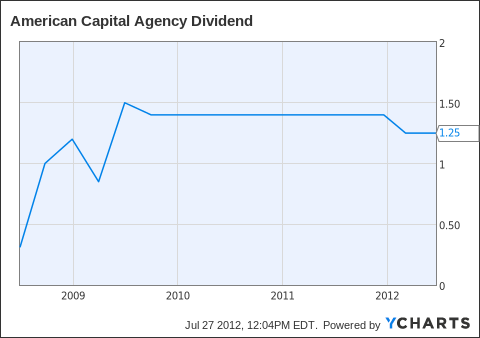 AGNC Dividend data by YCharts
Disclosure: I am long INTC.