ECB (European Central Bank) President Mario Draghi's pledge to do "whatever it takes" to save the common currency, an announcement that was widely interpreted as a promise to print hundreds of billions more euros to buy sovereign debt that few others want, may have been just the catalyst that precious metals markets needed to push prices out of recently narrowing trading ranges as both gold and silver moved sharply higher late last week.
But follow through from Draghi will be required in the days ahead in order to sustain these moves higher and improved prospects of more money printing here in the U.S. by the Federal Reserve will also be needed if the metals are to begin another major up-leg in their ongoing 12+ year bull market. A prospect that, suddenly, seems quite possible after months of languishing prices.
For the week, the gold price rose 2.5 percent, from $1,584.00 an ounce to $1,623.60, and silver rose 1.7 percent, from $27.33 an ounce to $27.79. Gold is now up 3.7 percent for the year, down 15.6 percent from its 2011 high, and silver is just 7 cents lower in 2012, down 43.8 percent from its peak last year.
As shown in the StockCharts graphic below in an update of the same chart that was shown here a week ago in Gold Price Breakout Ahead, two important events occurred in recent days.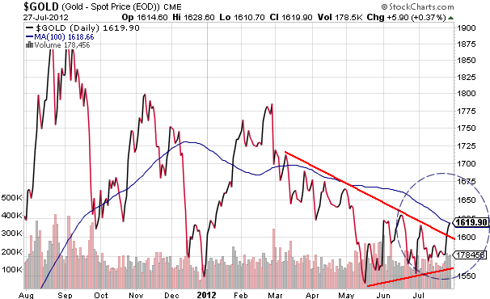 Click to enlarge
First, the gold price broke out of its months-long triangle formation to the upside in an unquestionably bullish move since these patterns often times resolve themselves with a big move higher or lower. Second, the gold price is back above its 100-day moving average for the first time in months, an indication that momentum could be changing.
Technical analysts cite the $1,640 an ounce area as being key since breaking out of the $75 trading range of the last three months (between $1,550 and $1,625) would provide convincing evidence that another up-leg has begun.
Once the $1,640 an ounce mark is achieved, the gold price could quickly advance toward the $1,800 mark, however, that would be getting a bit ahead of ourselves at this point - the gold price made a big move last week and, as in the case of ECB President Mario Draghi, follow-through is now needed.
Simply put, the gold price has been waiting for more central bank money printing and, after the announcement of the latest ECB initiative, that seems to have arrived. Now it's up to the Federal Reserve to join in, a move that could come as soon as this week, but is more likely to occur in August or September.
Futures traders seem to have suddenly become much more excited about gold again as trading volume on Friday was reportedly double the average volume over the last month.
Also, as detailed for subscribers in my most recent issue of the Weekend Update, option premiums on the popular SPDR Gold Shares ETF (NYSEARCA:GLD) have risen markedly in recent days as traders bet on more monetary easing ahead.
One area of modest concern is the ongoing outflow of metal from this ETF as another 6 tonnes exited the trust last week, taking its holdings to a nine-month low. However, as we've seen in recent years, the holdings of this ETF seem to have little or no correlation to the gold price over the very short-term, broadly tracking the gold price higher over the long-term.
One group that remained bullish about gold even before the developments in Europe last week was Deutsche Bank who, on Monday, reiterated their call for new all-time highs for the gold price above $2,000 in the first quarter of 2013. They said prices could be range-bound over the next month or so but cited the "fiscal cliff" and more monetary accommodation by the Federal Reserve as reasons for the dollar to weaken later this year and help drive the gold price higher.
This has been my view for some time now - while the gold price may be warming up a bit over the summer, the real action is likely to take place this fall and into the winter.
Disclosure: I am long GLD, SLV.
Additional disclosure: I also own gold and silver coins and bars.