One company that is excelling in the biotech industry is Celgene Corporation (CELG). The company is a leader in cancer and immune-inflammatory treatments. Revenue increased 16% for Q2 2012. This growth was considered high-quality growth as 14 of those 16 percentage points came from volume increases for its products. Earnings per share increased 37% in the second quarter. The quality of EPS growth was also considered high as 70% of the growth came from operating income growth.
Revenue for the company's star product used to treat multiple myeloma, Revlimid, increased 17% year-over-year to $934 million. Revenue for Vidaza increased 35% internationally, while Abraxane revenue increased 16% globally.
The company increased its full year EPS estimates to $4.80 - $4.85 up from the previous range of $4.70 - $4.80. This shows that Celgene is confident in achieving its earnings estimates. Earnings upgrades typically lead to positive earnings surprises so this should shed a positive light on expected earnings for the second half of the year. Total revenue for the year is expected to be in the range of $5.4 billion to $5.6 billion.
Celgene has a number of high-potential drugs in its pipeline. Pomalidomide, a drug to treat multiple myeloma and myelofibrosis, is in Phase III clinical trial. This drug has the potential to be a blockbuster. The use of Revlimid to treat lymphoma and leukemia is undergoing Phase III clinical trial. Abraxane is also undergoing clinical trials for indication in non-small cell lung cancer, melanoma, and pancreatic cancer. FDA approval decision is expected in October for Abraxane's indication in non-small cell lung cancer. Data from the Phase III melanoma study is expected in the next few months, while data from the pancreatic cancer study is expected in late 2012 or early 2013.
On the inflammation front, Apremilast is in Phase III clinical trial for indication in psoriatic arthritis and psoriasis. A new drug application (NDA) is expected to be filed in the second half of 2013 for Apremilast's treatment of psoriasis and an NDA is expected to be filed in the first half of 2013 for the drug's treatment of psoriatic arthritis. The drug has also entered Phase III for the treatment of the chronic inflammatory disease of the axial skeleton known as ankylosing spondylitis. Apremilast is also in Phase II studies for rheumatoid arthritis and Brehcet's. The drug has the potential to treat over 7 million patients globally.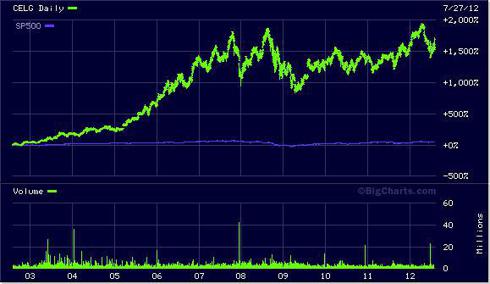 Celgene is undervalued with a PEG ratio of just 0.64. This shows that the company's 5 year expected earnings growth is higher than the PE ratio, which means that the stock price is at an attractive level.
For the last twelve months operating cash flow was $1.84 billion and free cash flow was $1.7 billion.
The company is expected to grow earnings annually at 22.78% for the next five years. This high growth is enough for the stock to double the performance of the average S&P 500 company over the next five years. Celgene has the potential to turn a $10,000 investment into over $27,000 in five years. The investment can also be considered a contribution for the treatment and research of cancer and immune-inflammatory diseases - an investment that you can feel good about.
Disclosure: I have no positions in any stocks mentioned, and no plans to initiate any positions within the next 72 hours.