Oil had a decent July as it increased in the month from around $85 per barrel back up to $90 per barrel. This move was on the back of a fairly weak month of economic data and earnings for the market. Oil, though, popped once again off its $80 floor to head higher since June. As we enter August and earnings season cools off but temperatures get hotter, will the oil market make another move higher? We did some historical research to determine historical oil trends for the peak summer month and determine if there are any patterns that the commodity makes in the month. Additionally, we took a look at how companies do in the month in the oil services, manufacturing, and equipment sub-sectors. Here are our findings:
Oil (NYSEARCA:USO) has shown a pretty strong pattern of bullishness in August, although that has not been as true in the past five years. It has been up 17/25 years, but out of those eight declines, four have come in the past six years. The largest decline in oil in August was a 13% decline in 2006. 2008 also saw a 10%+ decline in that month. The largest increase in August was a nearly 50% increase in August of 1990, which was due to the Iraqi invasion of Kuwait. The summer strength continues from July into August, and with the ECB ready to print more money as well as the Fed commenting they want to do more action, we may see a couple of monetary reasons for oil prices to ratchet higher in August.
In our research, we also looked at average gains of oil companies as well as their max drawdowns. August has not been strong for oil companies, which may be due to an end of summer sell-off after earnings season? The companies we investigated are Baker Hughes (NYSE:BHI), BP (NYSE:BP), Transocean (NYSE:RIG), Exxon Mobil (NYSE:XOM), ConocoPhillips (NYSE:COP), Halliburton (NYSE:HAL), and Schlumberger (NYSE:SLB). Here is average gains for past twenty years:
Click to enlarge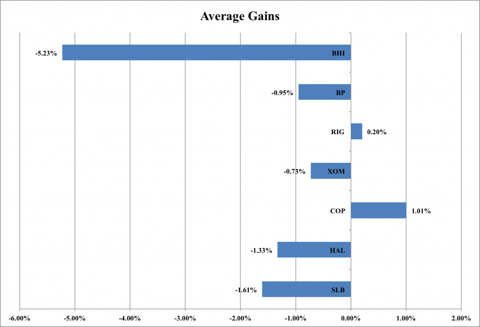 Interestingly, only ConocoPhillips has shown any consistency in growth in August. Baker Hughes has been very weak. To get better trading ideas, we want to know max drawdowns or max gains:
Click to enlarge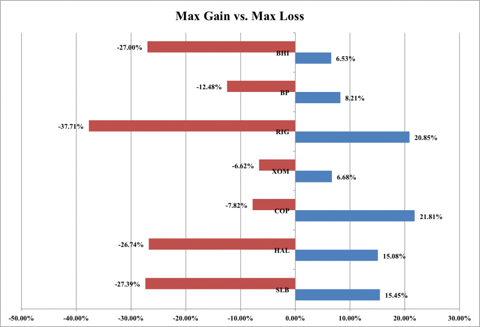 Baker Hughes has never increased more than 6.5% in August in twenty years, and after their large move to the upside, they may be getting overextended. At the same time, COP has never dropped more than 7.8%. They average gains, and they may be a solid candidate for a bull put spread. One last chart will help us to put things in better perspective. The following chart shows times a stock has increased vs. decreased in the 20-year period:
Click to enlarge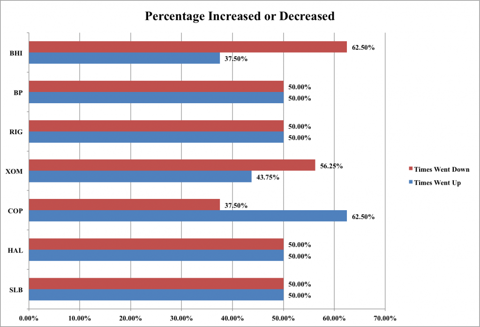 Play #1: BHI, Sep22, 52.50/55 Bear Call Spread
Play #2: COP Long, BP Short
Market is still murky, but this data can give you some better ideas of just where everything can go.
Disclosure:
I have no positions in any stocks mentioned, and no plans to initiate any positions within the next 72 hours.