We have been long Altria Group (MO) and its predecessor companies since March 1999 and we have been pleased with the results of the company and its spin-offs during this time. We believe that Altria Group is a great investment for investors seeking dividend income. Altria Group is a rare-breed in that it offers an above average dividend yield of 4.6% (as of July 24th, 2012) and is a dividend growth champion (Altria has increased its dividend per share (adjusted for the Philip Morris International (PM) and Kraft Foods (KFT) spin-offs) 45 times in the last 43 years). We notice that the company announces its annual dividend increases in September and we believe that the company will most likely increase its quarterly dividend per share again around that time.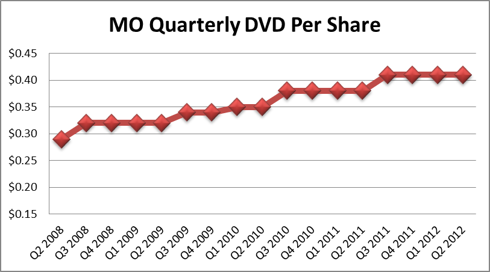 Click to enlarge
Source: Altria's Dividend Schedule and History
Altria Group keeps on producing consistent performance for its shareholders, which probably explains why it can comfortably pay out about 80% of its adjusted EPS as a dividend and buy back shares on the open market. Altria's smokeable tobacco product segments (Philip Morris USA and John Middleton cigars collectively) maintained a stable shipment volume versus the prior year's quarter. Altria's most recognizable and profitable product is the Marlboro cigarette and though Marlboro cigarette volumes declined by 0.8% in the prior year's period, it was offset by increased sales from Philip Morris USA's portfolio of discount level cigarettes. Marlboro's volume declines were less than that of the US tobacco market and enabled it to pick up 30bp of market share. Philip Morris USA's cigarette products picked up 80 basis points in market share, largely due to growth amongst its discount brands. This enabled the smokeless product line to generate 1.4% net revenue growth and 2.8% operating income growth in Q2 2012 vs. Q2 2011.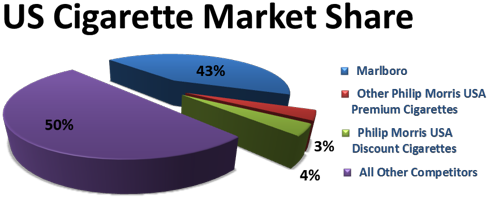 Click to enlarge
Source: Altria Q2 Earnings Release
Altria's smokeless tobacco segment (U.S. Smokeless Tobacco) enjoyed stronger revenue and profit growth in comparison to the smokeable tobacco product segment. Total smokeless tobacco volume grew by 7.6% during the quarter on the strength of new products introduced by the company recently under the Copenhagen brand. Copenhagen's volume grew by 12.6% versus the prior year's period and Skoal saw its volume grow by 6.6%. This volume growth was able to offset volume declines in other areas of UST's product portfolio. Revenues grew by 5.8% and the division enjoyed positive operating leverage enabling its operating income to grow by 7.1% in the period. U.S. Smokeless Tobacco's market share grew by 10bp as a 210bp increase in Copenhagen's market share offset market share decline by Skoal and other smokeless tobacco products in U.S. Smokeless Tobacco's product portfolio.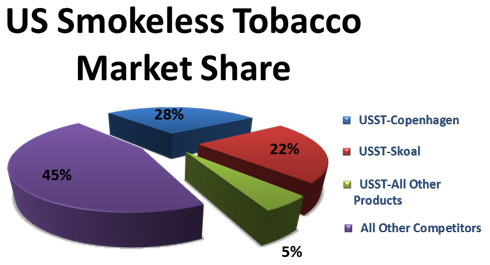 Click to enlarge
Source: Altria Q2 Earnings Release
Altria's fastest growing segment is its smallest segment (Ste. Michelle premium wines). The wine segment enjoyed a 2.1% increase in cases shipped and increased pricing enabled this segment to generate a 9.8% increase in revenue in Q2 2012 versus Q2 2011. This segment enjoyed positive operating leverage during the quarter to generate a 15.8% increase in operating income. While the first quarter did not provide St. Michelle with the same operating leverage it enjoyed in Q2, the segment still enjoyed 9.4% increase in its operating income.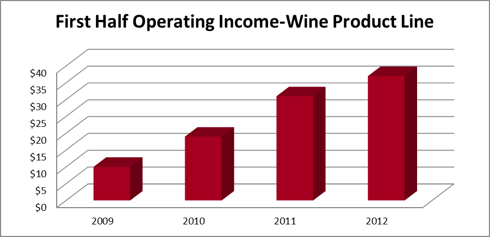 Click to enlarge
Source: Philip Morris Q2 Earnings Reports: 2009-2012
Altria also owns Philip Morris Capital Corporation, which is its leveraged lease and direct finance lease investment portfolio. PMCC was formed in 1982 and it is in run-off mode. The portfolio saw a 56% increase in adjusted operating income due and did not suffer any impairment charges against the portfolio this year. Altria also saw an increase in its equity method earnings from its plurality stake in SABMiller (OTCPK:SBMRY).
In conclusion we are pleased with the performance from Altria Group. Altria has shown itself to be a solid high-dividend yielding company and a dividend growth champion in terms of quantity (43 years of consecutive dividend increases) and quality (9% CAGR since 2008). More importantly, the company is paying the high dividend yields out of reportable net income and free cash flows, rather than one or the other. We find that the best dividend yield and dividend growth champions are companies that can generate a high level of reportable net income and convert it to free cash flows from operations. Altria converted 103% of its net income to free cash flows for 2011 and we expect it to convert 90-100% for 2012. Altria generated $3.5B of free cash flows last year and paid $1.2B of pre-tax interest to debt holders. Adjusting for taxes, Altria paid ~$720M in after-tax interest expense to debt holders. The company had average debt outstanding of ~$13B during the year and average equity of $4B during the year. Though the company is certain not debt free, we can see that the company generated $4.2B of capital cash flows. After-tax interest expense only represented 17% of Altria's after-tax capital cash flows and we can see that while it isn't debt free, its after-tax cash flow return on capital significantly exceeds interest expense and allows the company to service its debt, pay dividends, buy back shares and reinvest in the business.
Disclosure: I am long MO, KFT, PM.
Additional disclosure: Saibus Research has not received compensation directly or indirectly for expressing the recommendation in this report. Under no circumstances must this report be considered an offer to buy, sell, subscribe for or trade securities or other instruments.