No one has benefited more from $100+ oil than the smaller players on the stock market. We have seen one company after another crush earnings, and that is even with large hedging losses as a 'just in case' the price were to come down.
Tuesday Goldman Sachs came out with its opinion that oil is going to $200. I have said over and over again that I thought we were going to miss a recession by a hair. We still may, but if oil continues to head upward to that area we will see a recession. I know, everyone is going to say that we are already in a recession, but it takes six months to figure out when a recession starts and ends, and the last I checked the only people able to decide that are the ones with the job. The biggest worry is that Goldman made the call on $100 oil, so let's hope they don't make a habit of being right with respect to this price.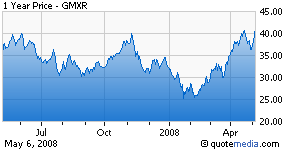 Oil and gas really pushed the revenues and earnings up for GMX Resources (GMXR). Their first quarter earnings were spectacular. They beat earnings estimates by 25%. They beat revenue estimates by 14%. The highest analyst estimate was beaten by 14% with respect to earnings. Production was up 60% year-over-year. Sales more than doubled. EPS was up 90% year-over-year. This company not only has realized the increase in oil and gas prices in its bottom line but is also increasing production. They have realized production growth for 16 straight quarters. They will add one more leased rig this year and a second in 2009 to continue this trend.
GMXR has benefited from increased prices that have allowed them to utilize some of their horizontal wells. Some of the shales have massive reserves and now it is profitable to tap them. Since 2003 reserve growth has also been spectacular as the replace current production with growth down the road. 2003 had a reserve of 53 Bcfe and today that stands at 1970 Bcfe. Last year they also had the best operational performance of any company in their class, plus they were second with respect to their entire industry. They are also number one in their sector with respect to reserve replacement. Their total operating costs were 3rd behind UPL and SWN.
This company continues to beat the competition in many areas, and has just kept flying under the radar. Going forward they are going to grow production and reduce costs. They will continue to hedge (which they have done a very good job of) to lower commodity fluctuations. Use increased production to fuel capital expenditures.
Looking over their current estimates, the analysts are all over the board as full year projections are anywhere from $1.03 to $1.72. I believe they are going to come in at around $1.70 for the full year, mostly on their increased production and my belief oil will have a pretty tough bottom at $100. This number places current PE at 24 through December.
Since they currently have a one year PEG of .67, we see $1.70 would be 2008 earnings growth of 85%, and that would equate to a PE ratio of approximately 57. That puts a 96 dollar price target for the end of the year, but if you use the current PE the stock would still grow to $74. The chart is experiencing a major breakout and will not see resistance until $48. If you buy now get out at $47 and see if the stock pulls back a little as it has had quite a run.
Disclosure: None