On May 5th, Oilsands Quest (BQI) put out a press release detailing 6 new names for various parts of its acreage. Prior to the press release, the company primarily spoke only about its focus, in-situ oil sands project, Axe Lake, which resides on its Saskatchewan acreage. But now, the company has 6 new names, three of which further break down its Axe Lake project (Axe Lake 1, Axe Lake 2 and Axe Lake 3) and three names that refer to different areas of its Alberta acreage (Raven's Ridge 1, Raven's Ridge 2 and Wallace Creek).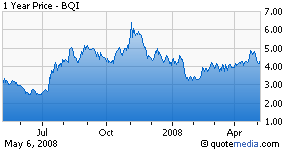 On the surface, some may argue that the press release may not seem like a big event. However, I beg to differ. After more than 2 years of exploration and delineation drilling work, Oilsands Quest is on the cusp of securing its first joint venture partner on its Axe Lake project. The signing of a JV partner is a significant event in that a successful partnering would validate BQI's business model (which, in a nutshell, is to explore, delineate and partner various parts of its massive 753,000 acres of oil sands-bearing land). Perhaps more importantly, it would validate the attractiveness of BQI's oil sands acreage, which straddles the Alberta/Saskatchewan border.
So let's get to the question at hand and the title of this article, "What's in a Name?" Given that BQI has recently drilled 25 holes and shot 33 miles of seismic data on its Alberta acreage over the 2007/2008 winter drilling season, I believe that the new names signal that the company believes that it has material amounts of bitumen, or oil sands, on some of its newly-named land parcels. That could result in the company officially announcing a 2nd or 3rd discovery (in addition to Axe Lake) very shortly.
To add to that, I believe that the new names imply that the company will soon be providing investors a positive update from its recent drilling efforts, in particular, on its Alberta acreage (in its Raven Ridge 1 or Raven Ridge 2 areas). Up until now, the company has talked about only one particular oil sands project, Axe Lake, which resides on the Saskatchewan side of the border. That project received its name in January 2007, about a year after BQI began drilling the area and only 2 months before it was deemed by management to be holding about 1.3 billion barrels of oil sands resource (which was confirmed later by third party consultant, McDaniels in November 2007). Given that management has preliminarily estimated that its total Alberta acreage could hold up to 4.5 billion barrels, I would not be surprised to see a more specific estimate for the Raven Ridge area sometime soon.
So "What's in a Name?" My opinion is that it could be newly-identified discoveries and increases in oil sands resource estimates near term.
Disclosure: Long