Right before announcing Q4 2006 earnings of 7 cents First Solar (FSLR) had a market cap of $2.5 Billion. But how do you value a company with no earnings? The same way you value a company with earnings. Anyone who values companies based on earnings, assets, and growth alone is missing a large piece of the puzzle. Surely companies like Coca-Cola (KO), Nike (NKE), and McDonald's (MCD) didn't invest billions into advertising purely out of stupidity. Quite the contrary, they were investing in building a brand, yet another form of intangible asset. This intangible asset accounts for why you have to pay more for the six pack of Coke at Safeway than for the six pack of Safeway brand.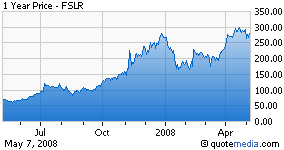 One might wonder, if First Solar's proprietary technology was worth only $2.5 Billion is Feb. 2007 why is it worth around $10 Billion now? This shows the speculative nature of intangible assets. When first solar was supposed to lose 7 cents in Q4 2006 and instead earned 7 cents, this was a sign of things to come. Speculators rightly bid the stock up over 30% the following day. Keep in mind that 7 cents a share is only a few million dollars, but it had a billion dollar effect on the stock.
It is true enough that high PE companies are unlikely to be able to sustain triple digit earnings growth for long. But as earnings growth shrinks higher absolute earnings also inflates the value of intangible assets. In other words, as the company delivers on it's promises the market revalues higher the value of it's technology.
Conversely, when a company misses on earnings it acts as a serious warnings much like brake lights on the freeway. When on the freeway you don't think, no big deal the brake lights represent a 1MPH slowing by the time I've processed the signal. Instead, you prepare yourself for further braking.
Personally I take it one step further and consider it a sign of poor driving and an early indicator of future over-braking when someone brakes on the freeway with little traffic. I make it a point to pass as soon as possible instead of being stuck behind the person in the future.
Real estate is a good illustration of this principle. If you want a positive cash flow yielding property chances are you'll be buying a small sub $200K property with minimal land valuation. This has typically been my strategy simply because I wanted to diversify into real estate as my income source. This maximizes the tangible assets of the structure while minimizing the intangible land value.
This also explains why more speculative properties, such as in the San Francisco area where I live, can show such astronomical price movements. The appreciation is in land appreciation. More accurately it's the combined value of the land and structure. Developers understand that where the land appreciates, the value of the structure does also independent from the value of the whole. Hence it may be possible, for example, to tear down an old 1930 1200 square foot $1.5 million house in Palo Alto (near Stanford university) to build a new 2000 square foot house for $200K resulting in a combined value of $2 mil.
The reason that intangible assets can skyrocket tenfold or even one hundred fold in a year is because their valuation is purely speculative. Arguing that a companies valuation is too high based on earnings without acknowledging the intangible aspect of valuation is to miss the point completely. No way disagrees that if Ford Motors or a similar company with small and perhaps even negative intangible assets (due to employee obligations) had similar assets and earnings they would certainly be valued far lower.
I've never seen a study showing any correlation between PEs and stock performance. In fact "value" and "growth" funds performed almost identically during Q1 2008. I do know, however, that the top 10 performing stocks over the last 20 years have all had above market PEs. So if you pick low PE stocks you will probably get an 8% annual return. If you pick high PE stocks you will probably get the same. The difference is high PE have a higher beta. Some go down sharply whereas others rise tenfold. For a good stock picker the decision is obvious. High PE stocks involve more risk and reward stock picking skills. Those that aren't good stock pickers should probably just buy the S&P 500 spiders (SPY) anyway.
Q1's earnings were below my expectations and reduce my 2010 and beyond outlook for the company although this is somewhat counteracted by an increased 2008 outlook due to a huge throughput gain. I'm slightly less bullish on the stock now, although the long term outlook is still bullish.
Disclosure: I have been heavily long FSLR since Feb 2007.