Whoa, Nelly! ON Semiconductor (ONNN) shares are up sharply this morning on strong first quarter results and an upbeat second quarter outlook.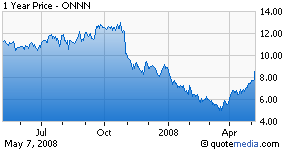 For the quarter, ON reported revenue of $396.4 million and GAAP profits of 14 cents a share; the Street had expected $386.2 million and 14 cents. The company in March completed its acquisition of AMIS Holdings; CEO Keith Jackson said in an interview with Tech Trader Daily this morning that the deal was accretive to earnings in the quarter, boosting profits by about a penny a share.
For Q2, ON sees revenue of $545 million to $560 million, including about $150 million from AMIS; the Street has been looking for $400.56 million, which apparently does not include AMIS. The company expects gross margin in the quarter of 32%-34% on a GAAP basis, or 40%-41.5% non-GAAP. The company is looking for 2%-6% sequential growth for ON Semi's business ex the acquisition, with ASPs in the quarter down about 2% sequentially.
Jackson notes that the company paid down $280 million of AMIS' debt in the quarter, and still boosted its cash position by $30 million, to $308 million. He said the company going forward is more likely to use its cash to buyback shares than to pay down debt; he notes that ON has an unused 20 million share repurchase authorization in place.
Jackson notes that the company's core business in the quarter performed better than expected, "building backlog nicely." He said ON saw better performance than expected in its computing segment, where the market was not as weak as expected and the company share. He says ON also saw strength from the automotive segment, where the end market was not strong, but where the company gained share.
Jackson says inventory in the marketplace is "very lean," which helps set up the company for a strong second half.
On the acquisition, Jackson says the company will complete the merger of the two sales forces within 30 days; ON says it will close some factories over the next 18 months. Getting information systems integrated will take about a year, he says. Jackson says the consolidation process will result in the loss of about 200 jobs over the first year.
Jackson says he believes the semiconductor industry is "ripe for consolidation," with "too many subpar participants." He says ON will look for additional acquisition opportunities, though likely with a focus on smaller deals than its acquisition of AMIS.
ON Semi today is up $1.24, or 15.9%, to $9.05.