It appears that my hunches were correct that Friday might be the day Sirius XM (NASDAQ:SIRI) broke through resistance at $2.10 and shot up into a new trading range. With a low of the day at $2.10 it presented a great opportunity to go long as the trading throughout the day moved right on up to $2.17, to settle at a close of $2.16.
From a technical standpoint, Friday's close further strengthened the already strong uptrend channel, and even caused the 100 day moving average to level off and almost (but not quite) turn up. While the share prices falling off the back end of the average will be between $2.20 and $2.40 for some time, as long as the current share price of Sirius XM remains at or above present levels, the 100 day moving average should remain around $2.10 for a good amount of time. What was resistance at $2.10 has now become support.
Considering the following two updated charts.
The first shows three moving averages. The 10 day (blue), 20 day (red), and 100 day (green) simple moving averages.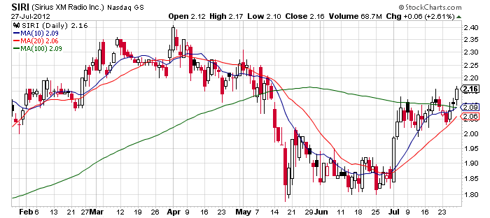 Click to enlarge
On Friday, the 10 day moving average, which has served as first line support since early July, crossed over the 100 day moving average. When shorter term trends cross up over longer term trends they are typically referred to as golden crosses. Where the share price of Sirius XM was threatened by the reverse, or death crosses, just one month has seen a huge turnaround. A more significant cross, or the 20 day average crossing up over the 100 day average, should happen at Tuesday's close.
Golden crosses are usually accompanied by upward movement in price, in part due to how those who trade on technicals operate. Their activity can add volume and momentum to current trends, and therefore it is good to understand what may be on the horizon on the technical front.
The second chart shows the 50 day moving average (blue) and the 200 day moving average (red) as well as bollinger bands (green).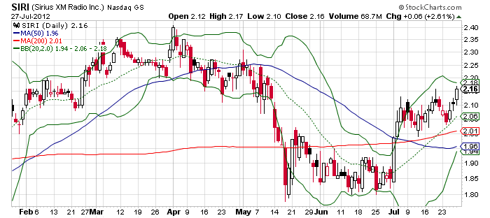 Click to enlarge
The 200 day moving average has now passed the $2 mark and continues its upward climb, and the 50 day moving average, which had been falling precipitously, has now turned sharply up. Again, this is all bullish activity, and lends further strength to Friday's move as well as expectations of continuing gains.
Look for an upper trading range of $2.10 to $2.18 for Monday, capped off by the upper bollinger band. As the week progresses, add a penny per day to the lower end of the range, and at least a penny per day to the upper end. It's important to note that this does not mean the price can't break through $2.18 on Monday. When Sirius XM's share price moves quickly on uptrends, it can break the upper bollinger band. Keep an eye on it.
As I stated on Friday :
It's certainly not unreasonable to expect the next move for Sirius XM to be into the $2.20 range. Unless one subscribes to the mentality that $2.15 is going to be the cap for Sirius XM because "well, that's what Liberty (NASDAQ:LMCA) paid" then it may be prudent to watch for the next move to be a rapid advance with little to no warning, as Sirius XM is known to do.
With Friday's strong close of $2.16, I expect gains to continue with some light pullbacks during the week, but continuing the overall uptrend.
For additional technical info, check out Spencer Osborne's article over at siriusbuzz, as he does a great job breaking down the levels of support and resistance, and their strengths.
Fundamentally there are so many things going on that currently look great for Sirius XM. And those who are unaware of them should consider all of the following:
Addition of over 622,000 subscribers in Q2, far exceeding estimates, and early increased guidance.

Announcement that Sirius XM will pay off $186 million in high interest debt in September, reducing interest payments and driving cash to the bottom line.

July auto sales strong, continuing with the 14 million SAAR trend.

A stock buyback as one if Liberty Media's (LMCA) first orders of business after obtaining control can be assumed.

A forthcoming resolution between Liberty Media and Sirius XM on how a reverse Morris trust will be structured is likely in the works.

A usual run up on hopeful expectations of earnings due out on August 7th before the market open. With 622,000 subscriber additions pre-announced, hopes are high for better than expected numbers in many areas of the report, and for increased guidance for the full year.
As I continue to state, I still hold strong on my $2.75 target. Could August be the month that Sirius XM finally touches at least $2.50? From present levels, it's not far off.