It's generally agreed that Coca-Cola (NYSE:KO) trumped PepsiCo (NYSE:PEP) are in the Cola Wars. Coca-Cola wins the market share battle by a landslide, both in total soft drink market share and in the head-to-head between the companies' respective flagship drinks. (Personally, I am on Coke's side.)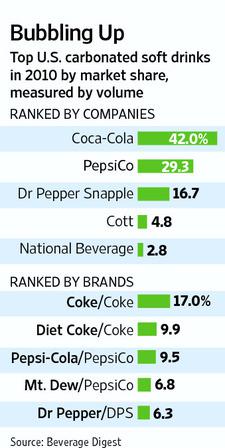 In an effort to get back to some semblance of parity with Coca-Cola, PepsiCo is engaging in a widely discussed turnaround. While its diversified portfolio, including Tropicana juices and Frito-Lay snacks, has helped it compete, it is serious about upping its soda game.
The New Soda Wars
Over the years, soda has become somewhat of a public enemy, blamed for contributing to the obesity crisis. Animosity has got so high that New York mayor Michael Bloomberg has proposed a ban on the sale of super-sized sodas. Regardless of whether the ban goes through or not, the shift in public sentiment is a big deal: U.S. soda consumption is declining, in large part due to health concerns.
The solution is seemingly obvious: diet soda. But there are problems with the current array of diet sodas as well. First off, many people are concerned about potential health effects of aspartame, one of the most common artificial sweeteners. While links to cancer and other serious health problems haven't been proven, there are still plenty of people who aren't a fan of aspartame. (I am one of them: diet soda, chewing gum, and any other aspartame-containing products give me severe headaches.)
Beyond the problems of aspartame, diet sodas also have an image problem. They're often seen as "women's drinks," which, while slightly idiotic, has apparently impacted consumption enough to where male-oriented diet sodas have been introduced. Dr Pepper Snapple Group (NYSE:DPS) made waves with a round of ads proclaiming that its new low-calorie Dr Pepper Ten was "not for women." The strategy appears to be paying off so far: sales of DP10 have offset declines elsewhere in the company's beverage portfolio.
There's also one more problem with diet sodas: they don't taste the same. I honestly think they taste weird, and plenty of other people do too. That's why Pepsi, Dr Pepper, and Coke are gearing up for the next great Soda War. Their aim? To make diet sodas, well, not taste like diet sodas:
Coke and Pepsi are chasing after the sweet spot: a soda with no calories, no artificial sweeteners and no funny aftertaste.

The world's top soft drink companies hope that's the elusive trifecta that will silence health concerns about soda and reverse the decline in consumption of carbonated drinks. [...] There's good reason that soft drink makers are so eager to tweak their formulas. Once a beloved American treat, sodas are now being blamed for the nation's bulging waistlines—two-thirds of the country's adults are overweight or obese, according to the Centers for Disease Control and Prevention. That, coupled with the growing variety of flavored waters and sports drinks, has sent per capita soda consumption down 17 percent to about 1.3 cans a day since its peak in 1998, according to Beverage Digest, an industry tracker.
Many strategies are being tried, including the use of stevia, a natural sweetener without the calories of sugar. Unfortunately, like aspartame, stevia leaves somewhat of an odd taste. So soda companies are searching for other alternatives, though they're (obviously) keeping their exact ideas pretty tight-lipped. Coke, however, has dedicated an entire production line to come up with test beverages.
With health concerns impacting soda consumption, the new Soda Wars are a pretty high stakes game. And at this point, it's just about anyone's game. Only one thing is for sure: the company that perfects the art of the diet soda is likely to reap pretty sweet rewards.
Disclosure: I am long KO, PEP.
Additional disclosure: I may initiate a long position in DPS over the next 72 hours.