In May, we suggested you buy shares of InterOil (then at roughly $60). With the shares closing at $85 on Thursday (and, at the moment of writing, $87 pre-market on Friday), you could have done worse, especially in energy, which had a rough time of late. The question after this 40%-50% rally is justified whether you should take at least some profit.
While some consolidation or little pull-back is likely, and even healthy, anytime soon, we believe the shares are very likely to march on from the all-time high set on Thursday. The first reason for that is to consider why the shares were setting an all-time high in the first place.
Shell
It was widely reported before, and finally confirmed by Shell (RDS.A) itself, that Shell has an interest in joining InterOil (IOC) in developing InterOil's Elk/Antelope field. This probably involves taking a stake in the field (or the whole license area) and building an LNG plant. But it could also be more. Here is Simon Henry, Shell's CFO on the CC:
PNG; there is gas, there is an intent for LNG projects from the government. The government we have been talking to for a couple of years now. They announced last year that we were a preferred partner because of the capability they want to bring into the country, large project developers, people who can develop markets and local capability. So yes, we've had discussions with PNG government. We've had discussions with InterOil from time to time. [CC]
Well, for the cognoscenti, this isn't at all a surprise. Shell knows PNG pretty well, and entered into a strategic alliance with PNG state company Petromin last year. There is something else notable in this WSJ article:
Citing a person familiar with the situation, Deal Journal Australia reported Feb. 7 that Korea Gas is in talks to form a consortium with Mitsui and Japan Petroleum Exploration to join InterOil's project.
PNG Politics
There is considerable political backdrop for this. Energy Minister Duma, after publicly congratulating the project earlier, apparently changed his mind and became critical of the Gulf project. It could be that he just wanted the company to get on with the job and had little faith in the ability of the partners -- Energy World of Australia and Flex of Norway -- to be able to finance their projects (a modular LNG and floating LNG plant, respectively.)
It could be he had more faith in the financing and operational abilities of Shell, which entered into a strategic partnership with Petromin, PNG's state oil company (and 22.5% stakeholder in the InterOil upstream fields in exchange for part of the exploration cost). Whatever the reasons or merits of these different versions of events, the political tables now seem to be shifting in InterOil's favor.
Just before the recent election, PNG Prime Minister O'Neill issued a statement with strong backing of InterOil, and his position seems to be considerably enhanced by the election while it remains to be seen whether Duma returns to the Energy Department.
Even if he does, the coalition, which has been considerably broadened after the election, O'Neill was voted in with 94 out of 111 votes. This, crucially, means the coalition can survive without Duma's (diminished) party, so Duma's hold-up power is completely gone. O'Neill won seats and Duma's party lost seats, so there is also a change in their personal power balance.
It is also noteworthy that none of the big investors reduced their position significantly during the political turmoil, and Richard Chandler, the New Zealand billionaire, build up a 15% position. These big investors were not perturbed by the sometimes scary headlines.
So it could be that Shell fears it's losing an inside political track or that it has been relatively cold shouldered by InterOil, which might very well have concentrated on talking to others (the Japanese-Korean triumvirate of Japex, Kogas and Mitsui, or 'JKM'). We will probably never know what exactly happened, but Shell publicly confirming it has an interest in the IOC project caused the shares of the latter to rally 12% and set a new all-time high.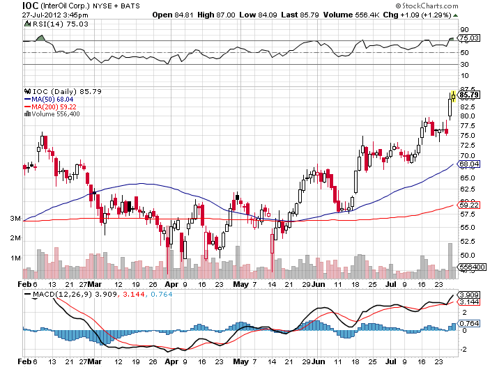 Click to enlarge
The InterOil play
InterOil's resource position on PNG is impressive. It's Elk/Antelope structure, which contains 8.6Tcf of gas and 129Mmbbls of condensates in contingent resources (58.6% net to InterOil). It recently confirmed a second sizable resource in Triceratops, which prompted Pacific Rubiales (PRE) to take a 10% interest at roughly $340M.
Apart from these two discoveries, InterOil has a host (50+) of other leads and prospects, many of which are (like Antelope and Triceratops) possible reefs (the seismics of some of these are shown on a presentation here).
The prolific nature of reef resources produce favorable economics. Antelope has wells with 2278 and 1175ft of net pay, 8.8% and 14% of average porosity and world record flow rates of 384MMcf/d and 704MMcf/d, resulting in a very favorable cost base: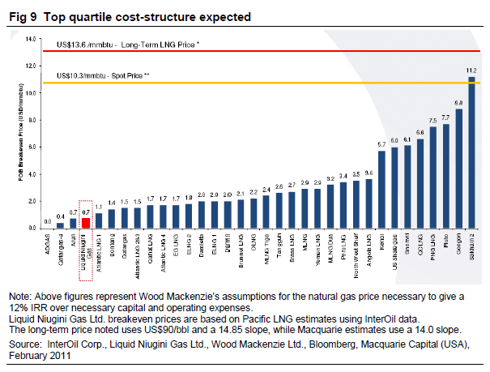 Click to enlarge
It is therefore hardly a surprise that the likes of Shell or the Japanese-Korean JKM coalition (these countries are the biggest LNG importers in the world) has shown an interest in joining the project. This could possibly develop into a Cove Energy (COV.L) like bidding war in which Shell unexpectedly lost out to PTT of Thailand.
However, we wouldn't be at all surprised if another big multinational will end up as the winner here. Simple transaction cost economics predict that Exxon (XOM) will be able to outbid other parties by virtue of having complementary assets, in the form of an LNG plant and pipeline that passes the Gulf which are already under construction.
Having a second, almost certainly cheaper gas source hooked up to that LNG plant:
obfuscates the need to build much of the infrastructure from scratch (something other bidders will have to do)
enables Exxon to extent the economic life span of the plant
or even if an additional trains have to be build to process the gas, this is almost certainly still significantly cheaper than building from scratch.
While we have few public indications (besides rumors) that Exxon is actively pursuing this, simple economics dictate that they should. Having complementary assets already under construction, the Elk/Antelope gas is simply worth more to Exxon than to other parties.
These simple realities seem to have escaped the InterOil shorts. With the shares at an all-time high, there are still almost 9M of these (out of 50M outstanding shares). With the political uncertainty receding and the bid process well underway, this can't be a comfortable position to hold.
At a $4B market cap, InterOil's net gas and condensate position (5.6Tcf) trades at 70 cents per Mcf, and this doesn't include anything for Triceratops, which almost certainly will add at least another couple of Tcfs to the balance, at the minimum. Bids are rumored to be a multiple of this, if that's true, and we see no reason why it should be, considering the quantity and quality of the resource, the shorts are in for way more trouble.
Disclosure: I am long IOC.